A Coat of Many Colours – Coming to Sydney.
A new pro-am company, Packemin Productions, led by Neil Gooding, is staging Joseph and the Amazing Technicolor Dreamcoat by Andrew Lloyd Webber and Tim Rice at the Parramatta Riverside Theatre from February 11 – 26.
It stars W.A.A.P.A. graduate Andrew Conaghan as Joseph and Australian Entertainment Legend Barry Crocker as Jacob.
Stage Whispers reporter David Spicer, who insists he played a memorable Joseph in 1979 in primary school (gosh he is old), caught up with Andrew Conaghan.
I found it hard to remember all those colours in Joseph's coat...how do you go?
Red and yellow and pink and brown kinda roll off the tongue. It's when it gets to azure, rosin and ochre that my brain starts to stall.
Have you ever got them jumbled?
I reckon I could safely say that I have, on more than one occasion. The children's cast are the best at getting them right.
I played Joseph in sixth grade in 1979 at Epping West Public - were you born then?
No I wasn't. I was born in 1984. I find it interesting the reach this show has though, especially with primary schools. It's a testament to the piece and the way it tells a great story simply. Everyone seems to have had some involvement with Joseph. Whether it's playing Joseph, a wife, a sheep or a piece of corn.
Who then is your role model for this part...Jason Donovan?
Jason Donovan is the first person I heard play the part, but I wouldn't say I have modelled the role on his performance. Maybe Justin Beiber?! No, I obviously want to have my own take on it. There is danger, I think, in playing him like some sort of demi-god. Neil Gooding (the director) and I have gone down the path of focussing on a boy who is devoted to his family. He doesn't know why he has this special gift, he just does. He then has to try and use it in a positive way.
This production is Pro-Am - what are the strengths and weaknesses of that?
Well pretty much everyone (including myself at the moment) involved has a day job, so we rehearse twice a week at night. I guess you could say it can be harder to gain momentum when you are not working on it every day 10 till 6, but that's about it. There are strengths aplenty. As a cast we've all become a very close and cohesive unit. This cast are brilliant, they are all 'uber' talented and very funny. We laugh a lot.
Are any of the 'Am's' on standby to fill your shoes?
Alex Ford is my cover. He's currently studying Music Theatre at AIM and he also plays Benjamin. He's got a beautiful voice and is doing a great job.
Do you think I am now too old to be your understudy?
According to Genesis, Joseph was 17 when sold into slavery, so I'm already nearly 10 years to old! Could we make you 2nd cover maybe? How old was Donnie Osmond when he did it?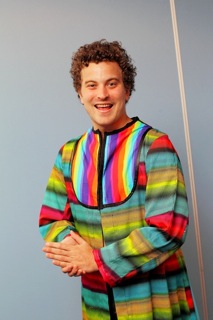 What is it like playing the son of a stage legend Barry Crocker?
It's wonderful. Barry is an absolute legend, in every possible way. And Barry Mackenzie?! I love that movie, I only saw it recently. You only need to Youtube the man to see what a wonderful career he has had. He was doing an interview for The Morning Show recently and I was there watching. He is such a pro. I learnt a lot from that.
You are getting a double dose of Andrew Lloyd Webber in coming months...please explain how all that happened?
Well I auditioned for The Music of Andrew Lloyd Webber about 6 months ago and got the gig pretty much. This production is a brand new show directed by Stuart Maunder and Musically Supervised by Guy Noble. I think it's going to be fantastic, sharing the stage with Michael Cormick and Delia Hannah? Tough life.
What makes Andrew Lloyd Webber so popular?
The guy just knows how to write a melody. He's instantly and undeniably accessible. I listen to Jesus Christ Superstar quite a bit, and for a show written in the early 70's it sounds like it could have opened yesterday.
Can you tell us your path into a career in music theatre?
I grew up in Rockhampton Qld. I was a loud child and so was sent to singing lessons on recommendation from my Nanna to learn how to control my voice. That's how it all began. Rockhampton, believe it or not, has very rich arts community and so I was completely immersed in eisteddfods and local productions from an early age. Plus I had some fantastic mentors who helped me along the way. It wasn't until early high school that I realised there was a place called WAAPA where you could actually study Musical Theatre. I auditioned a day after Schoolies week in 2002 and got in. That was a life changing experience.
What tips do you have for any young 'uns who want to follow your path?
I would also say involve yourself in all aspects of entertainment. Do the community shows, paint sets and join a choir. Also, the age of information we are now living is quite incredible, and there is so much that you can find out about the industry by simply doing a google search. Social networking sites are also a great way to carve a path and put yourself in contact with like-minded people and create a network, whilst being safe of course. Finally, always stay in tune with whatever is giving you that fire in the belly to push on. What I mean is keep on doing it for the right reasons, because you love it.
Images: Andrew Conaghan in the coat, and with Jocelyn O'Brien (Narrator).