Almost Face To Face
Awgie Award winning playwright Stephen House wrote Almost Face To Face during an Australia Council Irish literature residency, which he says was one of the highlights of his creative life. While not his nominated project for the residency, House says he fell into a Dublin world he found fascinating, so dug in deeper, and then as he often does… wrote about it. "Monologue is a form that I love writing and performing; it incorporates everything I adore about theatre, including storytelling, an intense relationship with audience, choreographed movement with occasional soundscape, and poetic text."
The piece takes a risky journey into a hidden Dublin world as it plunges into an off-beat artist's process, his unusual wandering life, and the bizarre characters that share his world. Moving, brutal, dark and funny, this poetic work about indulgent creative chaos and lives on-the-very-edge, asks – is it ever too late to face up to what you have become?
Set over a couple days on the darker side of Dublin the story begins with the protagonist trapped in a small room with an unusual woman. But it doesn't take long before he leaves the room and meets a range of people all linked together in the bigger outside world. The character takes the audience on a roller-coaster ride into a range of locations including an underground all night party, a backstreet bar with upstairs nightclub, the board-walk of the River Liffy where his new mates hang out, and of course the room of the woman, one of the central other characters in the play. While being a one- hander, the piece is crafted in a way that the audience almost sees the other people existing on stage with House. "It's all in real time" says House, "so it's as if the audience are seeing the story unfold with me, fully experiencing it happening; not being told about it".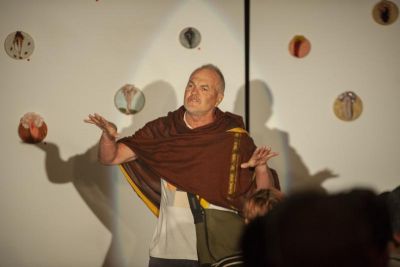 Almost Face to Face had its World Premiere at La Mama Theatre Melbourne. It received terrific reviews and audiences, and a Greenroom best performer nomination for House. It has since played Sydney, toured to Kampot Reader's and Writer's Festival in Cambodia, a return Melbourne season, Brisbane, and Darwin Fringe Festival's curated hub program. The script is published by The Australian Script Centre.
Stephen House is not new to theatre or monologue. With twenty plays produced over twenty years and a swag of awards for theatre and poetry, he says that writing and performing has been his life. Almost Face To Face follows his previous monologue, Appalling Behaviour, which House performed well over one hundred times in theatre company programs nationally.
Stephen says that he had intended "Almost" to follow "Appalling" closely, as although the pieces stand alone, there are links. But "Appalling" went on for so long that he had to put "Almost" on hold for a few years.
"An Arts SA grant for this Adelaide season was a terrific surprise," House says.
While House has a reputation for risky and edgy work, this piece, while still existing in the underworld shadows, has a gentler edge. As Liz Jones, artistic director of La Mama Theatre said to House when it opened there, "Probably your best work, Stephen, as there is a gentler more mature edge to this one." And by the reactions around Australia, it seems that all kinds of humans love it. "I can't wait to kick it off again," says Stephen House.
Written & Performed by Stephen House Directed by Peter Green
The Bakehouse Theatre Studio. Angas Street, Adelaide
Season: Wednesday – Saturday 4th – 11th December at 8pm (Preview Wednesday 4th December)
Nominated for a Green Room Award – Best Independent Performer