Anthony Warlow's Amateur Days
As Anthony Warlow launches into his greatest challenge, the title role in Dr Zhivago The Musical, he speaks to Frank Hatherley on the "Wonderful times!" he had with The Wollongong Arcadians – and his scariest moment on stage.
When prompted to remember his early days with Wollongong's long-standing musical theatre group The Arcadians, Anthony Warlow launches into a perfectly clipped rendition of Noel Coward's great poem The Boy Actor: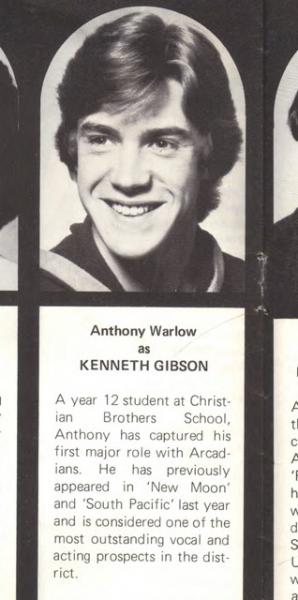 "I can remember, I can remember
The months of November and December
Were filled for me with peculiar joys
So different from those of other boys."
During Coward's boyhood November and December in England was the time for rehearsing and appearing in pantomimes. Warlow's first boyhood appearance for the Arcadians was in June 1972 as one of Fagan's urchins in Oliver!
"I was 11," he says. "The man who played Fagan intrigued me. He was Hugh Wood, a wiry man, really good performance, you know, so honest. Mum said to me "you were observing, I could see this little boy watching Fagan and thinking 'what's he doing there?' and 'how do you do that?'" This was the beginning of me as a technician, I suppose.
"Wonderful times! The whole Arcadians philosophy was that, while it was also a social club, they took their work very seriously. They did some really top-drawer productions. I was a boy soprano, a very high boy soprano. The next year I progressed to playing my first real role — Kurt in Sound of Music. My first lead was as Kenneth Gibson in Call Me Madam [1979]."
Patricia Green (see the image below) played the Ethel Merman part in that production. 31 years later, now Secretary of the Arcadians, she remembers the young Warlow as "our golden boy" and "a lovely, natural young man".
"He was doing his HSC that year and it took some smooth talking from our producer to persuade Reg and June, his mum and dad, to let him play the part.
"He had an insight into performing and comedy that was way beyond his years. I can still remember his brilliant impressions of Jack Benny and his sidekick Rochester — such fun!"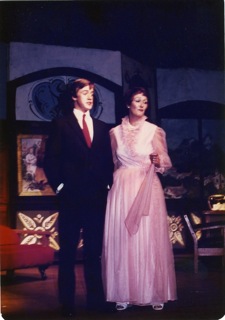 Warlow laughs at the memory of taking over the lead role in Guys and Dolls the same year with absolutely no rehearsal at all.
"The leading man there was Lyle Luchetti. He played Billy Bigelow [Carousel] and Curly [Oklahoma!] and all those roles — he had a beautiful light baritone. Anyway, he became ill one afternoon and we had a performance that night. I was in the chorus and I got a call from Peter Bates, the director, who said "Anthony, it's a bit of an ask but do you think you could take over the part tonight? We know you can do this!" I said 'what about if I have the script rolled up in a newspaper, because he's a gambler, right?' So I was reading the racing paper all night. I knew all the songs, of course, because these shows were three months in the making. I just got on and did it."
Read Frank's full interview with Anthony Warlow in the current print edition of Stage Whispers - buy your copy online or at your newsagent. The magazine comes with a bonus 2 track CD of Anthony Warlow and Lucy Maunder singing two of the big songs from Dr Zhivago.