Aussies On and Off Broadway
If you can make it there, you'll make it anywhere - goes the famous song. But Australians making it big in the New York theatre scene are few are far between. David Spicer met three Aussies giving it a red hot go - composer Eddie Perfect, producer Neil Gooding and playwright Stephen Helper.
The biggest thing you notice in Times Square as an Australian theatre buff in late 2019 was the towering image of Ainsley Melham. The actor-singer was still Disney's poster boy for the musical Aladdin, after spending six months in the lead role.
Other Aussies who've made it in New York are the team behind Moulin Rouge! The Musical. Written by Baz Luhrmann, it's the second highest grossing musical on Broadway.
Eddie Perfect is riding high on the surprise success of the musical Beetlejuice. We meet for brunch in a restaurant close to the Lincoln Centre, home to the New York Metropolitan Opera and a short distance from where he lives with his wife and two daughters.
With a mouthful of a salmon bagel, our conversation turns to how close Beetlejuice the Musical came to disaster.
"We opened in Washington DC and got really negative press. One critic hated it. That affected our entire trajectory into Broadway. The review set up a narrative that our show had a great set, but the rest was a corporate piece of shit."
He grumbles that the musical had genuine comedy but was being stymied by theatrical critical conservatism. Producers of the musical adaptation of the Warner Brothers film went back to the drawing boards. They did exit interviews with members of the Washington audience. Producers learnt that the 'heart and soul of the show', the message, was not being picked up by people. They were just seeing chaos.
"So, we went about re-writing the whole thing."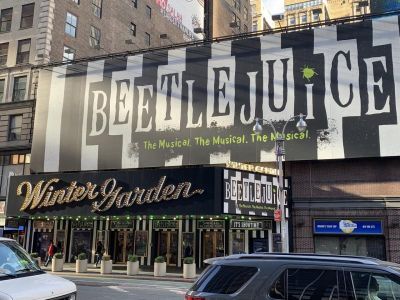 Eddie rolls his eyes at a story leaked to the press.
"They always throw the writers under the bus. They say things like, the director sat down with the writers saying 'I want good songs.' That was annoying. We were the ones doing the work. The rest are just flapping around.
"We came to New York with no money in the bank and no one talking about the show. Everyone made up their mind that Beetlejuice was dead on arrival. Ninety percent of press was about the set.
"I had a terrifying conversation with my agent. He said if daily ticket sales don't start going up after the first two weeks, you guys are going to be shut before opening night."
Eddie says that the first performance at the Winter Garden Theater - in front of family and friends, people with Zimmer Frames and a contingent of what he calls New York's "biggest douche bags with no sense of humour" - was a disaster.
Next came the first proper paying audience and he was immediately buoyed by a line of people in high spirits queuing around the block.
After the first song the applause went for a full minute.
"We were still unable to enjoy it. We knew this audience reaction does not inoculate you against the angry conservative man with a sea of people around him loving it.
"Opening night was insane. We were so worried and got mixed reviews. The New York Times review was not good, but not King Kong bad."
Audiences were building, but it was by no means a hit, then something changed. Eddie Perfect left his phone off on the day that Tony Award nominations were announced. When he switched it on, it was going off like Fourth of July fireworks.
The musical scored eight nominations including Best Original Score for Eddie.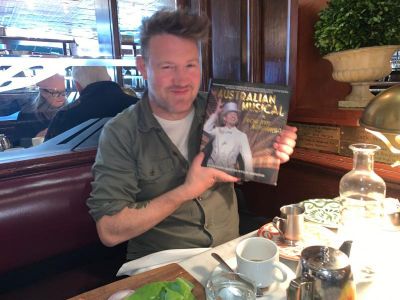 "A lot of fancy people (Tony Award voters) then had to see it. Before no one wanted to see us. Word of mouth was building. We got to perform – and rewrite - a song for the Tony Awards. In America people don't do that. The awards and the cast album changed the narrative from us being a turkey to being something of a cult hit.
"People are really fanatical about it. It is not a giant block buster, but it has defied expectations. We opened two days after Tootsie. It was the New York Times critic's pick, lauded as the way to do music theatre, but Tootsie is closing in January. The whole thing is an absolute gamble mystery."
Since our chat, Beetlejuice the Musical has been given notice to vacate the Winter Garden Theater in June to make way for The Music Man, starring Hugh Jackman.
The producers are looking for a new home on Broadway, but for Eddie there is the consolation of a national US tour planned for 2021 and a monstrous advance for amateur rights from Music Theatre International.
So now that he is the writer of a Broadway hit musical, which is taking more than $US one million a week in sales, does he need to work again? Eddie politely avoids the question.
"Not to diminish the plight of people who are actually poor, but last year we were pretty broke. We still had a roof over our heads and food, but it was pretty miserable. We couldn't afford to see anything or eat out.
"We moved to New York. I sold my grand piano. It was like when the rockets fall away at take-off.
"We live in a tiny apartment. This was almost a career killer. I thought, I have failed and will have to move back to Australia.
"There is not a huge amount of money coming in whilst the show is running. Before the musical recoups (for investors) there is weekly minimum money coming to pay our rent. This only lasts whilst the show is on."
The answer is yes, he wants to write the next thing, but "I don't know what it is."
Since our interview it was announced that Eddie Perfect's next gig is back home in Australia in the musical 9 to 5 - Read more
See Eddie Perfect's audition for his next job on Stage Whispers TV.
I meet producer/director Neil Gooding in an Irish Bar in the heart of Broadway. We both order a Reuben sandwich, which is a mile-high of beef pastrami on rye bread.
"I am living in Hell's Kitchen, so I can walk to Times Square. It is the Disneyland for musical theatre," he tells me.
"There is always something to see. Eight blocks filled with everybody that has come from around the world - writers, producers and performers. It is very focussed, with a real sense of urgency and a high benchmark. You have to lift your game here," he said.
Neil Gooding is well established in the Sydney theatre scene as one of the original brains behind the Hayes Theatre, the producer of large pro-am musicals (Packemin Productions), new Australian musicals and international work, and as the writer of jukebox musical hits Back to the 80's and Popstars!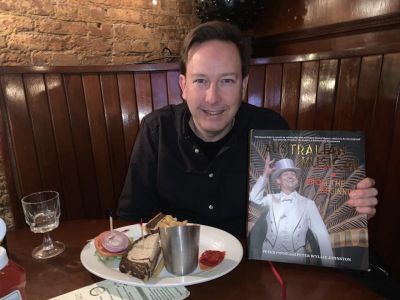 Just a few years north of 40, he's partially relocated to New York.
"I moved here at the start of the year to pursue more opportunities in producing and directing.
"I am seeing a lot of readings. There is a beautiful system in New York. If you wanted to, you could go to one of these readings a day.
"My main interest is working developing new shows. I am trying to take a step back and see shows as they are being written, getting their first presentation, to make a choice about which are going to be the winners in five years on Broadway."
So, has he found the next Hamilton?
"Yes, there is a show that is Hamiltonesque," he tells me, but "with a female protagonist."
Can you tell me what it is called?
"Not at the moment."
How is it that New York is better set up to create hit musicals?
"There is a lot more money available. There are also networks of theatre companies that have programs that develop new work. If you are working on the next Wicked or Book of Mormon, the returns are massive if you are in early."
Neil Gooding left the winter chills behind during January, returning to Australia to direct a new musical at the Hayes - The Life of Us – and to supervise Packemin Productions' season of Les Misérable,s which had a near sold out season in Parramatta in February.
He manages his affairs back home with the help of Skype, fuelled by those big pastrami sandwiches.
Living in NYC is not cheap, he admits.
"Theatre never pays well, and it is in one of the most expensive cities in the world. I am watching people who are hugely talented, who are struggling. The cost of living makes it a rich person's game, which is a problem for the industry."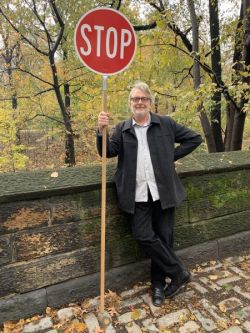 In November 2019, Stephen Helper graciously hosted me in his New York apartment, overlooking Central Park near 110th Street, on the doorstep of Harlem.
The director and playwright was born in the US but became an Aussie after first visiting in the 1980s. One of the co-creators of the Broadway hit Smokey Joe's Cafe, he says the Big Apple provides more opportunities for his plays to be staged.
"Today I am rehearsing for a reading of my play Up and Down that will be presented to producers," he tells me over brunch.
"It is about a married couple. Before the play starts, she has an accident and falls off a rickety kitchen ladder. Much to her husband's horror she goes into a coma. The play is about the man trying to deal with a sudden change in his life."
Stephen says in New York plays need a star to get noticed and he's struck gold for his reading.
"I sent the play to (screen star) Isabella Rossellini. She liked it and contacted me personally to be involved."
The Industry readings are a major benefit of being in New York.
"There are always people looking for the next play. People want to invest in something that is beautiful or provocative."
Another play he has been working on opened in a 99-seat Off-Broadway theatre in late February. The venue, he tells me, is considered hot.
The play, Sign of the Times, is about a Physics professor who suffers a great loss and decides to spend some time chilling out by working in traffic management. Stephen was thrilled to cast Javier Muñoz (who previously played the lead in Hamilton) in the play.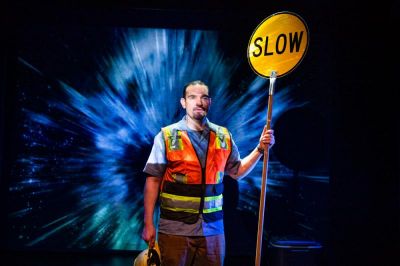 "It is great to be in New York, though I do miss my (adult) children and family. But I can't think of a downside for the arts.
"It is, though, a hard city, with large crowds and bitter winters. Both can make it bleak."
He's giving himself two years in New York. One of his passions remains the Australian musical Lola Montez, which he staged in a concert in Sydney and is updating.
"I love it. It is a great story about a great woman with a great score.
"One day we might get it up in New York."
*David Spicer manages the rights to Lola Montez, Back to the 80's, Popstars and Eddie Perfect's Shane Warne the Musical and The Beast.
Read the next installment in this series, our interview with Moulin Rouge producer Carmen Pavlovic, in or March April 2020 edition - click here for details.