Aussie's Return After Wowing West End
Fresh from a prestigious Olivier Award nomination in London, Bernadette Robinson is returning to Australia for a new tour of her one woman show Songs for Nobodies, written by Joanna Murray-Smith, in which she portrays five ordinary women, the "Nobodies" of the title, and the iconic vocalists (Judy Garland, Edith Piaf, Patsy Cline, Billie Holliday and Maria Callas) who inspired them. Bill Stephens reports.
Best known in Australia for her remarkable talent for capturing other people's voices, Bernadette Robinson's sell-out seasons of Songs For Nobodies around the country culminated in a Helpmann Award nomination for Best Female Actor in a Play.
"Well Cate Blanchett beat me, so I don't mind too much," Bernadette laughs down the phone from London.
The production's success led to a three and a half week season at Wilton's Music Hall in London in 2018, followed by a seven week transfer to the Ambassador Theatre in the West End. Critics were rapturous, with Bernadette described as "a jaw-dropping talent" in The Times. The Telegraph described her portrayal of Maria Callas singing 'Vissi d'arte' from Tosca as "so sublime, it's like a shot of morphine; for a blissful few minutes, all the cares in the world are gone."
Bernadette received word of the Olivier Award nomination for Songs for Nobodies after she had already returned to Australia.
"I wasn't going to fly back over, but my investors were so proud they flew me over for the event."
The excitement in her voice as she describes her Olivier Awards experience is palpable.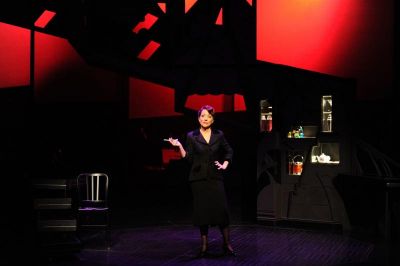 "It was like the Oscars (but) at the Royal Albert Hall. All sorts of famous people were walking around - Richard E. Grant and Tom Hiddleston. Sally Field was there. She had done something in the West End. So many glamorous people and I was one of them, with my beautiful program."
She couldn't remember who the winner was in her category (for the record it was the Old Vic production of A Monster Calls). It didn't matter. "I just went on to the party afterwards and had a good time."
Overnight success rarely comes quickly. I first met Bernadette in 1994 when she accepted a two-week engagement to perform her one-woman show, The Songs of Bernadette, at Queanbeyan's now-defunct cabaret venue, The School of Arts Café. Even then it was obvious that she was a remarkable talent and her ability to captivate audiences in the intimate 'café for the showbiz connoisseur' was on show nightly. Vocal impressionists are not rare, but what immediately sets Bernadette Robinson apart is her uncanny ability to access the vulnerabilities of the artists she is portraying.
At that time, she was already well established as a cabaret performer and had appeared in musicals including Cats, The Pirates of Penzance, My Fair Lady and Nine, garnering Mo and Green Room nominations.
"Always nominations. I never seem to win," she laughs, rather ruefully.
Bernadette had trained with Dame Joan Hammond at the Victorian College of the Arts, so a career in opera seemed an obvious pathway. To that end, she had played Rosalinde in the Wellington City Opera's production of Die Fledermaus and starred in three productions for Melbourne's Chamber Made Opera. Her performance in The Two Executioners was described in The Australian as '...brilliantly sung, with an almost hypnotic intensity'.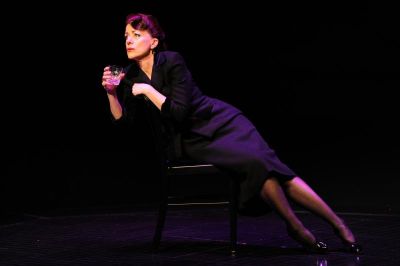 However, it was her own one-women cabaret shows, You Might As Well Live, Who's That Girl and The Songs for Bernadette (which she had created almost as a sideline to showcase her talent for reproducing the voices of famous singers), that were attracting national attention.
Her cabaret performances put her in demand for high profile events, particularly with corporates across Australia. By incorporating singing in English and in local languages into her act, she found herself performing in Tokyo, Beijing (during the 2008 Olympic Games), Shanghai (during the 2010 World Expo), Macau, Buenos Aires, Singapore, Paris, New York, Los Angeles, San Francisco, Toronto and even parts of Africa.
But despite her success in cabaret, Bernadette felt she could do more with her talent and was looking for a vehicle to better showcase her extraordinary skill.
Opportunity knocked while she was performing at a corporate event in Melbourne.
"Simon Phillips was sitting at a table in front of me," she explains. "I was doing a lot of funny stuff and I saw him laughing. At that time, he was the Artistic Director of the Melbourne Theatre Company.
"So, I went and saw him and said, 'I'd love to do a play,' and he said, 'Well I don't know of a (suitable) play, and you'd have to do a play, because that's what we do.'
"So, I said, 'Well Joanna Murray-Smith did Bombshells (written by Murray-Smith for Caroline O'Connor).' I'd seen a tiny bit of it on television and thought it would be something I'd be interested in doing. I approached Joanna Murray-Smith as well, and got the two, sort of, on side.
"Simon commissioned Joanna to write one monologue for me and said, 'Go away and learn that and come back and do it for us when you're ready.' It took ages and ages to get up, but it finally did, at the MTC in 2010. It really did well, and they extended the season.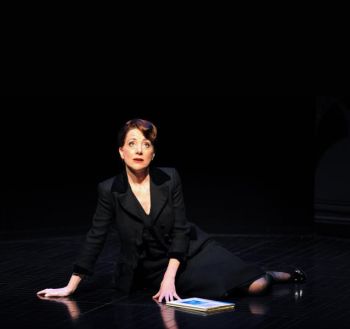 "Then Barry Humphries came along to see it. He loved it, and told his then manager, Harley Medcalf, to go see it and that he should tour it. Which is what happened."
Recalling her season at The Ambassador, Bernadette enthuses, "It's a gorgeous little theatre. A lot of people came to the show. Emma Thompson came and she took me out. Maureen Lipman came several times and has been a real support for me.
"When you perform at The Ambassador Theatre, you have an honorary membership of The Ivy Club across the road. All these glamorous show-biz people would be at The Ivy Club, and if felt like a whole new wonderful world for me. I'd do the show, pop over for a drink and meet all these interesting people."
Since August, Bernadette, her husband/manager Paul Noonan, and their daughters have been back in London, following up on contacts, performing in prestigious cabaret venues like The Crazy Coqs and The Ivy Club, and putting the finishing touches to her latest double CD album, entitled Songs of Bernadette, recorded live over two nights at The Pheasantry in Chelsea.
"In Songs of Bernadette there's quite a lot of me singing my interpretations in my own voice.
"It has some of the voices from Songs for Nobodies. It's got 'Strange Fruit' (Billie Holiday), 'Singin' in the Rain' (Judy Garland), 'If You Go Away' (Eartha Kitt) and "La Belle Histoire D'Amour' (Edith Piaf).
"Apart from that there's a song I wrote myself, 'One Perfect Day', a Jane Siberry song, 'Love is Everything' and Damien Rice's 'The Blower's Daughter'."
The album will be launched at The Crazy Coqs prior to her return to Australia.
Simon Phillips directed the London season of Songs For Nobodies, and will again direct the 2019 / 2020 Australian tour.
"It will be the London production, which was slightly different - not the content, but the design and everything was slightly different. It's just fantastic to be bringing it back to Australia. I'm sort of on a high with all the great reviews. It's a validation of Joanna's work, and Simon's work, and mine. I love the piece and I'm always thrilled to do it. I'm very proud of myself," she giggles.
The tour of Songs for Nobodies opens in Geelong Arts Centre, where it runs from 13th to 15th December 2019, before moving to The Melbourne Arts Centre from 18th to 29th December, and then the Sydney Opera House from 23rd January to 2nd February, 2020.
Bookings: Geelong / Mellbourne / Sydney