Carmen Sings on Water
Neil Litchfield had a very tough assignment. A twilight cruise on Sydney Harbour on a fine dining ferry, sipping red wine while being serenaded by one of the world's great Carmens, Rinat Shaham. Someone had to do it to get a glimpse of the 2013 Handa Opera on Sydney Harbour.
Anchored just off the Fleet Steps and Mrs Macquarie's Point, Opera Australia's Artistic Director Lyndon Terracini introduced the media and several international opera stars to the location for this year'sHanda Opera on Sydney Harbour, Carmen.
"Welcome to one of the most beautiful views in the world," Lyndon Terracini said."It's such a quintessentially Sydney experience to be sitting over there, watching this wonderful opera, with this incredible view, and of course there's fireworks as well. I know other cities in the world have fireworks, but Sydney's about crackers."
Last year 41,000 people witnessed La traviata, Destination NSW informed us,and 5,000 of them were from interstate or overseas.
"I saw Traviata last year in Sydney and I thought 'opera in Sydney has come of age'. We're sitting here in the most gorgeous landscape, and we're watching a gorgeous production of an international quality opera," Director Gale Edwards told the gathering.
La traviata last year had a giant chandelier. I asked Gale what this year's big surprise would be?
"I don't think we need to have a different surprise every year," she told me. "Brian Thomson is designing again. He's the most wonderful designer this country has ever produced and I love working with him. Together we are great storytellers, and that's our job - to tell a great story. That's more important than delivering a single solo image."
"You've got this massive Carmen sign in the background, that's thirteen metres high, which is based on the Hollywood sign. I have two cranes that are delivering huge pieces of set, then taking them away again. I don't think anyone will miss the chandelier."
Edwards has production meetings called 'The Ballet of the Cranes'.
What is Edwards' vision for Carmen?
"I've set it in Franco's Spain in the time of civil war. That makes sense of the garrison that's stationed in the village.
"I'm interested in Carmen as a person, because I think she's a woman before her time. She lives her life and behaves like she's a man, and that makes her scandalous."
"Carmen is revolutionary for her time. She's spirited; she's intelligent; she's tough; she fights; she stands up for what she believes in; she declares her right for freedom; her right to make her own decisions, and part of that is the right to sleep with anyone she wants.
"None of Carmen's behaviour would be outrageous if it was done by a man. In lots and lots of plays, literature and operas, it's the male who is sexually free, and that's an exciting thing.
"Everything that's shameless and shocking about Carmen is because she's a woman. I find that fascinating, and that's why I've updated it into the 20th century. I've made it more modern, more accessible. I want to keep all the sexuality and the heat and the passion, and the great triangular romantic story in the centre of it, but I also want to dig a bit deeper into the story."
"In this version it's going to be a rags to riches story – she starts as a cigarette girl, making cigarettes in the sweat shop. The girls are cutting up tobacco and wrapping it in paper. It's filthy, sweaty occupation. Your body gets stained with the tar of the tobacco.
"She starts life as somebody who is at the bottom of the heap. In the last act in our production she's in a Valentino gown, and she arrives as the first lady of the city, with Escamillo, who is the famous number one Matador in town.
"So she arrives as a successful wealthy celebrity who has the world at her feet, and who I believe is genuinely in love with Escamillo. She sings the lyric to Escamillo, 'I love you,' in French. She never sings 'I love you' to Don Jose. She says 'I could love you'; 'I might love you'; 'Why don't you let me go and I'll do you a few favours', but she doesn't sing with the musical passion that she sings to Escamillo in the last act.
"I believe this is the story of a girl who goes from poverty, from the bottom of the pile where she can be a cigarette girl or a gypsy whore, and she ends up at the zenith of her power and her celebrity, and she is at that point cut down by fate and killed."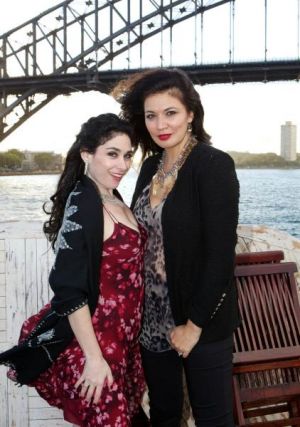 Rinat Shaham, one of the two international stars who will alternate in the title role, has played Carmen in more than 30 productions around the world, but never tires of this favourite role.
"People ask me if it's boring," Rinat explained. "It's never boring, because every production is different and I like to work with the material at the given moment. It's all different – production, costumes - I deal with the director, the producer, the conductor, a different Don José, a different cast, so I always get fed with a new palette of colours and ideas, and I love that.
"I'm very excited to be doing this production because it's on a big stage, and it's outdoors and we will use microphones, which usually we don't use, and there will be video cameras, which will emphasise our facial expression.
"Usually when you go to an opera house, you don't quite see and don't quite hear the full range of nuance. Everything needs to be a bit more enlarged for the audience to see. But when we do use microphones in a setting like this, (the audience) can see the close-up on our face. We have more freedom to use a much wider range of nuance and emotion."
Rinat has played Carmen outdoors on two previous occasions, once in Sydney for Opera in the Domain, and the other time in Tel Aviv, in front of an audience of more 100,000.
"It's a whole different genre to do it outdoors, where I can incorporate other subtle colours, which wouldn't pass in the Opera House.
"Usually when Carmen dances her erotic dance for Don José, you have to do things larger than life, so people in the back seats can still see and hear you. However Carmen was written for the Opera Comique, which is actually a very intimate space. It's only a private dance between Carmen and Don José, and she doesn't actually need to sing loud and dance a big Flamenco number. It's tiny nuance between her and Don José where it's the eyes, the way she looks at him when she sings, how she whispers those little lines of song in his ear. It's actually very, very erotic.
"In the Opera House you can't really do it that way. You have to do it larger so the public can see and hear. However, when there's a microphone and a video camera, you can do whatever you want."
What's the essence of the role of Carmen which never changes for Rinat?
"The temperament is always there, the essence of the character, which I bring from my own self. So that doesn't change for me - her charisma, her temperament, her chutzpa - but the rest I can play with according to what the director asks me to do."
In the meantime, Production Manager Cliff Bothwell, sitting next to me over dinner, is a man with a huge job. He told me that he and his team have just three weeks from February 20 to create the 3,000 seat outdoor opera theatre from 'bare water and bare site. Everything has to be built'.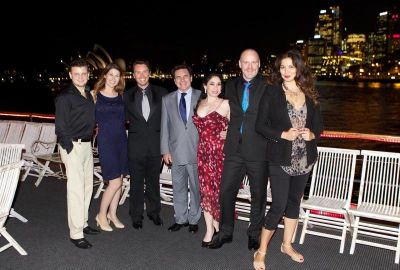 First up a total of 16 pylons (9 for the stage) go in, then the whole stage is lifted from land to the pylons.
On March 4 the two cranes, big brother and little brother, with their multiple purposes of building the set and flying objects during the production, are installed. A stage rake of 1 into 10 is then installed, with the majority of the site, all the seating and main structural components, taking shape by March 14, ahead of the opening on March 22.
I asked what the big challenges are.
"Doing it on water, there's a lot of water and barge movement," Cliff told me.
"We have to create everything – we don't have any dressing rooms, we don't have any power, we don't have any toilets – we have to bring in everything. We have our own plumbed vacuum toilet system, like the airline toilets."
And the biggest lesson Cliff learnt from last year's opera.
"Waterproofing. My one failing last year was I listened to people telling me what to do about waterproofing and it was wrong, so I've put in better waterproofing this year. Our biggest concern is the weather. We're very aware that we need waterproofing for our back of house areas and our areas where our artists get changed. So how to waterproof a building is my greatest learning curve."
Shortly after Carmen closes on April 12, all that will remain will be 16 holes in the harbour floor, which will again hold the pylons when Handa Opera on Sydney Harbour returns in 2014.
Images: (from top) Brian Thomson's set design for Carmen; Carmen costume design by Julie Lynch; the two Carmens - Rinat Shaham and Milijana Nikolic. Photo by Ben Symons, and Dmytro Popov, Nicole Car, Andrew Jones, Lyndon Terracini, Rinat Shaham, James Clayton & Milijana Nikolic. Photo by Ben Symons.
Originaly published in the March / April 2013 edition of Stage Whispers.