Caroline O'Connor's Mrs Lovett - Toast of Paris
Caroline O'Connor was called to Paris two weeks into rehearsals to take over the role of Mrs Lovett in the first French production of Sweeney Todd at The Chatelet Theatre.
Stephen Sondheim flew to Paris to see opening night, and is quoted in the French media as saying Caroline is the best Mrs Lovett he has ever heard.
It is also reported that Caroline will lead a UK production of Gypsy at the Leicester Curve Theatre from March 13 to April 14, 2012. We wonder what Sondheim, the show's lyricist, will say about her Momma Rose after his praise of her Mrs Lovett in Paris. See Broadway World.com for more detaisl.
The Parisian Sweeney Todd is a massive production with a cast of 36 on stage, and a 46 piece orchestra.
The following English translations of the Paris reviews for Sweeney Todd and photographs are courtesy of Caroline's husband Barrie Shaw and Ian Phipps.
Hear Caroline singing Mrs Lovett - Click Here.
LE FIGARO REVIEW
Sweeney Todd - Stephen Sondheim's Masterpiece at last has its first French performance
...
The people of Paris are lucky. Over the last three years they have been discovering the masterpieces of the French musical. After Candide, West Side Story, On the Town, The Sound of Music, Showboat and My Fair Lady it's now the turn of Sweeney Todd by Stephen Sondheim. Last year we discovered, with curiosity and admiration A Little Night Music. But Sweeney Todd (1979) makes even more impact. This "musical thriller" is a true masterpiece.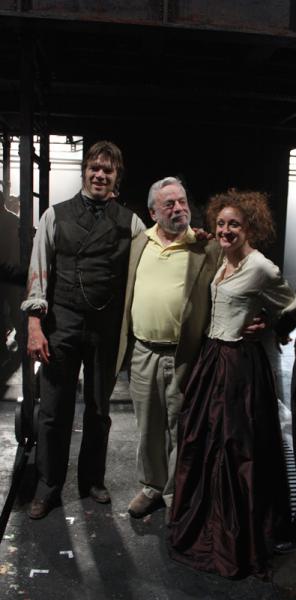 Here we transcend all genres - for it is as much a musical as an opera. Sondheim calls it "a black operetta" and there is a great deal of that in this joyous and macabre tragi-comedy about an English barber who kills his clients in order to serve them up in pies to the people of London. Watching it, you tremble, you giggle, you shudder, you scream. Fear is as ever the sister of hilarity in the service a story which is essentially human even down to its very atrocity. The lyrics (by Sondheim himself) are jewels of icy wit and intelligence (of which the surtitles gave only the palest indication). As for the music, it is individual without being artificial, skilful without demonstrating the fact, always subtle and never cheap. It embraces the intrigue and breathes into it a truly epic life.
Lee Blakeley's production juggles with the paradoxes of this piece, bringing out its chiaroscuro contradictions, unashamed to play the Grand-Guignol card while remembering that Sweeney is above all a requiem, albeit one with a snarling face. The cast is a formidable team drawn as much from the world of the musical as from opera. In the title role, the Mozart baritone Rod Gilfry possesses an astonishing intensity. One would almost be tempted to go to him for a shave. The contrast with the stunning Mrs Lovett of Caroline O'Connor was remarkable. This English singer was quite simply brilliant in her role as the murderous pie maker who turns to cannibalism with an entirely disarming and pragmatic candour. Finally (and this, it must be said despite an occasionally unconvincing sound design) one must acclaim the work of the conductor David Charles Abell who cracked the whip over the Ensemble Orchestral de Paris making them display a remarkable ease in this passionate repertoire.
After the first performance the appearance of the octogenarian Stephen Sondheim on the stage produced a deafening standing ovation. To say that it was deserved is an understatement. What a show!
La Monde Review
Horrific and hilarious "Sweeney Todd" at the Chatelet
While rather bizarre musical comedies, either imported or national, have been multiplying in Paris' theatre scene, the Théâtre du Châtelet keeps on raising the bar way high presenting for the second time the French staged version of a Stephen Sondheim's musical. Born in 1930, Sondheim has been named alternately as " living legend " and " the last of Broadway's greats ".
After "A Little Night Music" ( 1973 ) in 2010 with Sondheim declaring that it was the best production of this musical he had ever seen, here comes the one considered as his masterpiece: "Sweeney Todd" (1979 ). Once again, he came from New York especially for the occasion and he was enthusiastic after the general performance on 20 April and the premiere, two days later.
What struck Sondheim was the fact that Châtelet was the first opera theatre to present "Sweeney Todd" with a symphony orchestra in the pit. In the New York City Opera production in 2004, there were only thirty musicians and no Broadway theatre can afford that today, except the recent production of " South Pacific " at the Lincoln Center.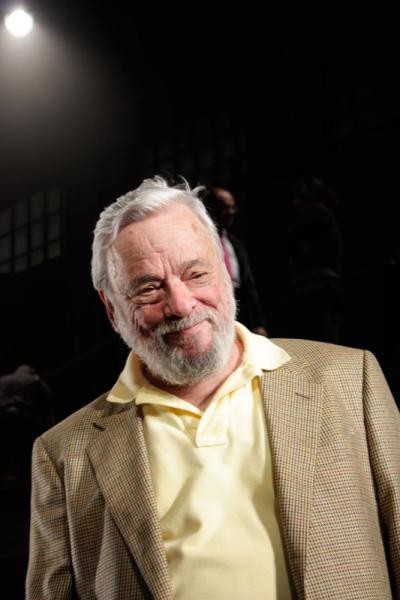 In his interview to Patrick Niedo ( author of a huge book on musicals: "The History of Comedy Musicals" released in 2010 ), Sondheim recalls:
" On Broadway, nowadays, you are lucky if musicals are presented with fifteen musicians. "
This orchestral force - well conducted by David Charles Abell at the head of the Ensemble Orchestral de Paris which will be in the pit until 7 May and then will be replaced by Orchestra Pasdeloup - is essential because " Sweeney Todd " is Sondheim's musical closest to the opera where music and singing have a major importance over dialogues and where the allusions to the operatic repertoire are many. However, this extraordinarily erudite partition, yet conveniently accessible, can experience amazing metamorphosis as in John Doyle's 2005 production, in London and then on Broadway, which surprised many by its chilling intimacy: each singing role also played an instrument on stage.
Operetta noire
Sondheim is a great fan of film noir and although he knows opera very well, he doesn't enjoy it. He describes "Sweeney Todd" as a "operetta noir" or "a film for the stage". The stage production became a film in Tim Burton's adaptation in 2007, approved by Sondheim despite the numerous cuts in the score.
The horrific plot takes its source from English mid-nineteenth century dramas and tells the story of Benjamin Barker (aka Sweeney Todd ) who returns from prison, where he has been
unfairly sent fifteen years earlier, moved by a terrible desire of vengeance. But when Todd joins Mrs Lovett in a cannibalistic enterprise (she makes pies out of the flesh of the victims slaughtered by Todd ), the audience is often caught with laughter before these macabre and yet, comical scenes.
Within this wonderfully directed drama (director Lee Blakeley strikes again after "A Little Night Music" in 2010 ), embodied by a fine cast, we see an impressive performance of Todd by Rod Gilfry, perfect musician, stubborn and silent actor whose roars of rage are even more chilling, and Caroline O'Connor's hilarious Mrs Lovett, crazy but in a rigorous precision in her acting, her singing and her irresistible humor.
The Australian singer, dancer and actress replaced the scheduled artist less than a month ago. She didn't know the role and yet, she made it hers in an amazing way: since Angela Lansbury's performance, we have not heard of such incarnation. Stephen Sondheim made no mistake and he didn't hesitate to let others know that she is "the best Mrs Lovett he has ever heard". This little miracle takes place in Paris so you'd better hurry to grab your tickets.
**
The best Mrs Lovett? What would Angela Lansbury say about that?
To keep up with the latest news and reviews, like us on Facebook, or follow us on Twitter.