Caroline or Change
Sydney's Hayes Theatre is famous for inventively producing musicals on its tiny Darlinghurst stage. The company's latest production, the Australian Premiere of Caroline or Change, could be its most ambitious yet. David Spicer reports.
One of the delights about seeing a production at Sydney's Hayes Theatre is the transformation of the space, with a capacity of just 110 seats and a small square stage with no wings, into theatrical gold.
Already this year there have been some crackers. In American Psycho a glass wall was spinning on a revolve, allowing cast to weave in and out of different rooms. For Razorhurst, set in gritty early 20th century Sydney, there was brooding bar and gorgeous lamp lights. In Spamalot the whole rectangle was decorated, and the space converted into a theatre in the round.
One of the company's biggest hits of recent years was Calamity Jane, where the audience entered the saloon through a side door.
For the Hayes Theatre's August / September production, the company could be setting a new benchmark of inventiveness. The musical Caroline or Change is set on three levels of a grand old house in Louisiana in the 1960's.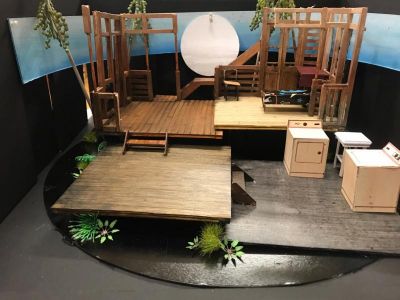 Director Mitchell Butel describes it as the biggest design ever attempted in the Hayes Theatre.
"Our set designer Simon Greer is building a fantastic old house with various levels which will squeeze into the Hayes. It also has the sense of the Louisiana swamp with the frogs and the marsh all round it," he said.
The musical has a book and libretto by Tony Kushner who wrote Angels in America. The score is by Jeanine Tesori, the composer of Fun Home, Shrek and Thoroughly Modern Millie.
"It has an incredible score - a mix of gospel, Motown, folk, Jewish Klesmer and music theatre power ballads. The book is so inventive and filled with heart," he said.
Set in Louisiana in 1963, the musical is based on Tony's early life, when he had an African American maid.
"In this show the maid is called Caroline. She is a fascinating, tough talking and stern women who is a single mum with various kids."
Mitchell said the musical touches on race relations and the power imbalances between white Christians, Jews and Afro-Americans at the time.
"Those power differences are told through the prism of this boy and how he interacts with his maid."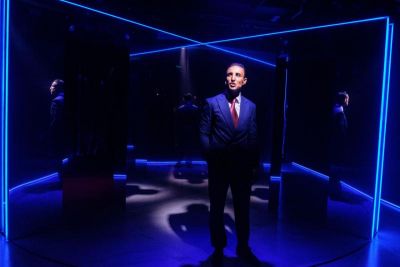 When the musical opens the family is in crisis. The boy's mother has died and his father has remarried his mother's best friend. The new Jewish stepmother attempts to befriend the maid by encouraging her to keep the change she finds in the pockets of the family's laundry.
"Caroline says to the stepmother, 'I am not taking change from a child, no way'. She responds that you've got three kids. They need food and clothes."
Things "implode and go badly", when the boy leaves a $20 Hanukah gift in his pocket.
Like Kushner's Angels in America, as well as naturalism there is also magic realism. Objects in her life take on human qualities.
"In the basement the washing machine that Caroline slaves at every day comes to life and sings to her. The dryer also sings to her. It is like the devil and must be a hot basin all day. There is a moon that comes out and is like a Greek chorus, which oversees the action. It is a very unusual but beautiful piece."
The objects are portrayed by people. "It is like the Magic Flute where animals come to life."
The role of Caroline is played by Elenoa Rokobaro.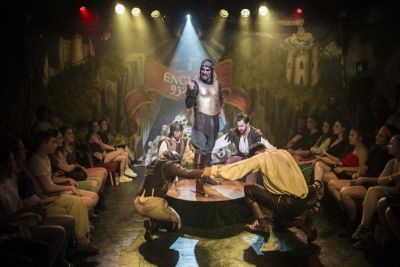 "Tony Kushner is so clever and witty. He paints a picture in the first number, sung acapella by Caroline in the basement. In the first few lines she has already set up the scene, location and what she is about," she said.
Eleona is fascinated by the parallels between her own life and the story of "friendship and hope" in the musical.
"I relate to Caroline. She is a strong mother trying to make a living and trying to push through," she said.
"It is almost like this show is my (own) mother's story told through this masterpiece. It is so real for me. I try not to get emotional about it."
Fulori Rokobaro grew up in Fiji and worked as a housekeeper to put food on the table for her large family when they moved to Australia.
"I grew up seeing my mother working in housekeeping and having to provide for seven kids. I am the seventh," she said.
"This story is for my mother. I didn't see this show coming but what a blessing it is."
Poetically, Fulori Rokobaro turned 70 on opening night.
Images (from top): Andrew Cutcliffe and Daniel Harris in Caroline, or Change (photographer: Phil Erbacher); Set model for Caroline, or Change; Ben Gerrard in American Psycho (photographer: Clare Hawley) and Spamalot (photographer: John McRae)