A Chat with Fantine, Cosette and Eponine
Packemin Productions will transport audiences to nineteenth century France as they bring one of the world's most iconic musicals, Les Misérables, to life at Riverside Theatres, Parramatta.
At the core of this incredible story there are characters who fight against societal norms and fight for love and revolution, in their own particular ways. They bring us into a world of despair and make us feel hopeful for the future and that "even the darkest night will end and the sun will rise."
Among the core characters of this story are three strong females fighting not only for their lives, but for love. Cosette (played by Georgia Burley) fights for love and for her life with Marius. Fantine (played by Matilda Moran) fights to give her daughter life and hopes she will live on to tomorrow. Éponine (played by Emma Mylott) fights for an unrequited love, fighting for someone who doesn't love her back.
We sat down with these three performers to find out all about their characters, what inspires them and what they're looking forward to as Les Mis opens.
Stage Whispers: What inspired you to become a performer?
Georgia: The music theatre that I listened to as a child was a big inspiration to me. At five years old I was singing along to The Pirates of Penzance and The Secret Garden.
Matilda: I come from a very musical family; my Mum is a music teacher and plays basically every instrument and my Dad plays trumpet, guitar, sings and has even written a musical. When I was 2, I sang the entirety of 'Doe a Deer' word-perfect, standing on a table at a party, so I think I was always going to be a performer!
Emma: Ooo good question. You would think this would be an easy one but I'm really not sure. I danced as a young kid and all I remember is coming home from school one day and saying "Mum, don't want to dance, I just want to sing" and my Mum was like "ahhh crap ok, more running around..."
So I started singing at around 12 years old. I feel my teachers inspired me, I soaked up all the songs/artists they gave me to sing/listen to and I feel this grew into a deep appreciation for all genres of music. As a singing teacher now, it's rare you come across a student that is happy to give songs they've never heard before a go. I'm very grateful I had such amazing teachers and impressed with myself for learning all those songs as I have learnt to sing in pop, rock, r'n'b, jazz and musical theatre styles.
Stage Whispers: What is your favourite thing to do when you're not on stage?Georgia: When I'm not performing, I'm a teacher and I love singing with all the students in my classes.
Matilda: I love dancing, playing clarinet/ sax, baking, travelling and adventures.
Emma: Besides the obvious wine and cheese platters, I like to relax and wind down before the next crazy week with good company and a great movie or TV series.
Stage Whispers: If you were a song in musical theatre, which song would you be?
Georgia: "Vanilla Ice Cream"from She Loves Me. Not only do I adore ice cream, I also identify with the character Amalia who is second guessing all her actions!
Matilda: Anything sung by Sutton Foster/"Woman" – "Pirate Queen"
Emma: "All That Jazz" - Chicago
Stage Whispers: Tell us about your character.
Georgia: I am playing the role of Cosette as a young woman. She is first introduced as a young child, singing "Castle On a Cloud". Her life has been a very unsettled one and in the show she deals with questions about her past and longings for her future. A run in with the handsome young rebel Marius acts as a catalyst for Cosette. I know what it's like to meet a young man and wonder "can people really fall in love so fast?" and I assure you and Cosette, that people can!
Matilda: I'm playing Fantine, a young mother working in a factory (not for long) to support her daughter who is being cared for by the Thénardiers. She comes across Valjean at her darkest hour and entrusts her daughter to him. It is an absolute treat to play such a strong, intelligent, resilient, selfless woman with so much integrity despite her circumstances.
Emma: I am playing Éponine. I feel we are similar in the way Éponine is very street smart not book smart (that is definitely more me) but different in the way that if a guy didn't like me back I wouldn't keep chasing him!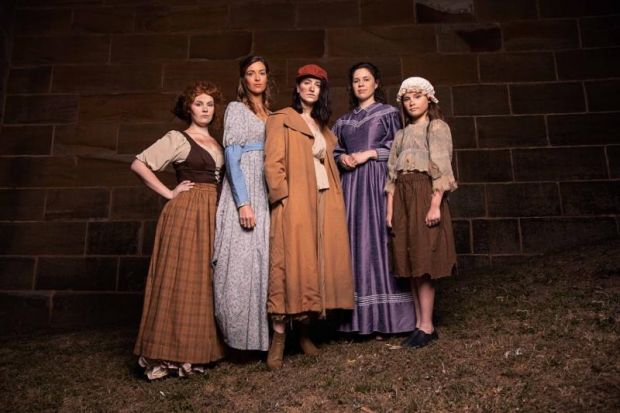 Stage Whispers: If you could have dinner with one character from any musical or play, who would it be and why?
Georgia: I would quite like to have tea with Mary Poppins – I feel like you'd expect a civilised, no nonsense tea and scones situation but you could end up eating on the ceiling, or time-stepping with tap dancing penguins!
Matilda: Tough question! Either Hunter from [title of show] (because he is hilarious), Jekyll/ Hyde from Jekyll and Hyde (that would be fascinating), or Carrie from Carrie: The Musical to watch her do some mind magic.
Emma: I would have to say Jean Valjean, in the hopes of meeting Hugh Jackman of course!
Stage Whispers: Can you tell us what your favourite career moment has been so far?
Georgia: In my performing world, I loved being involved in Bloom Creative Productions' Into the Woods in 2019. It was really exciting to be a part of launching the company and to bring the fairytale world to life with so many other great young performers and musicians.
In my teaching career, starting my full time position in Term 1 2020 is super exciting!
Matilda: Performing my own show in New York as part of the TDP/ASCAP Bound for Broadway Scholarship. I was given the trip of a lifetime to New York for a month of seeing shows, taking classes and learning from Broadway Directors, Musical Directors and performers. At the end of the trip, I got to perform my show at Birdland for the Broadway industry. It was a pretty awesome moment!
Emma: I've been very lucky to be part of some incredible performances over the past 5 years, but I have to say my favourite career moment is the ongoing, consistent working towards building up Evoke Entertainment and the shows I create for our agency.
Stage Whispers: What are you most looking forward to about Les Misérables?
Georgia: I am a long time Les Misérables fan. Many a maths lesson at high school was spent silently, but dramatically, mouthing the lyrics"Red, the blood of angry men!" with two good friends at the back of the room. Luckily this didn't impact negatively on my grades! I can't really believe I'm getting the chance to actually be in the show.
Matilda: I'm most looking forward to performing one of my favourite musicals for the 4th time, but the first time as an adult. This show is so special to me, and I can't wait to play such an incredible character alongside some of Australia's finest performers.
Emma: Not washing my hair and then (even better) not doing a thing to my hair for the show. Very excited.
Stage Whispers: What is it like performing in such an iconic musical and one that is so universal and timely?
Georgia: ​It's a real thrill. Few musicals give me the same kind of feeling in my gut that Les Mis does. The way the story is so effectively brought to life through the music and sung dialogue makes my heart sing. Something else that stands out to me is the sense of hope you are left with at the end.
Matilda: So special. This musical is iconic for a reason, and I can't wait to see this fresh cast take on the mammoth story.
Emma: It's incredibly exciting. I've always hoped I would get to play Éponine one day and I feel very lucky to be able to so with Packemin. There's also a healthy amount of pressure as the role/musical is so well known, you have to be good and make it "your own"! *sings* "On my own..."
Stage Whispers: Why should people come and see this production of Les Misérables?
Georgia: I think Packemin productions are such high quality shows because they're full of actors and creatives who are so passionate about what they do. Everyone genuinely loves being involved and I think that comes across on stage. If you've seenLes Mis 100 times, or if you've never seen it before, this is a production worth watching.
Matilda: This is going to be a special production. The cast is incredible and the team has such a strong, truthful, gritty vision to bring this timely musical to life.
Emma: Why not? Have you got better things to do with your time? I doubt it. Come and get lost in early 19th Century France with myself and the rest of the cast for a little while.
Stage Whispers: If you could describe Les Mis in 3 words what would they be?
Georgia: I only need one: epic.
Matilda: Epic. Love. Strength.
Emma: Powerful, emotional, relevant.
Les Misérables plays at Riverside Theatres from February 14 – 29, 2020.
Book your tickets at https://riversideparramatta.com.au/show/les-miserables-2020/
Images (from left to right): left to right: Jenna Woolley (Understudy Madame Thenadier), Matilda Moran (Fantine), Emma Mylott (Eponine), Georgia Burley (Cosette), Kiana Krizak (Young Eponine/Young Cosette). Photography by David Hooley.