Christie Whelan - Q & A
Christie Whelan-Browne is appearing as Philia in A Funny Thing Happened on the Way to the Forum at Her Majesty's Theatre, Melbourne from October 27, 2012 to January 6, 2013.
We spoke with Christie (pictured left with Hugh Sheridan) during the show's run.
What were rehearsals like for Forum, working not just with Geoffrey Rush, but a whole crowd of great comedians?
"Simon Phillips described it as throwing us all in a sandpit and letting us play for a couple of weeks, which was exactly what happened, and it was amazing and genius and crazy all at the same time. Simon really gave a lot of freedom because everyone is so naturally funny, just to see what was going to happen if you let everyone play. To watch that happen was really exciting, and I learnt a lot watching these comics at work."
Do you have any favourite moments from that process that stand out?
"Geoffrey in general to watch, and to watch his mind tick over and see what he creates, especially physically. He is like no other in what he can bring to the floor. He's quite extraordinary, because he trained in mime, so he pulls off things physically that you can't even imagine anyone else doing.
"And Gerry Connelly has become my new favourite person to watch. I've never seen such an eccentric, interesting performer. You just never know what you're going to get, and there's something so exciting about watching him."
Has anything rubbed off on you working with this group?
"Probably just learning how to play a bit more, which is what the people I'm working with do so well. They play until they find something. I generally don't play a lot, so I've found an ability to let loose a bit more and have fun trying different things and seeing what happens."
Is there any particular moment of your performance that's come out of that playing?
"I don't get to do it as much as anyone else, because my character is more set in stone. But there's a moment with Geoffrey – we do a number together called 'Pretty Little Picture' and we tend to play a lot in that number and feel free."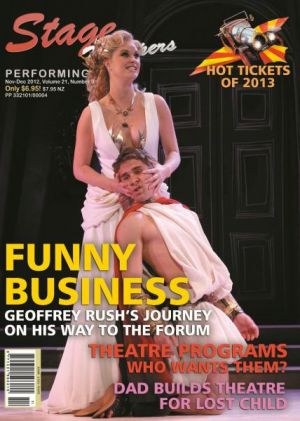 What are your thoughts on your character?
"She's very sweet and beautiful, but without a brain, so there's not a lot to play with."
How do you find as a modern woman playing that kind of role?
"Sadly, I find it easy to play that kind of role. I've played quite a few blondes that are brainless and it's becoming second nature, which is scary. There's the same sort of stereotypical feel with all blondes in musical theatre. I do look forward to playing someone who's smart one day."
What are the joys of working in the show?
"It's a great piece. Simon and Geoffrey consider it to be one of the funniest comedy scripts, which they did for (The Importance of Being) Earnest as well. So they have educated me on this kind of humour and this era, and slapstick. It's been a huge learning curve of a different kind of comedy. I've loved working in the cast, watching such talented comedians, and working with my husband, which is a thrill and a joy. I just wish I could do it all the time."
Getting away from the show for a moment, can you share something about the experience of performing the National Anthem at this year's Melbourne Cup?
"Definitely it's the most terrifying experience of my life. That pressure of 70 million people watching world-wide, or maybe more. There's something very daunting about having no room for error with that many people watching. It's a lot of pressure. But now I can just enjoy knowing I did it, and show the YouTube video to my kids one day and feel very happy about it.
"I was proud to get through it. I was afraid that I was going to get out of time because my heart was beating harder than the music. It was quite surreal, but my parents just happened to be sitting nearby in the Grandstand, and my husband and my manager were just there. I just kind of kept looking to them as though it was just something between us, to keep my focus off the thousands of people who were also gathered around, so I think I just tried to get through every moment.
"Every one had said to me, 'Don't forget the words to the anthem.' I thought, there's no way I'm going to forget them, I've sung the anthem since I was in primary school, and yet the words just continued to flow in and out of my head the whole time. It was like nothing I've ever experienced, and there's no comparison to performing on stage every night, where if a muck-up happens you deal with it and it's forgotten, or only 500 people saw it, so you can get over it, but on a day like that there's no room for anything, and that's a lot of pressure for anyone."
Singing the Anthem at the Melbourne Cup probably ranks with singing it at the AFL Grand Final.
"I think so, and the thing about those gigs is that the sound is so tricky. At the Cup it was bouncing around and around off three walls, and that can be the scariest thing of all – knowing what sound you're hearing. I think it's the same for the Grand Final, singing in a dome like that. The things that we do!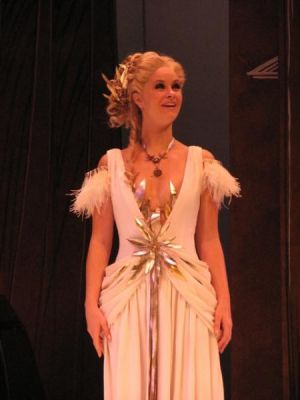 You mentioned the joy of working with your husband in Forum (Christy married fellow performer Rohan Browne in March 2012). How difficult is the touring aspect of your career and being in different shows?
"It's all about making it work. There's a huge part of both of us that doesn't want to tour apart, but in the end it's the reality. I want Rohan to have every success and him for me, so if that means being apart we will make those sacrifices, and we'll also find ways to make it work for us as well.
"After five years we've managed to work out a strategic plan. Rohan and I have done a lot apart. For the first three or four years of our relationship he was on tours around the country, and we made it work. You set three weeks as being the most time that you'll be apart, and you try to stick to that as much as you can, and when you get to work together you realize how lucky you are.
What are the special joys of working on the same show with Rohan, even though you're not working directly opposite him?
"I think it's having that support there all the time, and knowing that a hug is just ten steps away rather than in another state, or at home. You've just got each others' backs. Even though everyone in the cast is so supportive, to have someone that close to you sharing in such a joyful, but also high pressure and stressful environment, is like a dream come true. Rohan is very fun and funny, and he's got a great energy about him, so to have him at work, not just for me, but for everyone, is a great joy. He's someone you want in your cast because he's just a beautiful soul."
And he's playing one of the Proteans.
He is, and these Proteans are so great together. They run around playing about 40 characters. They're non-stop – they're the only people in the show apart from Geoffrey that work up a sweat. The show was very lucky to get three very established performers Rohan, Brent Hill and Troy Sussman. They really bring something so special to the show.
Do you have something lined up next?
"A holiday is next cab off the rank, but next year is all still up in the air at the moment, which is kind of nice. It used to be a real worry – 'What's next? What's next?' – but I feel kind of not knowing, and just waiting and seeing."
Forum stars Geoffrey Rush as Pseudolus, Mitchell Butel (Hysterium), Shane Bourne (Senex), Magda Szubanski (Domina), Gerry Connelly (Marcus Lycus), Adam Murphy (Miles Gloriosus), Bob Hornery (Erronius), Hugh Sheridan (Hero) and Christie Whelan (Philia).
Images: Performance images from the medi call by Lucy Graham. Cover image for November / December 2012 edition by Jeff Busby.
Check out our video below of Christie and Hugh Sheridan singing 'Lovely' at the media preview.
Meet the Cast of Forum
Our Q & A with Christie Whelan from early in 2012
Musical Theatre Triple Threat Christie Whelan (Drowsy Chaperone, Sugar, Xanadu) stepped directly from the Melbourne Theatre Company's sell-out hit production of The Importance of Being Earnest into a return tour of Britney Spears The Cabaret during Janiuary and February 29012. Christie spoke to Neil Litchfield about the challenges of going 'legit' and playing a troubled pop diva.
You've gone legit with The Importance of Being Earnest. How was the experience?
"It was my first legitimate play and I was very nervous. I hadn't really thought about it because Geoffrey (Rush) and Simon (Phillips) just said to me, we want you in the show, and you'll be great. And I just said, OK, cool, if you say it'll be great, it will be great. Then it rolled around, and I was looking at all the dialogue, and it really made me unsettled. I'm not really a nervy person, but for the first few days I was really nervous.
"But after a few days I settled in. I just think that Simon is the best director ever, and he really guided me, along with the rest of the cast. Jane Menelaus, who played the part 23 years ago, is in the cast. That was like having my own personal mentor on the road with me, and she really helped me. Geoffrey is very generous with his advice, and I just got there through the help of everyone around me. But it was definitely daunting.
"The fact is that The Importance of Being Earnest is just so perfectly written and that is what Simon kept reiterating. Everything is there for a reason, so there was just a lot of pressure to bring this amazing dialogue to life."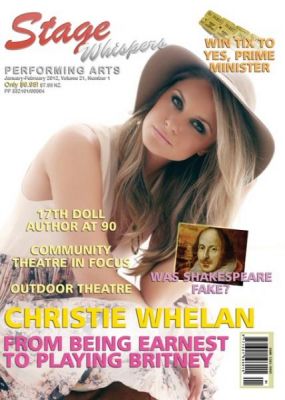 After all those nerves at the outset, how has the reality of Earnest been?
"It's great fun, and settling in to it you find something new every night. That's the thing about a play – you're always discovering – things are always changing. I've learnt a lot. I keep joking that working with these people has saved me three years at Drama school. It has been one of those experiences that I'll look back on in 20 years as one of the most amazing acting experiences."
You are returning to Britney Spears The Cabaret. Obviously that presents a whole different set of challenges.
"I remember saying in an interview a year ago, when I was doing Britney, that it made me really nervous too, because I was doing a show on my own, and not having a cast to back me up. But I watched a DVD of it the other night, and thought, I'm really looking forward to doing it again.
"I did love doing the show. Even though you are really exposed – you're out there on your lonesome."
You've already performed this show for several seasons. What have you discovered about as Britney as you've gone along?
"It's probably changed with every season. In terms of Britney as a person, I did my research on the way she speaks, her accent, and the way she speaks candidly in an interview right at the beginning. But in terms of the show, it's a very emotional show. It's my take on her and the way that she delivers all of these stories we've heard about her in the press, and she delivers them very candidly and openly, and from her point of view. I guess I just try and find a very human side of her which nobody really gets to see."
What are some of those things you've discovered?
"At the end of the day she's a person, and I think that's the thing that's most easily forgotten. She's become this person that we see in photos and stories, and she had a breakdown, and she shaved her head and she flashed herself when she got out of a car – these are the sort of things that we see, and you forget that there's a human being, there's a mother, and just a girl – she started out as a really young girl. Those are the main things that I want people to walk away from the show remembering."
Are you a Britney fan?
"I've always been a fan. I had all of her albums, and my cat is named Britney after her. It was never going to be a piss-take, which I'm sure that people thought it would be when the show first came out. Both Dean (Bryant), the writer, and I are big fans."
You mentioned being nervous about going solo on stage as Britney, but now you are now looking forward to it. How has that shift come about?
"When I did it in Sydney, the venue allowed people to drink during the performance, which created a vibe where drinks were being made and passed around. But this show carries a through line, telling a story. It was distracting, and very hard to get people's focus back. And you've got no-one to bounce off – you're there on your own.
"There was a restaurant right next to the room where we were doing it in Sydney. One night there was a birthday party in there and about 20 people started singing Happy Birthday at the top of their voices while I was trying to get through this monologue. All those things just made it so difficult.
"Then when we came to Melbourne and we did it at Chapel (Off Chapel) it was a venue where people knew they were coming to see a show, and they just sat there and listened, and I got to tell the story without worrying about all those distractions. Now I think we've found where the show sits in terms of venue and audience and that makes me feel much more comfortable."
How Christie Broke into Showbusiness.
"I started out doing musicals at my high school, St Helena Secondary College, from years 7 – 12. We rehearsed for three months, we had rehearsal camp, and it was a really big deal. We had fantastic costumes, and it was a huge training ground for me. In year 12 I was choreographing and playing a part. It was the first time I realised this was something that came naturally to me. It is the only thing that was born in me, and I don't know how because I didn't come from a family of performers, but it always felt natural.
"I went to dancing for two years because my best friend did, and I wanted to do everything she did. But my family was basketball all the way and I had to choose between one or the other, and I went back to basketball. But my dance teacher Bev Palmer was one of the best in Melbourne, so I got two years of really solid training, which has stayed with me.
"Then in year 12 one of my friends told me about a local amateur theatre that was doing Les Mis, and that I should come along and audition. I ended up doing the show, and a couple of shows with Catchment Players. Then an agent came along and saw me playing Roxie in Chicago, and asked if I wanted to be represented.
"It was one of those crazy things that came out of nowhere. I was totally clueless about the industry, and I don't know how all this would have come about if he hadn't come along and said do you want an agent. It's been about six years since then. I would never have thought that performing could be a career. It was something that other people got to do, but it was never something that I would get to do."
Originally published in the January / February 2012 print edition of Stage Whispers.
Stage Whispers has previousy spoken to musical theatre triple threat Christie Whelan on several occasions, most recently during The Production Company's July 2011 season of Anything Goes.
CW: The role of Erma is a small supporting one, she sings one number 'Buddy Beware' and has a few little scenes. It was a real change of pace from my last few shows and honestly it has been very nice!!! I have enjoyed having a little break from the pressure I felt in Xanadu or Britney or Sugar to help really drive the story along, here I just get to just pop in and out and have a BALL! She really is a great role, a dirty gangsters moll (typecast?).
SW: When you spoke to us about your previous appearance with The Production Company in Sugar, you talked about how much you enjoyed working with the company. How has the experience been this time around?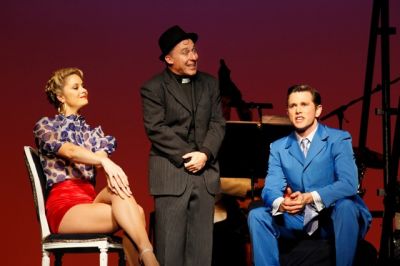 CW: Same applies! They are a WONDERFUL company. Giving so much love, support and opportunity. I have LOVED working with this cast. MAN they are amazing. Getting to work with Rohan (fiance, Rohan Browne) again has been PERFECT! Andy (Hallsworth) and Dean (Bryant) have been amazing as Co-Directors. I have honestly had the best time on stage and off.
SW: This role has come around after the early closure of Xanadu and the cancellation of the tour. Can you tell us about some of the joys and disappointments of that experience?
CW: Well, I take mostly positives away from the experience. The show taught me about my physical strengths I had that I never knew I had. Learning to skate was a huge challenge that I eventually enjoyed (after a few weeks of frustration!!!). I LOVED the show. I loved singing the songs. I think the hardest part about it was that I had my FIRST year of solid work booked. I was going straight into (The Importance of Being) Earnest from Xanadu and I was feeling so happy about that. After 6 years in the industry I had ONE FULL YEAR of work booked. That might sound strange but the constant search for work can sometimes be the most tiring thing about this business. Always keeping one eye on the job, one eye on what's next. So I thought for once I might have a bit of a break from that. But in the end I have come out and shot 2 different TV shows, played this role of Erma, I am about to do some more TV work and things have just kind of worked out (luckily). Earnest is going to be a major highlight and I am just so excited. It is the only show I have ever been a part of which has been sold out a year in advance! No pressure!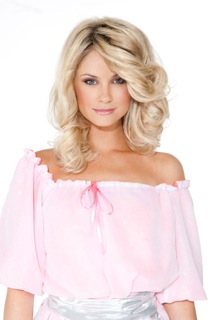 Christie previously spoke to Stage Whispers while she was appearing in Xanadu in Melbourne earlier in 2011.
SW: The last time we spoke, you were about to play the title role in the musical Sugar, an iconic Marilyn Monroe role from the film Some Like It Hot. How was that experience?
CW: It was wonderful. I LOVE working for the Production Company, they are so supportive. I was so lucky to work with Mitchell and Matt, two actors I have always admired. We had a lot of fun and then it was all over 5 days later!!!
SW: What sort of a personal stamp do you think you brought to the role?
CW: I think I did take a pinch of Marilyn and then probably bought a bit of my goofy physical comedy.... I dont know!!! It is so hard to analyse my own performance!
SW: Now you're playing another iconic film role in the stage version of Xanadu, the goddess Kira, created by Olivia Newton-John in the film. That was a flop, but the film and performance has developed quite a cult following, and probably carries even stronger audience expectations. How have you approached that?
CW: The script and character is very different to the film. The Musical is a TOTAL send up! So again, I tried to take some elements of Olivia's performance (which was beautiful) and then the rest is all there in the script. COMPLETELY over the top characterisations of a muse who is disguising herself as an Australian girl named Kira wearing roller skates and leg warmers. I don't think I can let myself get bogged down with people's expectations. You can't please everyone and the show is what it is. It is a comedic send up and utilises the best part of the movie, which was the amazing songs. I think if people come and enjoy it for what it is they will have a BALL! The show has so much heart and the underlying message is FOLLOW YOUR DREAMS.
SW: The film has a camp classic status. What sort of a spin has this Broadway musical taken on it?
CW: One of the lines in the show is 'this is like children's theatre for 40 year old gay people'. The show totally takes the piss and never takes itself too seriously. It's all gags and romance and fun! With many disco balls!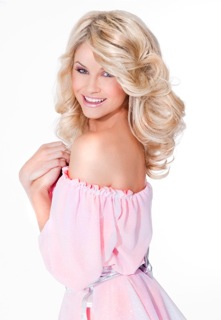 SW: How have audiences responded to the show?
CW: People have loved it. I think it's the kind of show that you don't have to love musicals to enjoy. It's just a whole heap of fun. The scenes are short and sharp. No interval. It's a great night out. And the music really affects people. They just love it.
SW: I believe that you actually met up with Olivia Newton-John. How was that experience?
CW: It was beautiful! She was as warm and down to earth as you would hope she would be, and then some! Very generous and happy for me. We got to perform 'XANADU' together on stage on opening night as a special treat to the audience, but I think I enjoyed it more than anyone. What an honour to share the stage with such a legend.
SW: Later in the year you're back at the Melbourne Theatre Company in The Importance of Being Earnest, and working again with Simon Phillips and Geoffrey Rush. This is your first move from musical theatre into legit, we believe. What are your thoughts and feelings on this?
CW: Simon and Geoffrey just joke with me about it and say 'now you cant just burst into song in this one, and no dancing either!!' and I say 'so then... how do I express my emotions??" I think it is going to be one of the best experiences of my life. I adore working with Simon so much. He is just so nurturing and I trust him so implicitly. Geoffrey as a co-star, well you can't ask for much more than that! I don't have any fear going into this experience because those two marvellous men have such faith in me.
SW: Will we be seeing your Britney Spears cabaret again in the near future?
CW: I hope so! We are trying to find time in the schedule! I love telling that story and I really hope it is sooner rather than later. I would also love to take it overseas at some stage.
SW: Meanwhile, we believe Wedding Bells are in the air.
CW: Yes, we are getting married in a year! Here in Melbourne at the Fitzroy Gardens. Being engaged is the most wonderful feeling, and then everyone just says it only gets better when you are married... so bring it on!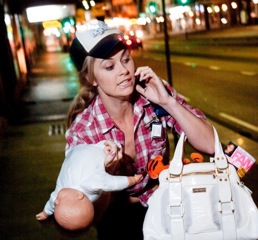 Christie's original 2010 Q & A with Stage Whispers follows.
SW: Can you tell us a little about how you started on the path to a career in musical theatre and cabaret?
CW: I didn't actually realise that a career in Musical Theatre was possible. I was just doing amateur theatre and an agent came and saw me play Roxie in Chicago and asked if I wanted to be represented. I was very clueless; I learned everything as I went. And through luck and timing, and Kelly Abbey and a British director called David Gilmore taking a chance on me, I got cast in my first musical, Grease, as Patti Simcox. Cabaret was never on my radar at all. And I probably would never have done it, had this wonderful idea and opportunity come up.
SW: Can you tell us about your training?
CW: I have trained sporadically under different teachers - Susan Anne Walker and Rosie Harris for singing, I danced at Bev Palmer's for a couple of years when I was younger and more recently have been doing some TV and film courses around Melbourne and Sydney.
SW: Can you take us through a couple of career highlights to date?

CW: Honestly, Britney is a huge highlight for me. When I performed this at the Adelaide Cabaret Festival 2009 it was the first time I had been on stage alone for more than 10 minutes in my life. It was an hour and 10 minutes of just me. Very scary, thrilling and satisfying (especially doing such great material). Then of course, Janet Van De Graaf, in The Drowsy Chaperone for MTC, with THAT cast, was just huge. It's a very special point in my career. Also I got to work with my boyfriend (Rohan Browne) on that show (for the first time) and that was definitely special!
SW: In Sugar, for The Production Company, you're about to play a role firmly associated with Marilyn Monroe - such an icon. Do you see challenges in that? What personal stamp do you think you'll put on the show?
CW: 
It is always a challenge to take on a role that has been played by an icon. But I think I will bring my own sense of humor to the role and I will be feeding off my two WONDERFUL co-stars Matt Hetherington and Mitchell Butel. The script is so wonderful that it gets me laughing out loud and Sugar is just a divine character and person. I think she will be absolutely lovely to play. Sad part is that it's only for 5 shows!
SW: We're interested in your experiences working on new Australian shows with Dean Bryant and Matt Frank (Once We Lived Here and now Britney Spears: The Cabaret) compared with large shows like The Drowsy Chaperone.
CW: 
Once We Lived Here was a project that I was involved in workshopping and then doing the season at 45 downstairs. I felt a real connection to the character and loved creating her from the ground up. I loved the story of this Aussie family and the problems they faced, which were so relatable and real. Drowsy was a similar experience in that we created it from the ground up, unlike some major musicals where everything is already set in stone. There was a lot of freedom in both of these processes. Talking and singing on stage in an Aussie accent for OWLH was really a challenge. I learned that, as a performer, I hid behind the American accent and when it was taken away I found it very hard. I felt like I was under pressure for Drowsy because I was working for such a wonderful company and with such an amazing cast of actors, but the pressure was still high for OWLH because Dean and Matty had been writing this show for 10 years. It was their baby. They had done reading after reading, and workshops and recordings and they had chosen me to be involved in the World Premiere. I felt enormous pressure to get it right for them. They deserved it.
SW: And the differences between performing for the intimacy of cabaret as against appearing in large scale musicals.

CW: The hardest thing I find about cabaret is that people will just talk if they want to, and you can hear and see them doing it! It can be hard to block that out or not be offended by it and take it personally! I do love the intimacy and the casual feeling of it though. Sometimes during Britney I will feel like I'm just having a chat with a room full of people. In a musical I feel much safer. The audience is further away, you can't see them look at their watch or yawn! Plus you have the support of your cast mates, which is so comforting. In cabaret you are taking the highs and lows on your own shoulders.
SW: How much input have you had in creating Britney Spears: The Cabaret and how has your interaction with Mat differed (if at all) between him MDing Drowsy Chaperone, but creating/having a personal connection with Britney Spears: The Cabaret?

CW: Dean called me up with an idea for this show and immediately I knew he could write something funny, edgy, witty and moving. Dean and I have a great connection as writer/actor. His words come off the page and out of my mouth without any need for explanation or discussion. He knows my strengths and weaknesses, so I guess my collaboration was just bringing who I am and what I do to the table and Dean wrote around that. That is one of the most wonderful things about someone writing a show for you. He did all the research and structured the show around these songs SO beautifully. Mathew and I work very well together. We both like to work quickly and just get the job done. By the time we did Drowsy together, we had already done so much else together that it was just like second nature. And we like to try and do it all having a laugh and relaxed vibe along the way.
SW: How would you describe Britney Spears: The Cabaret in a nutshell?
CW: 
I would describe Britney Spears: The Cabaret as a satirical look at the perils of fame through the eyes of one of the world's biggest pop stars. We hear all the stories we have read about Britney in the tabloids, but we hear them from her perspective. We finally hear the words to her songs and how beautiful and meaningful they actually are. And maybe people will leave with a new light shed on Britney.
SW: Are you a Britney admirer? Do you see anything of yourself in her? What personal qualities will you bring to the role?
CW: I have always been a Britney fan. I knew every song before we even started, so that was helpful. I bring a lot of myself to this role in telling the story, my own feelings of insecurity, sensitivity and my sense of humor. I can't relate to Britney on many levels, but I think she is stronger and smarter than she gets credit for and I enjoy telling this story so much.
SW: There's recently been a Facebook group created as a kind of petition to cast you as Elle in the Australian production of Legally Blonde. Just wondering what your thoughts are on this?

CW: I have always loved that show and that role. I'm not sure how I feel about the page to be honest. I know it was made by someone who loves me and supports my work, and that is wonderful. Part of this business is about putting yourself out there and saying 'hey world, here I am, I'm the girl you are looking for'…. But that is the part of this business I am still trying to get better at feeling comfortable with.
SW: What about career ambitions and dream roles?

CW: I just want to work. Do good work. Different work. Elle Woods is definitely a dream role for me. I'd love to play Fantine in Les Mis. Looking back over my CV, every role is that of the comedic blonde. One day, I would like to show that I have more in my backpack than just gags.
Questions prepared by Neil Litchfield and Ian Nisbet.
Images: (from top) Christie as Britney Spears, Christie as Erma in Anything Goes (Photographer: Jeff Busby) Christie as Kira in Xanadu, Sugar and in The Drowsy Chaperone (Drowsy Chaperone image by Jeff Busby).