Come From Away – A 9/12 Musical
Creators of the musical Come From Away Irene Sankoff and David Hein chat with Neil Litchfield about their Broadway hit, celebrating extraordinary kindness and humanity in response to the 9/11 terrorist attacks.
At first glance it's among the most unlikely of ideas for an award-winning musical - the story of the 7,000 airline passengers whose 38 flights were diverted to Gander, Canada on 9/11 after US airspace was closed, and the Newfoundlanders who made them welcome.
Four creative teams had turned the project down before Irene Sankoff and David Hein (pictured below) came on board.
Yet, since commencing Broadway previews in February 2017, Come From Away has consistently played to Standing Room Only.
When I sat down with the writing / composing team ahead of the July opening at Melbourne's Comedy Theatre, I began by asking ….
Where were you on 9/11?
Irene Sankoff: We were living in a residence for international students on the upper West Side of New York. We were asleep and the phone rang. It was my dad and he said "there's been a terrorist attack". I said, "No, no, no, no. A helicopter just flew into a building. This is New York stuff." And he said, "No, there's been a terrorist attack. Turn on your TV." He must have been the last person to reach Manhattan. David saw the second plane hit the building on TV. I wasn't in the room. It was terrifying. We spent the rest of the day waiting for news about the other students in our residence, who miraculously all came back, and David's cousin, who fortunately got out of the Towers.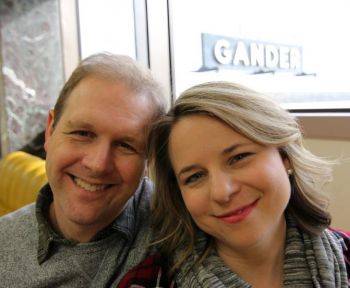 David Hein: There were 700 students from 110 countries, so a lot of what we remember of those days, as Canadians in New York, was people from around the world coming together to take care of each other.
A month later we were part of the Carpe Diem - Seize the Day movement. We went to City Hall in New York and eloped. My cousin, who had been in the Towers, was our witness. None of us realized that this was the first time she had come back, so afterwards she took us down to Ground Zero and led us through the path by which she had escaped. It was a very strange day of celebrating love in the shadow of this tragedy.
So, a lot of what happened in Gander – the people who fell in love there, the friendships that were made and the overwhelming kindness – really resonated with us.
Tell me about being offered Come From Away by Michael Rubinoff from the Canadian Musical Theatre project, after four other teams had turned it down.
David Hein: The difference between us and those other teams is that they saw a 9/11 musical, while what we saw was a 9/12 musical. It was a musical about how this town responded with kindness, generosity, joy and friendship to this tragedy. It wasn't a story about 9/11; it was a story about the response to it.
Irene Sankoff: After moving back to Canada it was something we'd stopped talking about. Then starting to read the stories on Facebook about people who had stayed in touch after having been put up by people in Gander, who were still friends ten years later, we just fell in love with the story. Because we were staying in an international student residence, we saw what it was like to be with and comfort people from around the world. In some way it was like, 'we lived this'.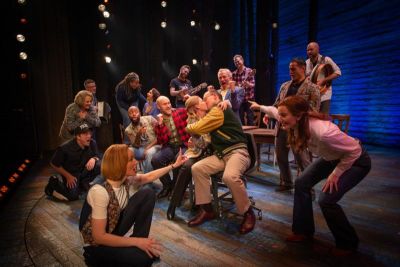 I've heard Come From Away described as 'an unlikely musical', but you didn't think so.
Irene Sankoff: There was a moment when we were doing the interviews, and I loved the way the people of Newfoundland answered us, and the "Come From Aways" (that's what the Newfoundlanders call them)too, and I thought for a moment, is this more like The Laramie Project? Is music a part of this?
David Hein: Is this docu-drama? We wanted to use the verbatim storytelling, and the words they were giving us, but I've grown up on Newfoundland music …
Irene Sankoff: And he was like, "Just wait until the concert tonight. Wait until you hear the music, and then we can discuss it." And when we got there that evening and the band started, it was like "My god you're right, this is a musical." It would be disrespectful to tell a story about Newfoundland without music.
David Hein: It's because it's in the DNA of the people out there - it's how they've gotten through their terrible winters. Everyone brings their instruments over to their neighbours' kitchen and they tell stories and they sing songs and they dance, and they stay warm by coming together as a community. That's how they survive. The music is this life-affirming, amazing Celtic/Folk/Rock that is in response to the hard life that they live – these terrible winters, this rock that they live on, the fishing industry and how they've lost so many people at sea.
Give me a feel for the re-union and the interviews you had there.
David Hein: It was incredible. Seeing these people coming back together and re-uniting, but we'd also researched a lot about them – these ordinary people who had made sandwiches for everyone. They were practically rock stars to us. We went through this whole experience with the people who are the characters in our show and became friends with them. Everyone was welcome, and everyone was commemorating - beautifully recognizing that this tragedy had happened - but people were also hugging, crying and talking about the kindness they had seen.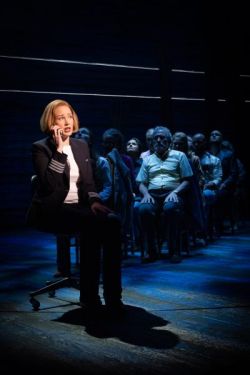 Among your interviewees was Captain Beverley Bass, who became the first female Captain for American Airlines in 1986, and was the only female Captain who was grounded at Gander that day.
David Hein: We spoke to her on the 10th anniversary, literally, on the morning of September 11, 2011. With so many of the interviews we did, we'd do these three-hour interviews and someone at the end would be, "Now what're you doing? You're telling us you're doing a musical about people making sandwiches for other people?"
We'd be like "Yeah."
And they'd say, "Yeah, good luck with that."
Beverley talked about how she thought we were these young kids who were clearly crazy.
Irene Sankoff: It seemed like a school project, and because we were writing it for a college, I think it got confused. And then we just were asking Beverley every question we could, because her history is so fascinating – becoming the first female Captain. There's a song in the show that's pretty much verbatim her journey to becoming a Captain.
David Hein: You could literally take her words – all of their words were so wonderful. We were recording them and transcribed them, and we lived with them for years …
Irene Sankoff: In our heads.
David Hein: We set them to music
Irene Sankoff: … reshaped them, and gave some words to different people.
David Hein: Then when we were workshopping the show they would come to see it, and they wouldn't realise how intimately we'd been living with them in our heads for a long time. It's been a really powerful experience showing someone their experience back to them.Our goal the entire time was to be authentic, and for them to say "you got it right".
And when Beverley came to see the show, after her initial response to you, how was the experience?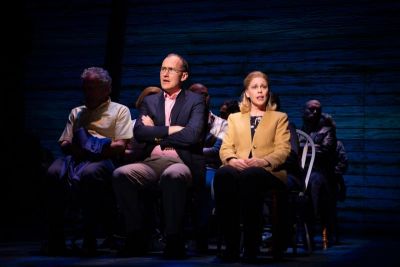 Irene Sankoff: In our defence, we had sent out a CD of some of the demos of the music. Maybe it never got to her. Then we invited her to watch it streamed when we were doing the show at Sheridan College, but she had a terrible connection, so she couldn't see it. She was completely unprepared for how big a part she was.
David Hein: She came to a party the night before seeing the show, met all the cast, and was telling them stories. The words coming out of her mouth were, literally, dialogue from the show, and the cast was like, "You don't say. Interesting. I think you're going to like the show."
Since then she's been to the show well over a hundred times, and she brings back countless pilots, flight attendants …
Irene Sankoff: … countless female pilots at a time, and I'm just "Whoa!" The air shifts in the room.
David Hein: And now young girls are inspired to go into the aviation industry because of her. She broke ground, she was a pioneer, and she's this amazing figure that we get to celebrate, along with the people from Newfoundland.
And transforming the verbatim text into a song?
David Hein: It took a long time.
Irene Sankoff: We did have a child, and we were unemployed, so we transcribed all of our recordings ourselves, and ran our interviews over and over again, highlighted things that were interesting to us, made piles of articles and letters – like this was all about food, this was all about the women in the community, this was all about faith…
David Hein: A lot of it was that we didn't go in trying to follow the rules of musical theatre.
Irene Sankoff: We didn't have to because …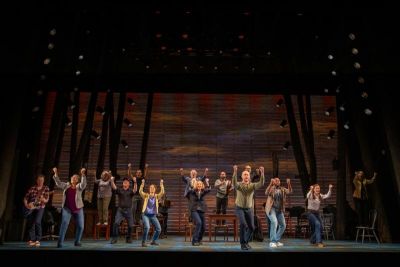 David Hein: We weren't trying to go to Broadway.
Irene Sankoff: We were trying to write a show for Sheridan College in Oakville, Ontario.
So you never imagined writing the huge international hit the show has since become?
David Hein: No, but beyond that path there was a freedom behind that, because you could just write a song based on all the Newfoundland music that you loved, and not think how is this going to translate to the stage.
Irene Sankoff: Is this going to be a good song in a cabaret act? We didn't have to do that. We didn't have to conform to a formula.
David Hein:There's pieces in the show which are not songs; they're 30 second musical sections, that sometimes were just inspired by a line that we read in our transcriptions. Someone said, "We were on the plane for over 28 hours, over an entire day. There was only one aisle in the middle. Everyone knew every inch of that plane." And there was something musical about that. It was literally everyday poetry that people were giving to us. It's the whole plane singing that.
What makes the show resonate with so many people? Is there something about those universal moments of shared consciousness - of knowing where we were when an event occurred – like, say, the Kennedy assassination?
Irene Sankoff: Or Pearl Harbour or the Challenger explosion.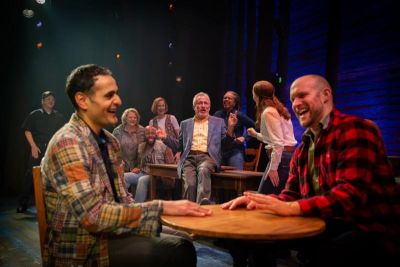 David Hein: What's interesting about the show, in terms of breaking the rules of musical theatre, is that there isn't an antagonist in the show. It's about two protagonist groups that come together. If there's an antagonist in it, it's really 9/11, and it's this moment that we all remember; this moment in the show about all of these characters, who have been trapped on these planes for 28 hours with barely any information – before you could Google things on cell phones. They finally get to see the images on TV and Chris (Director Christopher Ashley) has them staged just standing at the lip of the stage and staring out. Every single member of the audience knows exactly what they're looking at. You don't have to say it.
Irene Sankoff: We're so used to seeing horrific things on TV, or wherever you get your news, which just make you sick to the stomach. First of all we're traumatized and now we're a little bit numb. I think to see something (and again the English language fails) that is overwhelmingly good, overwhelmingly kind, is just shocking.
David Hein: What's been amazing to us is that even though it's in the shadow of 9/11, and everyone's tracking their memories of that, we've been amazed at how funny the show is. People laugh throughout it. And when they talk about crying, they say they cry eight or nine times, but what they don't say often is that it was because they're so happy.
Irene Sankoff: Or surprised, or relieved.
David Hein: Tears of joy. That was our experience in Newfoundland, and I think that's what people bring to the show.
Come From Away had its Australian Premiere on Saturday 20 July 2019 at Melbourne's Comedy Theatre.
Images of the Australian production by Jeff Busby
Originally published in the July / August 2019 edition of Stage Whispers.