Come From Away – Again.
With the world acclaimed musical about to resume its national tour, Coral Drouyn talks with Kat Harrison, cast member, about the gift that keeps giving.
We go to the theatre largely to be entertained, especially by musicals. Rarely does a show stay with us, in heart and mind, for weeks, months, even years after our "night out". But occasionally a show comes along that is life-changing without us even realising it, whether we are in the audience or the cast.
Come from Away, for those who have been comatose for the past three years (don't we all feel a little like that?), the story of 7,000 airline passengers who are diverted to Gander Newfoundland in the wake of the shocking Twin Towers terrorist attack on Sept 11th, IS that show. What's more, it's Canadian. Name another Canadian musical which has won Tony, Olivier and Drama Desk awards and has become a worldwide hit… you can't, can you?
With its ensemble cast full of magnificent characters, it reinforces kindness, compassion and humanity in a world which has a shortage of all three. It has played the capital cities through 2020 and 2021, but now embarks on a national tour, starting at HOTA on the Gold Coast, and if you are a Gold Coast resident, or even there on holidays, it's the one theatre ticket you must buy this year.
In Australia we tend to affectionately call anyone from South of our state border "Mexicans." In Newfoundland, they call them "Come from Awayers" – hence the title.
It takes special actors to play multiple characters in a show and make each one unique. One such actor is Queenslander Kat Harrison, who is best known for originating the roles of Dawn and Myra in the acclaimed Australian musical Ladies in Black.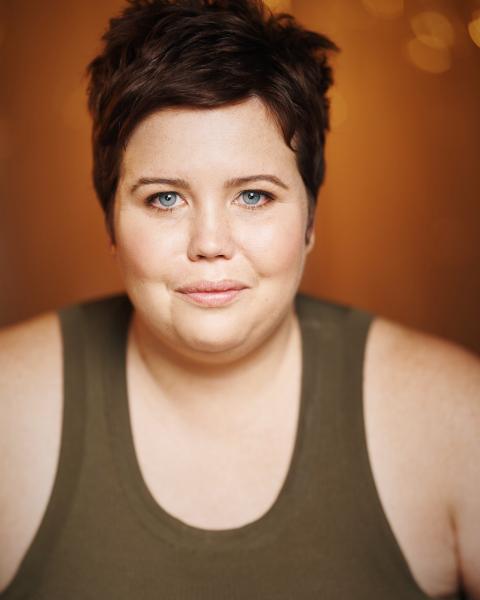 "I loved the whole process of workshopping the characters in Ladies in Black, and I do feel some sense of ownership. It's that special feeling when you are the first one ever to play a role," Kat tells me.
For a girl from a non-theatrical family, the addiction to Musical Theatre started in high school.
"I have a special love for Little Shop of Horrors, probably because it was my very first show. But to this day I have always wanted to play the plant – Audrey II. I think it's a woman's role," Kat confesses.
She says it with such conviction I have to think about it, and I have to admit it makes sense…since the plant grows and has offspring, and it is jealous of Seymour's relationship with Audrey. But that will have to wait for a while – Kat has her hands full with Come from Away
Kat auditioned for the show back in 2020, but she hadn't actually seen it then. Not that she needed to.
"I was listening to it through headphones," she tells me, "at 2 o'clock in the morning. My husband came in and found me with tears rolling down my face; I was so moved."
She got the part, but Covid got in the way …until now.
"Once I knew I had the part I bought tickets to take my mum to see the show," she explains. "But in the meantime, the producers gave me tickets. So I got to go twice in a very short period. Once for sheer enjoyment and once to actually study the show…though it's hard to try to be objective when what is happening on stage is so magical. I just loved it."
So what is it that makes it so appealing to a performer? After all, with the show a worldwide hit, aren't you just copying the performers who went before, with the characters set in stone? I ask with curiosity.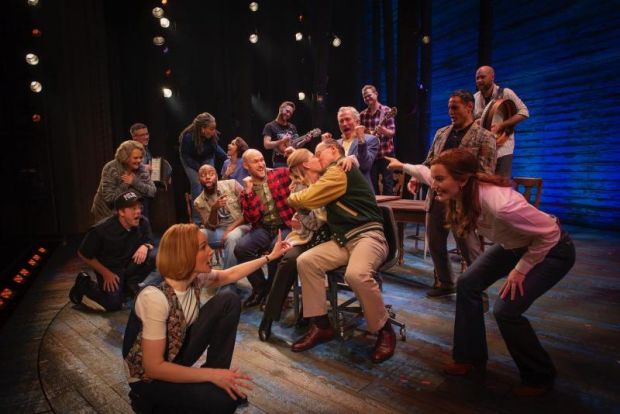 Kat answers with more excitement than I expected.
"No…that's the beauty of this show," she tells me. "Because the characters are composites of the 7,000 passengers who were diverted, we are given a lot of free rein to create our OWN versions of the characters. It's very liberating, especially with a show that has been this successful."
I'm surprised, but it does explain why the ensemble cast contains some of our finest musical theatre artists, including Natalie O'Donnell, Joe Kosky, Zoe Gertz and Phillip Lowe.
Kat explains further.
"And it's across the board with the entire cast. The standbys (understudies) get to create their own version of the characters they are covering. They have their own sets of costumes and there really is the sense of building a community on stage, where people come and go …just like real life. That hardly ever happens when it's a Broadway show."
I have seen the show before (twice) but I can't wait for opening night, as it is different each time, although the core and the message stay the same. As Kat explains…
"It's such a wonderful example of human kindness and belonging. It makes you feel uplifted and full of hope for mankind, even if it's only for the few minutes it takes to cross the carpark, get in you car and wait for the road rage to set in as you try to get onto the road. We all need those moments."
I couldn't have said it better myself. See you there.
GOLD COAST, HOTA
From: 7 July 2022
MELBOURNE, COMEDY THEATRE
From: 27 August 2022
THEATRE ROYAL SYDNEY
From: 5 November 2022
CANBERRA THEATRE CENTRE
From: 8 June 2023
Images from the original Australian cast of Come From Away by Jeff Busby