Come From Away – the musical that began with 16,000 true stories
With the hit Broadway musical Come From Away opening in Melbourne, Michael Brindley speaks to some of the real people who provided the inspiration for the show, set in the wake of the 9/11 attacks, and explores the adaptation of their stories to the stage.
On 11 September 2001, as the Twin Towers were burning and collapsing in New York, United States airspace was closed. Thirty-seven passenger aircraft were diverted to Gander in Newfoundland – which is an island off the east coast of Canada and known to the locals as 'The Rock' - where there just happened to be a one of the biggest airfields in the world, once busy now quiet but still there. So, the little town of Gander, population 9,651, was suddenly host to 6,597, stranded passengers, the folks who 'come from away'. Come From Away is the story of what happened next. It's not a '9/11 story'; it's a '9/12 to '9/16 story'.
'How come you people are so generous and welcoming?' asked one of those passengers. 'Well,' said the native Gander-ite, 'the weather here gets pretty bad, so we're used to lookin' out for each other – people you like and people maybe you don't…' So, every kitchen in Gander was cooking something or making sandwiches or bringing bedding or offering showers and even accommodation. Nearby small towns were ringing Gander's mayor to ask how they could help too. The supermarkets told local cop Oz Fudge to take whatever he needed. When the word went out that toilet paper was running low, a second word had to go out to tell people to stop, they had enough.
So, by what method or process did this rather surprising, rule-breaking hit come about? How did a 'true story' (or many, many true stories) become this show?
Having taught the art and craft of adaptation for many years, Come From Away seems to me a triumph of adaptation. Where it began was with the writers (things usually do), Irene Sankoff and David Hein. They weren't in Gander on September 11, 2001; they were in New York – so they knew about people, often total strangers, helping and comforting each other. But then, ten years later, they heard about a reunion of the Gander people and the 'come from aways'. So, they went. Four other teams had turned down a commission from Sheridan College in Oakville, Ontario, but Sankoff and Hein knew they had something. They interviewed. They heard the Newfoundland music. Besides, a commission from a college was an opportunity: it provided a degree of freedom; Sankoff and Hein were not obliged to create a 'Broadway musical' and they could go with and develop what they knew the story could be.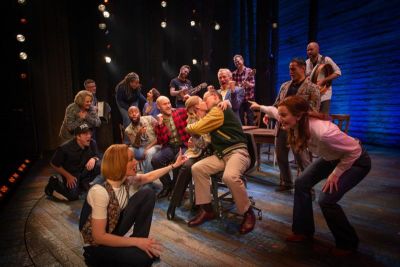 The show's producers have brought to Melbourne some of the real people – some from Gander, some from the 'come from away' folks – and interviewing them, as genuine and down-to-earth human beings as they are depicted, gave me an even greater insight into what Sankoff and Hein – and their collaborators - have achieved.
From the start, people, including the 'real people', questioned how this material could possibly be a musical. As somebody said, 'A musical about people making sandwiches? Good luck with that.' But Sankoff and Hein knew it could work. They could also have been overwhelmed by the reality they found, and, indeed, as one of the producers, Rodney Rigby of NewTheatricals, told me, what might be called the writers' first draft was maybe six hours long. But then, demonstrating their belief in the project, their skill and theatrical instincts, and putting in hours and hours of time and hard work, the selection process began.
What they knew – emotionally and pragmatically - was why they were telling this story and that put them at an essential advantage – why is the sine qua non. The challenge with any adaptation of a 'true story' is to give form to chaotic reality and be engaging and entertaining and be faithful to 'what really happened'. You might have to fudge a little and eliminate and amalgamate. (Which they did.) But you don't include things merely because they are 'true'. You don't include a character merely because they were there. Every line, every incident has to fit, to work and to tell the story you set out to tell.
Sankoff and Hein squeezed their material down to a forty-five-minute concert version (the work to reduce what they had to such a length shows their discipline) and it was at that early point that their show began to gather momentum and, equally important, collaborators. Producer Sue Frost of Junkyard Dog Productions was at that presentation and her reaction was 'we have to have this'. Even at that early stage, faith in the project brought together what Mr Rigby calls The Famous Five: Sankoff and Hein (book & music), director Chris Ashley, musical stager (i.e. choreographer) Kelly Devine and musical supervisor Ian Eisendrath.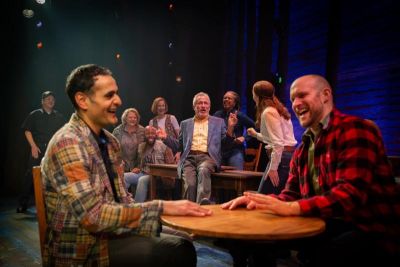 Some people questioned why there was a choreographer when there was 'no dancing' (in fact there is), but when you see the show, the collaboration between director and choreographer is clear. Beowulf Boritt's design provides only a wall of weathered timber, with two hidden doors, twelve chairs and two tables in an otherwise empty space flanked by towering tree trunks. But the way the cast move themselves and those chairs and tables to create a multitude of characters and of locations – the town café, the council chambers, the school, a hotel, people's homes, inside of a plane (where the passengers were stuck for up to 28 hours, waiting and waiting and not knowing why), the inside of a school bus and a bar – all these changes are as seamless as can be – and it's a source of delight seeing them. In something like a magician's trick, the audience is distracted and absorbed by something, say, downstage right while, meanwhile, furniture is moved, some cast switch a jacket or a hat mid-stage left, the focus shifts without the slightest hiatus, and we're somewhere else with different characters. These things can only be achieved with total cast cooperation and intricate, detailed planning and that's what we get.
Sankoff and Hein had sharp ears and sharp eyes for detail, for the telling line, for the pointed incident. When the show begins, the town council, led by the mayor, Claude Elliot (played by an ebullient Richard Piper) is in a long-running industrial dispute with the town's school bus drivers. Yep, the real Claude tells me in Melbourne: that' true. Obviously, the strike is in the show because when the planes start arriving and the school buses are the only buses, the dispute goes on hold – and in fact, it resumed when the planes left.
Or, there are a tiny-but-illustrative details, such as: up the back of an Air France plane – created by the company with a diagonal line of those chairs - a woman (cameo by Emma Powell) is noisily freaking out. Kevin J (Nicholas Brown) one half of a gay couple, can stand it no longer and offers the woman a Xanax – and then, having drunk all the mini-bottles of vodka, he and Kevin T (Douglas Hansell) break into their precious Grey Goose. The real Kevin Jung told me, yes, that really happened, clearly impressed that Sankoff and Hein had remembered it and included it. He also told me that as the passengers were embarking to leave, many of them, and many locals were in tears. A little Scots lady told the real Kevin that she was having such a wonderful time she didn't want to leave.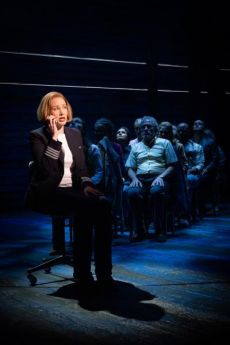 But there is light and shade to this upbeat show. There are stories woven through that are not so much fun and not at all funny. Hannah (Sharriese Hamilton) worries the whole show about her missing son, a firefighter in New York who doesn't answer his phone. Her confidante is Beulah Cooper (Emma Powell) whom Hannah has never met before. The real Beulah Cooper, still with the Royal Canadian Legion, tells me that she and the real Hannah are still the closest friends and visit each other in Gander or New York. The 'love story' (spoiler alert here) is between Diane (Katrina Rettallick) a sassy bubbly woman from Texas, and Nick Marson (Nathan Carter), a shy and tentative English bachelor. The real Diane and Nick are in Melbourne and still as much an item as ever.
Perhaps one of the greatest pieces of luck for Sankoff and Hein was to discover that one of the pilots of the diverted planes was Beverly Bass (played wonderfully in the Melbourne show by Zoe Gertz), the first female commercial airline pilot captain with American Airlines. Beverly's big number is 'Me and the Sky' and it is, apparently, practically a verbatim version of her story. It's a story of idealism and ambition, countered by the usual misogyny and the jealousy of other females. Those other females are at first represented by all the other women of the company in shadow. But as Beverly breaks through, becomes a flight engineer and then a captain, the other women become the chorus to her now triumphant song, the lights go up on them, they don airline caps and Beverly joins with them. The sequence is the show in microcosm: sharp, ironic, funny, then swelling emotion and suddenly very moving. What's it got to do with Gander and the show's story? It's about acceptance and inclusion and Beverly's victory isn't just for her, it's for all women.
Real characters are amalgamated - such as print journalist Janice Goudie (played in the show by Sarah Morrison) and local station TV guy and media teacher Brian Mosher. As the real Janice and Brian explained it to me, at the time it was Janice's first day on local paper The Beacon but she never in fact appeared on camera. Brian did all the on-camera stuff (including covering the disembarkation of the bewildered passengers with his students and 'service announcements'). But how could the dramatists resist having sweet, not so confident 20-something Janice, on her very first day on the job, with a huge story, pick up the microphone, face the camera and 'Janice – you're on.'
This really is a show about a community and their unexpected guests, created on stage by just twelve actors, each of whom plays at least three characters, switching accents and with absolute minimum costume changes. It's a 'musical' (or 'music theatre' if you like), but it doesn't fit the usual 'American Musical' template. The music is played by an eight-piece on-stage band, under the direction of Luke Hunter, and it's some distance from 'Broadway Musical' too. It is fittingly and unmistakeably Irish, or 'Celtic/Folk/Rock' because that's the music of Newfoundland and to have anything different would be just wrong and 'disrespectful'. Of fifteen songs, nine are sung by The Company, and of the rest, The Company joins in on all but one. There is no hero, no heroine – and no antagonist. Unless Gander is the hero and the heroine – and the uncertainty and terror of 9/11 itself is the antagonist, off-stage but ever present. It's not a 'love story', but there is a love story – a funny, touching, stop-start love story - among the many stories told. The show is about a community, but not an impossible, too-good-to-be-true community like Brigadoon.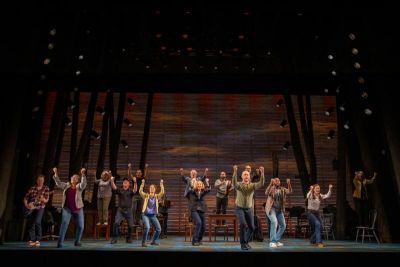 The spirit of community and welcome in response to terror and displacement is the heart and the hook of this hit 'musical'. If that sounds rather wet and 'worthy', the show is not. It is intensely emotional without being sentimental – and it is funny, fast-moving and brilliantly realised. I spent the entire show enthralled, hugely impressed with its stage craft, engaged with the cast and their characters, either laughing, or with a lump in my throat.
It seems to be a hit wherever it plays – Toronto, New York, London – and it's on record that people are going back and seeing it twice or three times. This Melbourne production is, I'm told, the same is what you'd see in New York or London or Seattle or wherever – except that here ten of the twelve cast are Australians and a different cast brings different nuances to their characters. Casting was not a long, drawn-out cattle call process – as Mr Rigby told me – and that's perhaps surprising because they are all so good.
Paul Schrader once said, 'Don't give 'em what they want, give 'em what they need.' It seems Come From Away does that everywhere it plays. Of course, it does help that every element of the show is superbly done, but its theme of a community welcoming strangers – without a second thought – hit a nerve, but also a hope of how we'd like to be in these times.
Images: Production photos of the original Australian cast of Come From Away by Jeff Busby.
Come From Away is playing at Melbourne's Comedy Theatre (Opening Night July 20, 2019).