Comedy, Cabaret and Kids at Bondi
The Bondi Theatre Company will stage the locally written comedy Bondi Legal at the Bondi Pavilion in October 2019 as part of its season of comedy, musical cabaret and children's theatre.
The comedy – celebrating its 10th anniversary – is inspired by a case the playwright Tony Laumberg took on when he was a young solicitor.
"A Bondi woman told me her daughter had a show pony that competed around Australia. Just before the Sydney Royal Easter Show her daughter applied a spray to her pony to improve its lustre. Incredibly, within hours it was covered in a rash and its tail and mane had fallen out!" he said.
"So began a real David and Goliath story as this mother sued a large chemical company with unlimited resources and the backing of a big city law firm, a ruthless barrister and the best experts in Australia."
The reason I was inspired to write the play was that this case was a compelling lesson on the need to stand up to a bully, corporate or otherwise, and fight for what's right."
"As I have a very strong humorous bent, I decided to use a bit of comedic licence and change the intrepid, confident and extremely handsome lawyer in this case (who may or may not have been me) into a bumbling, anxiety prone advocate whose fear of Court gives him nightmares of the worst kind!"
Tony Laumberg has written 13 plays. Bondi Legal recently completed a five-week tour of Tasmania.
It will be staged for Ten performances Only from October 11 until 26. Tickets can be booked at www.bonditheatrecompany.com.au
Tony Laumberg recently met the cast at Bondi Beach. See the video.
CAST AND CREW:
Brad Pitt : Michael Arvithis
Frances : Jadie Bastow
Frank : Valentino Arico
Magistrate : Tricia Youlden
Simon Crookwell : David Evan Samuels
Directed by Richard Cotter.
Set Design Allan Walpole.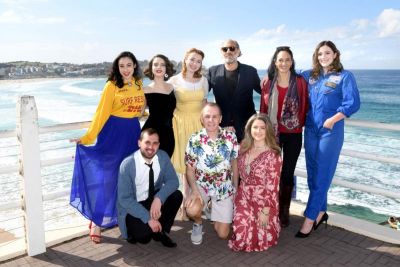 CABARET, COMEDY AND CHILDREN'S THEATRE
The Bondi Theatre Company is staging its third season of comedy, musical cabaret and children's theatre in 2019.
Theatrical agent David Spicer set up the company to promote Australian musicals and plays and give artists an opportunity to showcase their talents.
"Last year we staged Margaret Fulton : The Musical and as a direct result the musical will embark on a national tour commencing next year," he said.
Eleven other cabarets and children's theatre productions are part of the 2019 October season.
AUSTEN TAYSHUS : NEVER AGAIN
Legendary Australian comedian Austen Tayshus has reached the age of retirement and is preparing to hang up the microphone for good and return to his day job as a Dentist.
As part of his farewell tour there will be the obligatory recital of Australiana, first performed in 1983. Australiana is still the best-selling Australian single ever. Oct 5, 13, 24.
THE GUMNUT GIRLS ARE MOVING IN
World Premiere : Florence and Millicent Watt are sisters. They are moving into Gumnut Cottage at 20A Gumnut Lane. They are chalk and cheese. One is tidy, the other keeps losing things. Oct 8 – 12.
DISENCHANTED – A CABARET OF TWISTED FAIRYTALES
With witty original music Eliane Morel transports you to a 17th Century Parisian salon hosted by the Godmother of fairy tales, Madame d'Aulnoy. Oct 5.
BLOOMIN'
Through movement, song and storytelling, four up and coming Australian performers share a collection of experiences about growing up as young women in 2019. Billie Palin (winner of the Sydney Cabaret Competition) , Megan Walshe, Ashleigh Campbell, Laurie-Ann Wooley. Oct 11.
THE STARS AT NOON
Emily Engeman takes audiences back in time, to the Space Race, and tells the incredible true story of thirteen women pilots who gave everything for the dream of Spaceflight. Oct 12 and 24.
A LIFE HALF LIVED: THE NATALIE WOOD STORY.
Madeleine Wighton explores the glamorous and tragic life Hollywood royalty, Natalie Wood best known for films such as Rebel Without a Cause, Gypsy, Splendour in the Grass, and West Side Story. Through the eyes of a Detective she explores the star's untimely death. Oct 19.
HAVE YOU MET MISS JONES
Melody Beck stars in a new one woman show chronicling the incredible life of Shirley Jones; The woman who immortalised the roles of Laurie in Oklahoma, Julie Jordan in Carousel, Marian the Librarian in The Music Man, and the incandescent Mrs Partridge in The Partridge Family. Oct 20.
BROADWAY RESCUE
Star of the Bondi Theatre Company's last two musicals Rebecca Spicer is branching out in a sizzling new cabaret with Justin Rynne. Instead of rescuing swimmers the duo is out to rescue some of Broadway's hits and misses. Oct 20 and 26.
CURTAINS!
Meredith O'Reilly takes us through 35 years of ups and downs in "The Biz". She's been in more than her fair share of big shows that suddenly stopped, flopped or never got off the ground. She'll sing the unsung songs from those shows and dish the dirt on where it all went horribly wrong. Oct 18.
MUSIC ISLAND : A SILENT SPELL
Return Season of this captivating story about the power of music. This show has a combination of live acting performance and animation. Oct 19 and 26.
A VIEW FROM THE CLOSET
Through in-depth analysis of queer icons both past and present, this evening of music and laughter will dissect exactly how Mackinnley Bowden's talents were formed. Oct 25.
ALL SHOWS CAN BE BOOKED AT
www.bonditheatrecompany.com.au
Images: Michael Arvithis (Brad Pitt) and Jadie Bastow (Frances) in Bondi Legal & Cabaret and comedy artists in the Bondi Theatre Company season 2019. Lightbox Photography.