COMEDY THAT SKATES ON THE EDGE OF REALITY.
Sydney's Wharf Revue is traveling south to Melbourne for the first time. But as David Spicer reports, just before opening night the comedy revue was facing its very own political crisis.
It wasn't just Julia Gillard who was sweating on the outcome of negotiations with the Independents after the Federal election. While Australia's first female Prime Minister needed their support to get her keys to the Lodge, there was also a lot at stake for the team behind The Sydney Theatre Company's Wharf Revue.
Writer and performer Jonathan Biggins says the decision to anoint Julia came just two days before the latest revue, called Not Quite Out of the Woods, had its opening night.
"It was nerve wracking, watching the press conference which finally got to Labor into Government," he said.
If the Independents had gone with Tony Abbott, a drastic re-write would have been in order.
"We've got a sequence where Julia goes through the woods (dressed as Little Red Riding Hood). If she wasn't PM there would not be much point to that," he said.
Another sketch recounting the Prime Minister's Welsh heritage would have also had to have been cut.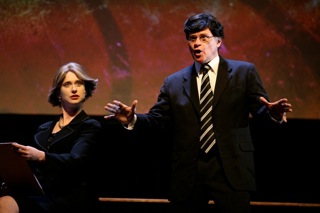 In fact the whole show could have fallen over like a set of dominoes.
Jonathan Biggins says in the revue "Julia sees Bob Brown the woodsman who can't cut down old growth forests, she meets one of the three little pig who is having problems with his roof insulation and there is an appearance by some of seven dwarves named Twiggy, Rio Billiton and Tinto."
A change in Government might also have inflicted a few extra scenes with Drew Forsythe as Tony Abbott in those famous red Speedos on the audience.
More than a decade after it began, The Wharf Revue keeps growing in popularity.
This year it runs for 11 weeks in Sydney, tours to Canberra and for the first time is part of The Melbourne Theatre Company's season.
The team is left largely to do whatever they like on stage. Sometimes they do offend.
Last year 'Various interest groups' complained about a sketch which used a song from Fiddler on the Roof and replaced the word Tradition with Possession.
One of the characters sang "I am an Arab…ducked out for a coffee, when someone went out and changed my locks."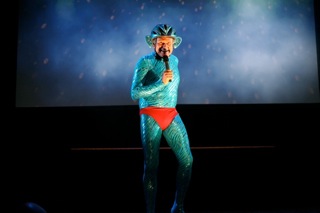 Jonathan Biggins defends the sketch as it was based on a real life incident about a Palestinian man who did go out for a coffee and when he came back to his home a Jewish settler had moved in.
Jonathan says although they copped "a lot of flack from various interest groups, some people loved it."
He admits, though, the sketch had a different tone to the rest of the revue and "got a bit serious."
The year it might be the gay community that is forced to wince.
Phillip Scott portrays the former NSW Police Minister David Campbell, who resigned after being filmed coming out of a gay sauna.
All I can say is this part did not trouble the costume department too much.
If anyone is offended then Phillip Scott, a weekly columnist for Sydney gay newspaper The Star Observer, can respond to complaints directly.
In the same breath, Jonathan Biggins says what happened to the former Police Minister was an "unforgivable" and "appalling invasion of privacy." But once the story is in the public domain the sketch is "legitimate."
Although the team has cut down many tall poppies over the years, only two have threatened to sue.
Both were journalists, but the threats were not followed through.
Completely off limits to parody, though, are the musicals which they source their songs from.
Under a little-known quirk in the copyright act, Jonathan Biggins says they can borrow songs from well-known musicals and change all the words to suit their story.
"As long as we are not satirizing the writer of the song and doing it for political purposes," and "pay a fee to APRA," the team can plunder well-known music for their shows.
So it seems that Andrew Lloyd-Webber can rest easy, but everyone else should watch out!
The Wharf Revue continues in Sydney at Wharf 2 until December 19. http://www.sydneytheatre.com.au
A Melbourne season follows at the MTC Theatre, Sumner, from January 5 to 29. http://www.mtc.com.au
Images (From Top) Amanda Bishop & Jonathan Biggins; Amanda Bishop & Drew Forsythe; Drew Forsythe in the Sydney Theatre Company's The Wharf Revue: Not Quite Out of the Woods. Photos by Tracey Schramm.
Originally published in the November / December edition of Stage Whispers.