Coming Back From Away
After hit musical Come From Away landed back at Melbourne's Comedy Theatre following its COVID hiatus, Simon Parris spoke to company members ahead of their Sydney and Brisbane transfers.
Just like the passengers on board North American flights in 2001, after their planes and lives were diverted when the terrorists attacked, so too cast members of the Australian production of Come from Away have learnt to cope with major disruptions.
Melbourne endured the longest and darkest absence of live entertainment across Australia, so when Come From Away re-opened ten months after the doors closed, the company shared a sense of joy, relief, and gratitude at being back on stage.
"It's sort of surreal," said musical director Luke Hunter. "Rehearsals felt normal and then you look out, you sit down at the piano and there's a lot of people here. We're having that communal experience again."
Cast member Emma Powell initially didn't believe they would get back to the stage in January. "We were in lockdown (in September) and I was like, 'That is not going to happen, see you in Brisbane!'
"And then I was thinking, 'Will people actually come? Will people feel confident to come to the theatre?' And now they're coming. I look out there and see all the masks. It's just wonderful."
Zoe Gertz, who plays the key role of Beverley, the American Airlines pilot, expressed her joy, saying, "It's just the best feeling. There's very much a sense in every industry, but especially ours, that things can turn on a dime. Talk about practising daily gratitude at the moment."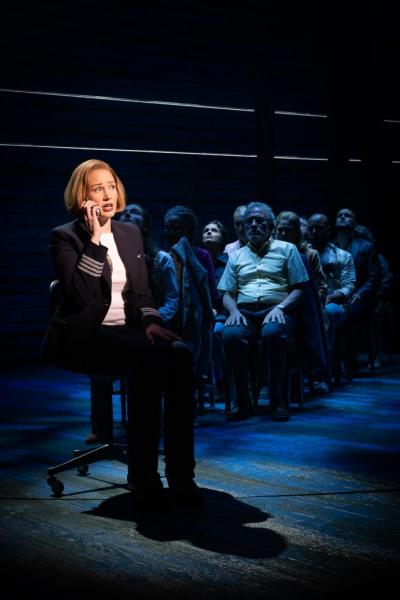 Though things did again turn on a dime when Melbourne was plunged into a third lock down, interrupting the encore season.
Before the Australian premiere of Come From Away, Zoe had the chance ask the real Beverley Bass to remember what it was that she liked about what other actresses have brought to the role.
"She said she really liked when the women were in business mode, where they're unashamedly strong," said Zoe. "I really liked that because I am someone who has gotten a lot of notes throughout my career, especially in covering roles like Fantine, saying 'don't be too strong. I need you to be softer and weaker.' To go into that space that I sit in naturally and really run with it for this was just fantastic.
"I know I'm like that in work mode. It's funny actually, my husband Phillip tells people when we first met, he was terrified of me. We met on an audition reading opposite each other and I was like 'head in the game, got my business face on' kind of thing. Beverley and I definitely have that in common."
Broadway director Christopher Ashley came to Australia for rehearsals in 2019. Zoe said, "Initially it was intimidating because this is a Tony Award-winning director and his journey with the show has been since those early days. He's crafted the musical in a way that's unique. There's such a marriage between the direction and the movement throughout the entire show."
Zoe compared the feedback she receives, especially from younger audience members, to that when she played Elphaba in Wicked.
"Last season, there were also members of the trans community that would come to stage door and would say how affected they were by Beverley's story and the song 'Me and the Sky', because it's such an anthem of 'this is who I am, and this is what I love, and this is what I'm going to do'."
In this encore Melbourne season, Zoe is joined by her husband Phillip Lowe, who has taken on the role of awkward Englishman Nick. Phillip shared his delight with the experience, saying, "It's the best thing that could ever have happened. To work on a really good show with your partner is a life goal."
Phillip was well prepared to join the cast, having seen the show five or six times in its initial Melbourne run. Replacing another actor was not without its challenges: "I thought (original cast member) Nathan Carter was absolutely sublime; to fill his shoes was daunting."
The process was made easier by the creative team's dedicated work with the new cast members. Phillip described this process, saying, "We started from scratch. We did all of the table work and research together. We watched the documentaries and footage and had discussions. We did a lot of floor rehearsal work with the standby cast and then when original cast came back, they also had to do a bit of revisiting."
Phillip has played lead roles in jukebox musicals Mamma Mia! and Georgy Girl.
"With this show, you get a different rush from it. A really sick boy came up after the show. He was obviously undergoing chemotherapy and the prognosis was not great, so to have something like this which is genuinely life affirming rather than just rather feel-good entertainment - that is a completely different reward."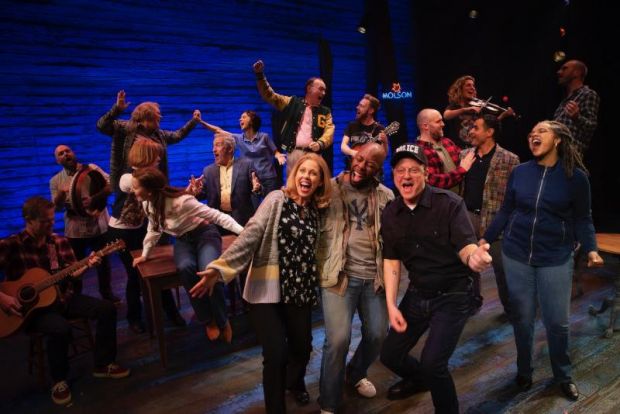 Original Australian cast member Sarah Morrison didn't initially feel the hype for Come From Away. She had auditioned for the original, for novice reporter Janice, but was not too bothered to see the role go to another actress. That changed one homesick night in London when she caught up with a friend and saw the West End production.
"I sat down, and I just ate my words, because I think it's one of those shows you have to experience. I wasn't aware of what the show is and that's why I think it's so tricky to explain to people what it is." Two weeks before rehearsals started, Sarah received a call asking her to join the cast - she enthusiastically said yes.
Sarah's role as Janice Mosher is based on Janice Goudie and Brian Mosher. "It became very clear to me after having spent time with them which parts have come from verbatim interviews. Brian is incredibly charismatic, just full of life. The story about (meeting) Oprah Winfrey - that's him. He played me her voice message - he still has it. Janice is much more salt of the earth. She's the one that's saying, Can I do this?"
In her alternate role as a Texan flight attendant, Sarah must enact a sharply judgemental moment, when fear leads to racism. The flight attendant expresses her fear at having a Muslim man on the flight out of Gander, saying that she will not stay on the plane if he is not removed. Sarah spoke about her background preparation to performing this scene.
"Back in the rehearsal period we all spoke about our experiences of 9/11. We spent a couple of hours going around the whole table talking about where we were. Original cast member Nick Brown told us that he had grown up in Australia but, after 9/11, that was the first time he'd ever been racially profiled for the way that he looked. We still definitely have Islamophobia in this country. Hopefully, it's a moment where people in the audience check in with themselves to have a think about their behaviour or the way they think."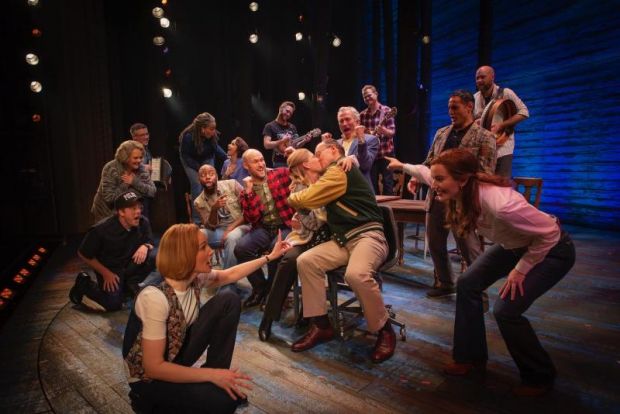 Emma Powell explained that her main character, primary school teacher Beulah Davis, is based on two women: Beulah Cooper and Dianne Davis.
"They both came out, so I got to meet both my girls. Everything kind of clicked in a way. It added another layer. I mean, how often do you get to perform a real person - and be a real person who's still actually alive - and they come?"
Emma had praise for director Christopher Ashley, "When we were first doing this, a lot of (the direction) was incredibly specific. But within and around that we had we had a lot of freedom. So, as an actor, it's a dream."
Emma evidently shares the audience's fondness for her character Beulah, saying, "She's that person that we all want in our life when we're feeling vulnerable. It's a very vulnerable story, and people think 'Oh, that's that person who'll go 'sit down, I'll get you some soup or make you a sandwich. I've got you. I think she's the heart of the piece."
Emma's previous role was Trish in the Australian tour of Kinky Boots. She commented on the changing visibility of mature female characters.
"The reason I started my show Busting Out was because I was coming up to 40 and there was just nothing - it was like a desert for women of that age. Over the last decade, things have started to shift and change and there are more roles, though still not enough!"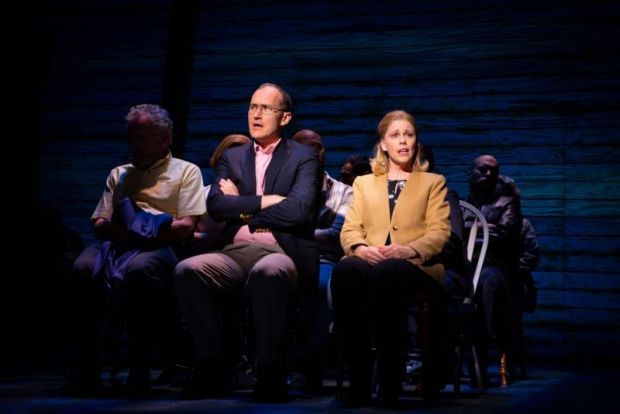 An accomplished piano player, musical director Luke Hunter had to learn the push-button accordion for the show.
"It's an Irish traditional instrument. I play a German accordion that was gutted and rebuilt by a Japanese accordion-maker in Florida. So, it's truly a world instrument in its own right."
The push-button accordion is part of the distinctive sound of Newfoundland, where Come From Away is set. The show opens to the unique sound of the Bodhrán drum, played by Ben Smart. Matthew Horsley plays 16 whistles, two Irish flutes and the Uillean Pipes.
Luke has appreciated working with new musicians for the show, saying "It's been delightful - there are musicians in the band who have never done a theatre gig and so we've really had to learn about each other's worlds."
Douglas Hansell was working in London during auditions for Come From Away. Fortunately, he was back in Australia for a show at Sydney Theatre Company when a friend told him that there was one role that the producers were having trouble casting. Douglas had two auditions in one day and was soon calling his London agent to let them know he been offered the role of Kevin T, the businessman who is travelling with his partner, who is also named Kevin.
Douglas and new cast member Joseph Naim play the two Kevins, who discuss whether they should hide their relationship while in Gander. This caution around homophobia seems somewhat jarring for a show set less than 20 years ago. Douglas compared the progress in society to the example of the cast of the new television series It's A Sin, saying "When I was 22, the thought of playing a gay role so explicitly would have almost been, not career ending but there would have been that concern about what that's going to do my career. It's not a long time, but I think what has happened in the past 18 years is quite substantial.
"It's important today as well that there are a few private moments where the Kevins sort of just brush each other's hands or stuff like that, moments of intimacy that they would have had at that time. If you're going to have a gay couple on stage, you have to play them as they are, not a sort of sanitised version."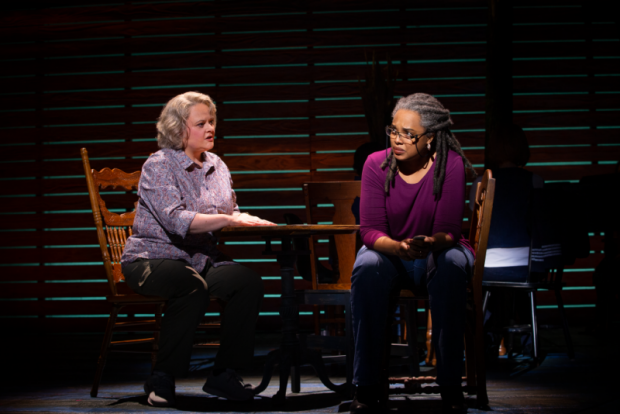 Each of the twelve cast members of Come From Away plays multiple additional roles. Simon asked the performers to share their choice of their favourite "other" moment in the show.
Zoe enthused, "I love all of the moments I get to play with Emma when she's Beulah and I'm (fellow teacher) Annette. We have a lovely rapport. We've known each other for a long time, so I get to play with her on stage."
Douglas picked a moment when his alternate character Garth, the stubborn bus driver, starts to soften. Garth uses an African couple's bible to help break the communication barrier.
Newcomer Phillip enjoys watching Kolby Kindle, who plays native New Yorker Bob. "There's a small scene with Kolby and I where he's stealing barbecues and I call him and say, "hey you, you're stealing my barbecue." I get to see the result of him doing his magic and that's possibly my favourite at this point."
Emma also enjoys Kolby, saying, "I love watching Kolby's stuff. He's so consistent; he's so funny. He's not trying to be funny - that's what I love."
Sarah picked an early moment when she plays a flight attendant trying to cope with the change in flight destination, saying, "We see her poker face and then we have that moment when we come back and she's trying to hold it together."
On stage and in view for the full show, musical director Luke enjoys being part of the Gander initiation ceremony, when the musicians come forward from their usual positions to become part of the crowd at the bar. "It's an enjoyable part of the night, because the show doesn't stop. There's something delightful about getting up from the keyboard and doing that bit in the middle. It's a chapter mark in the show."
Photographer: Jeff Busby