Curtain Up, Light The Lights, It's Showtime!
Image: Judy Nunn and Stuart Wagstaff in Blithe Spirit (1983).
Actress and author Judy Nunn dug into her extensive theatrical background for her latest book - Showtime! - set in Australia's booming 19th Century post-gold rush theatre districts. Peter Pinne spoke with her about her writing, her life and her career.
Judy Nunn's long history of performing on stage began as a 12-year-old playing Polly Hoppit in Emil and the Detectives at the Perth Playhouse. On moving east, she worked for J.C. Williamson's, then spent five years honing her craft in London, before returning to Australia in the mid-seventies. Television famously followed, with Judy's 13-year stint in Home and Away, and then came the books, at first written on the TV set between takes, and now as a full-time novelist. 16 titles later she is one of Australia's most successful authors.
Peter Pinne: You couldn't have chosen a better period for the setting of your latest book. Australian theatre in the late 19th century was a vibrant and exciting culture. The fact that you have captured it so brilliantly is no accident, as the pages reek of the smell of greasepaint.
Judy Nunn: Theatre has always been my first performing love, so to go back and revisit my early years treading the boards was a labor of love and a sort of homecoming.
PP: Are any of the characters based on real people?
JN: Actually, inspired is a better word. Will and Max Worthing were inspired by the Fullers. Benjamin and John Fuller were Englishmen who were remarkably successful in New Zealand entertainment and from 1912 in Australia. Their vaudeville circuit rivaled the Tivoli. John Fuller senior, like the fictional Max Worthing, was also a professional singer.
PP: What about the entrepreneurs Carlo and Rube?
JN: No, they're entirely fiction.
PP: And Rosie, the exotic dancer and contortionist?
JN: An original creation.
PP: And a brilliant one if I may say so. Sydney did not have a Colosseum Theatre at that time. Why did you create a theatre when the city had so many?
JN: There's so much historical data out there relating to those venues – the owners, the lessees, the productions, etc, that one would be completely (and rightly) open to criticism. The mix of fact and fiction is very complicated, and it is actually a wonderful challenge for the novelist. Too many facts can certainly bog down a book if a writer overuses historical research. But readers of historical fiction love to learn. Getting the balance right is the ultimate test.
PP: What sort of research did you do for the book?
JN: Normally I would go on field trips to wherever my novel was set, stay a while, get a feeling for the place, talk to historians, and visit various locations, but because of the lockdowns I couldn't do that. When I acted, I toured a lot and I've played in a lot of the theatres I've mentioned.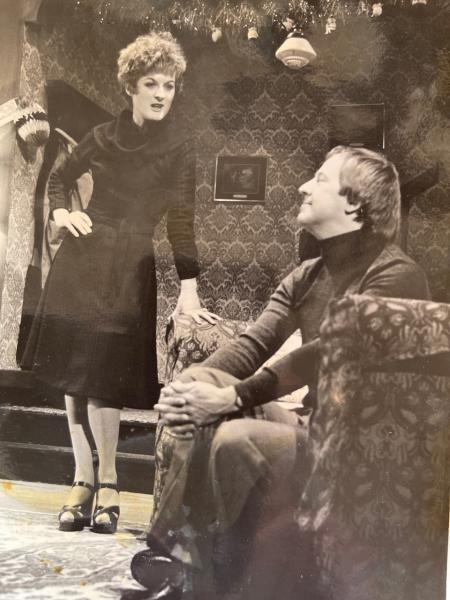 Image: Judy Nunn and Tim Brooke-Taylor in My Fat Friend (1977).
PP: I love the fact you bring in the theatrical ghosts, 'Fred' at the Theatre Royal, Hobart, and Frederick Federici at the Princess Theatre Melbourne. It adds great color. You've played the Theatre Royal, Hobart twice. Have you ever seen 'Fred'?
JN: No, but my good friend Jackie Weaver has.
PP: You went onto the stage at an early age. Were there family influences?
JN: Yes, my mother was a schoolteacher, but she was also heavily involved in Perth's acting and theatre scene. She was a founding member of the Playhouse Theatre, which became the State Theatre of Western Australia.
PP: Are there any writers in your family?
JN: No, but we are all great readers. My father used to love Wilbur Smith novels and a few years ago someone called me the Wilbur Smith of Australia. I think he would have been very pleased to have heard that. He died in '78.
PP: Do you write every day?
JN: No, I'm not that disciplined to the point of daily commitment, but I do keep my head in the book when I'm not writing. When I know I'll be away from it for any period of time, I go into big print with no attempt at form, but just ideas and even scenes that will springboard me back into it upon my return. This avoids writer's block.
PP: Most readers will remember you for your 13-year stint as Ailsa Hogan (later Stewart) in Home and Away. Prior to that there was Irene Fisher in Sons and Daughters, but I remember you as far back as The Box, when you caused a scandal by giving Helen Hemingway Australian TV's first lesbian kiss in 1975.
JN: Yes, it was ten years before Ellen DeGeneres had her first lesbian kiss on TV in the U.S. Australia was way ahead of the game in those days. Vicki Stafford was known as 'The bitch of The Box'. She remains one of my favorite characters.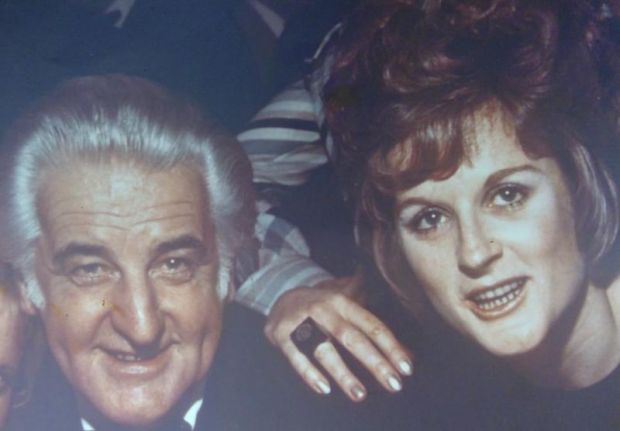 Image: Judy Nunn and Hector Crawford.
PP: You've been married for a long time. Where did you meet your husband?
JN: Oh, it's so long ago and I've told the story so many times I'm sure everyone knows it.
PP: No, where?
JN: A blind date at a dinner party.
Judy is married to Bruce Venables, an ex-cop from Tasmania who also served in the Royal Hong Kong Police Force. He switched careers in the eighties and became a successful actor and author, with four thrillers and a book of poetry under his belt.
PP: What's the secret of a successful marriage?
JN: We make each other laugh. We stimulate each other and we admire each other's brains.
PP: Do you run everything that you write past him?
JN: Yes, he's a wonderful sounding board and reads everything, as I also read and discuss his work. We're a greatly supportive team.
Showtime! is Judy Nunn's 16th novel and every one of them has hit the bestseller list, several staying at No 1 for some time. She is one of the biggest selling fiction authors in Australia with well over one million copies of her books sold worldwide. In 2015 she was made a Member of the Order of Australia for her 'significant service to the performing arts as a scriptwriter and actor of stage and screen, and to literature as an author.