David Suchet – Inside Out
Coral Drouyn speaks to acclaimed actor David Suchet and his alter ego before his Australian tour.
Everyone wants to speak to acclaimed actor David Suchet, particularly about his famous portrayal of Agatha Christie's Hercule Poirot - but no-one has interviewed Poirot to find out what he thinks of Suchet. While waiting to interview Mr Suchet, I took the opportunity to speak to Poroit himself and ask his opinion of Suchet and the other great actors who have interpreted him.
Hercule Poirot: Eh Bien, many have tried to capture my - je ne sais quoi - my greatness, if not my modesty. Suchet understands me, he never presumes to know better than me. He is too tall - but that is not his fault. He is too English - yes, yes I know of his Lithuanian background, but that cannot be compared to being Belgian.
Coral Drouyn: So who has been your favourite of those who have interpreted you?
Poirot: Oh Suchet, bien sur! We share a mutual respect. You know, Albert Finney and Peter Ustinov, Kenneth Branagh and even John Malkovich - sacre bleu - they have all tried to imitate the elusive qualities that make me unique. Most have failed. Ustinov was Ustinov, not me. Finney was perhaps a little too, shall we say, stylised. Branagh? He made fun of my moustache. It is too big, too undisciplined. He is disrespectful to the beauty of my facial adornment. Suchet has - 'ow you say? -finesse, class, as well as classical training as an actor, very important to portraying my foibles, my complexities. He understands eccentricity is not the same as buffoonery. When I died, he was right there with me (do not laugh, please, my death is not a laughing matter) and we each said goodbye to the other as a friend. Oui, I am pleased – if only he were a little shorter.
Despite Poirot's misgivings about David Suchet's height (there's around 10cms between them) Poirot shares the opinion of critics and viewers alike that Suchet is by far the "best", or, perhaps more correctly, the "most authentic" and insightful portrayal of Agatha Christie's much-loved detective.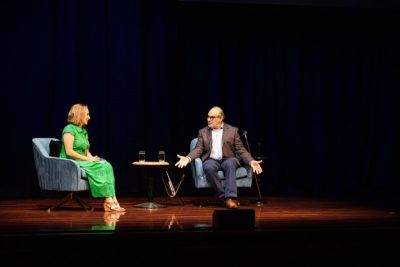 Half of his career has been spent inhabiting the tiny Belgian's persona – some 25 years on screen – and yet he has managed to have an extensive and acclaimed career on stage running parallel to that. So, while his retrospective, David Suchet – Poirot and More (in which Jane Hutcheon, respected journalist, will share the stage as interviewer) will, naturally, lean heavily on details and anecdotes of his life with Poirot, there is so much more to David Suchet, Actor.
Some might claim he had a privileged up-bringing - his mother an actress; his father a much-respected medical specialist; his maternal grandfather a famed news photographer - but Suchet has paid his dues many times over, and certainly never taken his success for granted.
When you have led an exemplary life, been married to the same woman for more than forty-three years (actress Sheila Ferris), are a practising Christian who lives what he believes, then your claim to fame is through the quality of your work. So it is with Suchet. An acclaimed Shakespearean actor, his tenure at the Royal Shakespeare Company has lasted for most of his career, playing such roles as Iago, Bolingbroke and Shylock.
He has made many Hollywood movies and even has a strong presence in radio and audio books. He is, by his own admission, 'a character actor'. His theatre successes (apart from his television work), awards and nominations are all well documented, but there is little written about how he feels about acting and his own career.
Was there a moment, I wondered, when he had an epiphany, a revelation about being an actor? He thinks for a moment.
"That's a good question. I had acted at boarding school - and I thought it was fun," David responded." But even at that tender age it wasn't about putting on make-up and 'pretending' to be a character. I was intensely interested in who these characters were; why they did, or said, the things they did. I joined the National Youth Theatre because it was a path to understanding the people I was playing – and understanding myself.
"The epiphany came on the last night of Ben Jonson's Bartholomew Fair. There's always mixed feelings on a last night - sadness that the run is over, exhilaration about the next play. I was quite emotional, and I went up on stage to watch them bumping out the set. There was a working light on stage and the auditorium was empty. Everything that had been our reality was a fake, just two dimensional, but still so real to me. An Epiphany, you ask? I remember my breath caught in my chest and I thought, 'This is where I belong. I never want to do anything else. This is my path.'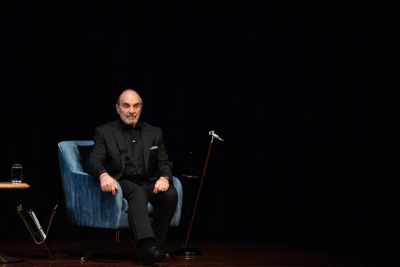 "So yes, it was an epiphany in that I changed my attitude to it completely. And it was the audience more than anything, even though the theatre was empty. It was that sense of connection, of sharing something, reaching out and touching the emotions of others. Once I knew that, I knew I needed to learn more to be the best I was capable of. Luckily I was accepted into LAMDA (London Academy of Music and Dramatic Art)."
After graduating, Suchet did seasons in 'Rep' - repertory theatre. In the 1960s 'Rep' was considered entry level for anyone wanting a career in theatre. Nothing is quite like playing a different play every week or fortnight for 52 weeks of the year. The set-up was such that the same ensemble company would be playing one play on stage, rehearsing the one following and doing a preliminary read on the one after that: thus, brain juggling three roles at once.
"It (the 'Rep' experience) was immeasurable to me," he told me. "An actor must be allowed to fail. That's the best way to learn. And the best way to learn your craft is to fail safely, to know that you missed the mark, but the next play is coming next week, and you won't make the same mistake."
It was the time of renowned actors like Laurence Olivier and John Gielgud, so I ask whose work influenced David.
"Olivier was a great showman, a performer, but it wasn't my style of acting," David explained. "My greatest admiration was for Paul Scofield. He was the consummate actor for me in that he understood each character from the inside out. He sublimated all of himself to serving the character – and I'm not talking about 'method'. He simply let the character speak his truth. Honesty and truth - the putting aside of 'self' - that's what makes a great actor. I was lucky enough to work with him several times and we were very much in tune. Not many people outside the business remember him, but they remember the roles he played, and that's how it should be for an actor."
I wondered if there's a role that he would have loved to play, but never got the chance.
"Yes - Napoleon Bonaparte," David revealed. "A little man with such grandiose visions, yet I sense nothing would ever have been enough for him. Yes, that is a character I would love to have explored."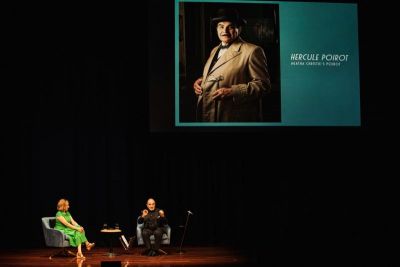 And so on to Poirot, a role that even his brother warned him could end his acting career. Was he ever afraid of being typecast, and losing other work?
"No, that's the beauty of being a character actor, rather than a leading man," David responded. "I never stopped doing theatre. The producers were accommodating, especially when they knew there was a theatre role I was compelled to do. There were several plays where shooting overlapped, but we always managed to work around it. Now that I am older, eight performances a week is too daunting, as is a long-running series with a tight shooting schedule. I suspect there will be no more of either, but I am still very open to exploring a limited character role in a well written television series."
In fact, David has such a role in the acclaimed His Dark Materials, now screening on Foxtel.
I asked what Poirot's best and worst qualities were.
"His most admirable is his respect for the dignity of others, even when he proves them guilty. He never demeans anyone. It's a trait more of us should aspire to," David told me. "As for his worst? Well, he can be insufferably vain, and his self-belief is sometimes over-powering, though that's also a good quality. He's a complex man; as such he embodies the best and worst of all of us. But I count him as a friend, and there is a sense of loss since I let him go."
Finally, I ask, what is the most important thing to remember as an actor?
"I believe it's an incredible privilege to be an actor. But every man's future is uncertain. When you step on that stage always remember that every performance could be your last - the last chance you may have to speak truth, to connect. Make it count."
Production images by Ash Koek.
Poirot And More: A Retrospective
Perth Concert Hall - 18th Jan at 2pm & 7.30pm
Canberra Theatre Centre - 20th and 21st Jan at 7.30pm.
Sydney Opera House - 23rd Jan at 3pm & 8pm
Arts Centre Melbourne, Hamer Hall - 25th Jan at 3pm & 8pm and 13th Feb at 8pm
Gold Coast, Hota - 29th Jan at 8pm
QPAC, Brisbane - 31st Jan at 8pm and 1st Feb at 2pm & 8pm
State Theatre, Sydney - 7th Feb at 8pm
Newcastle Civic Theatre - 8th Feb at 8pm
Adelaide Festival Centre - 11th Feb at 8pm and Wed 12th Feb at 3pm & 8pm.