Diary of a Busy Opera Singer
Being in one major production at a time is more than enough for most performers. Imagine juggling three at once. This is the typical week of Jonathan McCauley, an Opera Australia chorister and minor principal. For an insight into his complicated life, he compiled a diary during two weeks in January when he was concurrently performing or rehearsing La Bohème, Turandot and Wozzeck.
Monday 7th January
Turandot Piano Technical Rehearsal, Act 1
The working week commenced at 6.30 pm with a Piano Technical rehearsal of Turandot by Puccini. Tonight was our first rehearsal on the Joan Sutherland Theatre stage under the guidance of both the production team and music staff, with the rehearsal piano in the orchestra pit.
After a safety 'walk-over', we began the rehearsal of Act 1 scene by scene. The assistant director Kim Walker encouraged us to give ourselves over to the dramatic intention of the music, whilst ensuring personal safety and respecting the concept of the director Graeme Murphy. The evening progressed smoothly, with some adjustments to the positioning of chorus, soloists, actors and dancers by the rehearsal director.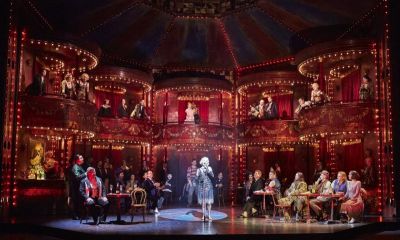 Tuesday 8th January
Turandot Piano Dress Rehearsal (10:30am)
La Bohème Performance No. 6 (7:30pm)
As well as covering (understudying) and performing principal roles, choristers are often required to cover other choristers and their specific 'plots' (direction). As a cover 'Sapiente' (wise old man) I was required to rehearse this 'role' this morning for an indisposed colleague. I had to re-familiarise myself with the plot, together with the costume and makeup requirements of this 'character'.
The challenge for the Sapiente is to sit cross legged on the extreme downstage and remain motionless for a great deal of Act 2, whilst singing some of the more difficult music from the opera. After the rehearsal I took myself to the gym for some weight training and deserved time out in the sauna. Back to the theatre for a light meal, followed by the evening's performance of Puccini's La Bohème.
The Opera Australia Chorus are responsible for the application of their own makeup. Though the chorus in La Bohème only appear in Acts 2 and 3, the makeup and costume requirements are nevertheless considerable. I give myself a good half-hour for makeup, hair styling, application of facial hair and costume.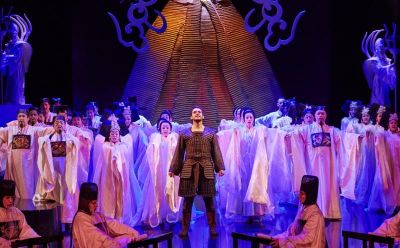 Wednesday 9th January
Turandot Piano Dress Act 3 (10:30 am)
La Bohème Performance No. 7 (7:30pm)
For the first time in many years of singing in this production of Turandot I've been allocated the position of a 'Courtier'. The morning's rehearsal showed up some problems with my costume, specifically ill-fitting slippers and a hat that kept slipping forward obscuring my face whenever I was required to bow. After some trial and error these issues were resolved with the assistance of my dresser, who sourced several alternative slippers and hats from the costume department.
Thursday 10th January
Turandot Stage Orchestral Acts 1 and 2 (10:30am)
La Bohème Performance No. 8 (7:30pm)
A stage orchestral is a rehearsal led by the conductor with the full orchestra in the pit (and backstage as required) with soloists, chorus, actors and dancers. Just as the Piano Dress rehearsals are very much the director's rehearsals, the stage orchestrals belong to the conductor and he or she relies upon the input of music staff seated throughout the auditorium as well as working in the wings and backstage area. This morning we rehearsed Act 1 and part of Act 2, each musical section/scene being performed twice with notes given during the rehearsal. During the afternoon I undertook some shopping and housework before returning to the theatre for the evening performance.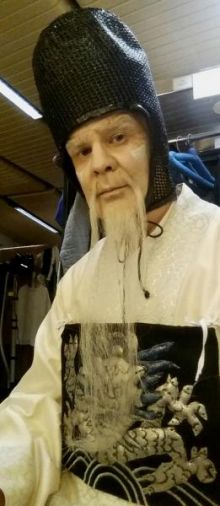 Friday 11th January
Turandot stage orchestral Acts 2 and 3 (10:30am)
La Bohème Performance No. 9 (7:30pm)
This morning's 2nd stage orchestral ran smoothly and to the satisfaction of the chorus master Anthony Hunt and Maestro Christian Badea. We're in good shape for the open general rehearsal tomorrow and anticipate a positive response from our audience members, who will largely consist of family and friends.
Saturday 12th January
Turandot Open General Rehearsal (10:30am)
La Bohème Performance No. 9 (7:30pm)
From every aspect this morning's General Rehearsal of Turandot, given before a large and enthusiastic invited audience, was an unqualified success. We look forward to Opening Night!
This evening's La Bohème was the final performance for conductor Benjamin Northey. A new conductor, Nicholas Milton, will take over on Thursday night. We'll need to use every opportunity to observe Maestro Milton should there be any changes in tempo or musical phrasing. The next two free days (Sunday and Monday) will provide a much needed break for the chorus.
Tuesday 15th January
Wozzeck Production Call (10:30 am)
Turandot Opening Night (7:30pm)
This morning's production call at The Opera Centre included a revision of the chorus scenes followed by a complete run of the opera for the entire cast including the onstage banda, six orchestral players incorporated into the production. Usually a good approximation of sets and props are available to rehearse with, though there are always surprises when we're all finally on stage.
This evening Turandot opened to an ovation from our audience. A lovely party in the Northern Foyer after the show was a chance to unwind with colleagues.
Wednesday 16th January
Wozzeck Sitzprobe (10:30)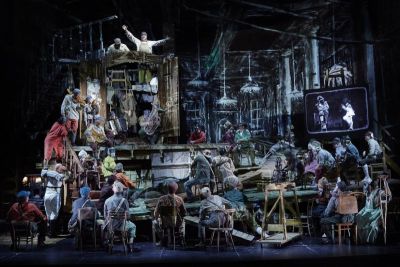 A Sitzprobe is a rehearsal for orchestra, soloists and chorus, led by the conductor and attended by music staff including the chorus master and assistant chorus master. It is an opportunity to sit and 'probe' the orchestral score in detail and is usually the final rehearsal before stage rehearsals commence. The second of two such rehearsals for Wozzeck, Maestro Andrea Molino concentrated on the latter half of the opera which includes all the chorus scenes. Hearing the beauty and complexity of the score inspired me to spend my free afternoon listening to the famous Pierre Boulez recording in its entirety while following the libretto. Much overdue and invaluable.
Thursday 17th January
Wozzeck Piano Dress (10:30am)
La Bohème Performance No. 10 (7:30am)
In this first Piano Dress for Wozzeck the main task for the chorus was to adapt our direction, as rehearsed in the studio, to the stage with its far more extensive and complicated set design incorporating many more pieces of furniture and other obstacles. The changed levels of the set design and steeper ramps between these levels necessitated consideration of changed sightlines and safety issues.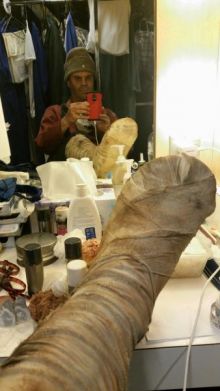 Following a discussion between the production team and the wardrobe department it was decided my chorus character should have a broken leg, which will be incorporated in my costume design from tomorrow. Having never had a broken leg, or any other broken limb for that matter, I look forward to the novelty and theatricality of it.
Our La Bohème performance this evening was the first from our new conductor Maestro Nicholas Milton. One or two tempi surprises and the occasional unexpected rallentando but all went very well and Maestro delivered a beautiful performance.
Friday 18th January
2nd Wozzeck Piano Dress (12:00pm)
Turandot Performance 2 (7:30pm)
The men's chorus were given a late sign-on time this morning and the ladies chorus were not required. From 12.00pm we ran the opera and I'm pleased to report our entrances and exits were much improved even with the addition of broken legs!
Home for lunch, at 4.00 pm I received a call from company office letting me know I would be performing as a Sapiente in this evening's Turandot. All went well and I even managed to sit squarely on my Sapiente cushion. My reward this evening, however, was my proximity to both Amber Wagner and Andeka Gorrotxategi for their Act 2 exchanges and in particular Turandot's magnificent aria 'In questa reggia' superbly sung directly to me and only to me (at least it felt that way) by Ms Wagner. Superb! This was the best seat in the house.
Saturday 19th January
Wozzeck Stage Orchestral (10:30am)
La Bohème Performance No. 11 (7:30pm)
Our stage orchestral rehearsal of Wozzeck this morning covered Acts One and Two with notes sessions and will be completed next Tuesday morning and a full run undertaken on Tuesday afternoon. I am intrigued and entranced by the orchestration in this remarkable work and enjoyed every moment of this morning's rehearsal.
This evening's La Bohème was sadly the last performance for both Joyce El-Khoury and Ivan Magri (Mimi and Rodolfo). Long will I remember the artistry of all of these fine singers. In the weeks ahead, the chorus will be involved in many more performances of La Bohème and Turandot and of course our entire season of Wozzeck awaits us. There will be cast changes, wonderful new singers, and eventually the chorus will commence music calls and soon after production calls for the operas to be performed in the Melbourne Autumn and Sydney Winter Seasons as the process of producing an opera begins again.
Do I ever get my operas mixed up asks Stage Whispers? No, each opera is its own little world. The music, costumes and set remind you of what to do. However I do occasionally forget some words - but not often.
Production images (from top): La Bohème, Turandot and Wozzeck by Keith Saunders.