The Disco Inferno
Saturday Night Fever is returning to Australia, promising to burn the disco floor with a new interpretation of the musical that features the hottest music and dancing of the 1970's. Based on the movie which shot John Travolta to stardom, it centres on the relationship between 19-year-old Tony and his older dance partner Stephanie. David Spicer reflects on that original movie and asks the actors playing the roles (Euan Doidge and Melanie Hawkins) how they can relate to it.
The original Saturday Night Fever movie came so close to disaster that its incredible success, both at the box office and in defining a whole era, is extraordinary.
It was the brainchild of swashbuckling Australian producer Robert Stigwood. He had the vision to bring together the talent of John Travolta, with a story he read in a magazine, married to the music of the Bee Gees – which he managed.
But just weeks before the movie was scheduled to be filmed, the Director John G. Avildsen (whose previous film was Rocky) told Stigwood he didn't like the Bee Gees and wanted to drop their music. Stigwood promptly sacked him and had to scramble to find a replacement.
The problems didn't end there. Filming in Brooklyn was chaotic as crowds swarmed Travolta. The cast and crew pushed their luck by rather lax safety procedures in the movie's famous scene on the Brooklyn Bridge. Filming had to be halted when John Travolta's partner died. The money almost ran out.
Then when it was finished, the distributor declined to release the movie because of the amount of swearing in it.
Finally it was released in 1977, when the music and dazzling dancing helped propel the movie to define a whole era.
Travolta famously opens the movie to the song 'Stayin' Alive' as he walks stylishly into his dead-beat job in a paint shop. The teenage heart-throb Tony Manero lived for Saturday night, when he showed off his dance skills on the disco floor.
In Travolta's shoes for the new Australian production is Euan Doidge, most recently seen in high heels as Felicia in Priscilla Queen of the Desert and before that in Kinky Boots.
"High heels are seven inches off the ground (whereas) the Cuban (dance heels) are only one and a half. It will definitely be nice to be closer to the earth," he said.
More comfortable, yes, but can he relate to the character of Tony Manero?
"Yes and No," was his response.
Doidge was born in the New Zealand town of Rotorua. His family moved to Mount Gambier, South Australia. At the age of ten he decided that instead of sport he should be dancing (yeah).
"I was given an absolute hard time. It was not the normal thing for a young man in a country town, where everyone was playing football.
"They laughed at me and pointed at me in the corridor, which was awful, and it was much worse than that.
"But I knew it was exactly what I wanted to do. It made me stronger and more determined."
By contrast, in the world of Saturday Night Fever dancing is celebrated as the height of masculinity.
"I love that. When I moved into the arts world I lost a lot of friends, which was not nice feeling as a teenager growing up."
Some aspects of the world depicted in the original film he can't relate to.
"It was a rough upbringing, the way they speak to each other. That Italian New York culture, and how physical they are to each other, is not something I am used to seeing."
Euan says the character of Tony is a product of that environment. At first, he is both abrupt and rude to women.
"He goes on a journey where we get to see a different side of him. What I love about the character is that he has that persona of that classic male, but when that wall is broken and he finds love in full, his whole mannerisms change. You do get to see that through dance."
Melanie Hawkins says she was quite young when she saw the movie.
"My mum might have let me watch it and not realised quite how adult it is. The perception is that it was a movie about dancing, but there is so much more to it. She got half way through it when she realised there are some serious topics being covered, which I am sure has happened to many people. That's what makes it a great snapshot into that time."
Melanie scored her first major lead in a musical after a decade of mainly chorus work. Stephanie is a 20-year-old office worker and dancer from Manhattan.
"She is ballsy. She is multi-layered and tries to hide behind a façade. That's what makes her interesting as a character. She is trying to shed that skin of being a teenager but deep down there is play and joy and goofiness which she tries to cover up. Tony brings out that side in her, which is cool."
Melanie says she has gone on a similar journey, recalling the big decision as a young woman to drive out of her hometown with not much money to her name.
"I admire Stephanie's ability to take risks. I was originally from Adelaide and made a big decision to move to Melbourne on my own to have a career."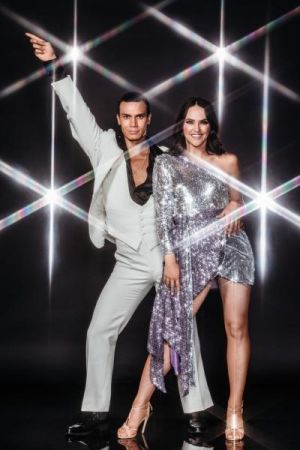 Both Melanie and Euan studied dance at Patrick Studios in Melbourne. As friends, they were pleased to be paired together at the audition.
"It helps when you already know someone. We drove straight in, there was no mucking around," she said.
Euan recalls that "we did a routine together. Ten minutes afterwards a scene. That was it. I guess the chemistry is so important and (we were lucky) to have known each other for years."
This version of Saturday Night Fever is going to have a different approach than the one staged in Australia in the early 2000's.
That West End replica was more of a traditional musical, requiring the leads to sing, dance and act.
Producers have called this productionSaturday Night Fever: You Should Be Dancing. It will be closer to the movie, where all the singing was done by the Bee Gees and other pop singers. Likewise, this time the leads will concentrate on acting and dancing. Vocal grunt will be provided by an ensemble that includes Bobby Fox and Paulini.
New scenes have also been written to incorporate Australia's own 1970's Disco Queen - Marcia Hines. She is playing a new role as The Diva, who performs at Disco Odyssey 2001.
This is a nod to Marcia's own successful career renaissance in the circus burlesque production Velvet, where she makes almost a cameo appearance surrounded by a lavish spectacle.
A key ingredient will be the choreography.
"I think the dancing will probably be one of the most demanding roles I have done to date," said Melanie.
"For Ewen and I it will be very high impact, high cardio and full on style. You think it's just disco but when you are doing the musical version it's going to be detailed technical dancing."
What does she like about disco dancing?
"It feels special. Like something exciting is about to happen. A lot of songs in Disco music are like a ballad with a beat. There are beautiful vocals, almost ethereal, then there is this bass undertone. You can't not tap your foot (to the beat)."
Euan says although Disco is a style not taught at dance schools anymore, you need a lot of strength to do it well.
"It is a social dance. It is a groove that forms into this artform. It is so upbeat that it requires a lot of stamina. And it is very fast.
"It has got a mix of classic disco style that everyone loves but also this new modern contemporary feel that a lot of young people are going to love about the show."
John Travolta didn't have to pull it off eight times a week. Euan admits that this energetic version of the show will be taxing.
"I know my body when it needs a rest. When I can push a little bit harder. For me it is about staying fit and being healthy. To sustain a show like SNF eight times a week is going to be pretty tough on the body."
Even little things can be hard. Travolta came up with his famous pose in the white suit at the end of a 15-hour day when he was asked by the director if he had anything up his sleeve.
"He jumped into that position and boom, that was it.
"I wish it was a little bit lower. Yesterday when I was doing that photo shoot. I decided to put my arm up and had a dead arm by the end of the day. I can't imagine how he was feeling."
Saturday Night Fever opens at Sydney Lyric Theatre on April 2, 2019.
David Spicer manages the non-professional rights to Saturday Night Fever in Australia and New Zealand.
Photographer: Daniel Boud.