The Divine Miss Bette Returns to Sydney
Trained by the man who discovered Bette Midler, Catherine Alcorn returns to Slide Bar, Darlinghurst (NSW) in The Divine Miss Bette for August and September shows.
After sold out shows in Melbourne and a recent performance with Mark Nadler at the Adelaide Cabaret Festival, Catherine Alcorn returns to Slide for on Fridays 12 August and 16 September.
Catherine Alcorn channels Bette Midler, transporting audiences back to the Palace Theatre, New York 1973 for a cabaret tribute to a timeless diva. Catherine has been trained by Steve Ostrow, the man who discovered Bette Midler and who owned the Continental Baths where he paired Bette and Barry Manilow together...to make history. Catherine has been training with Steve since November 2009 in Sydney.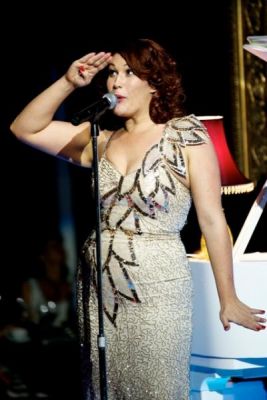 Bawdy, brash and glamorous, The Divine Miss Bette will push all of your boundaries. Showcasing musical hits spanning four decades, Catherine moves between the sensual ballads and upbeat melodies - from Friends, Boogie Woogie Bugle Boy and Miss Otis Regrets to Am I Blue and Hello in There all before you're taken on a trip down Hollywood Lane with Wind Beneath My Wings and The Rose.
The Divine Miss Bette has been created by Peter Cox with Musical Direction by Isaac Hayward. Also joining Catherine on stage are The Harlettes (Lauren Cook and Christina Paterno) – who've been singing with Bette since she found them selling their cherries down at the Farmers Market.
Slide Bar, 41 Oxford Street, Darlinghurst
Friday 12 August; Friday 16 Sept
Dinner and Show $65.00 7pm (pre purchased only) Show Only $25.00 at 9pm (pre purchase and at door) Slide 02 8915 1899
Win Tickets
Win a pair of Show Only tickets to the performance of The Divine Miss Bette on Friday August 12 (1 pair available).
The Challenge: The show is called The Divine Miss Bette while Bette Middler's self-titled album was called The Divine Miss M. What four word name would you give your self-titled show / album.
Return to the competition on our Facebook page - http://www.facebook.com/stagewhispers- and place your entry as a comment.
Likes will help us choose a winner.
Entries 12 noon August 3.
To keep up with the latest news and reviews at Stage Whispers, click here to like us on Facebook, or follow us on Twitter