Doctor Zhivago Musical - Cast Announced
The principal cast of the musical Doctor Zhivago, to premiere in Sydney in February 2011, was announced by producer John Frost on October 22.
Acclaimed musical star Anthony Warlow who plays Doctor Yurii Zhivago will be joined by Lucy Maunder as Lara, and Taneel Van Zyl in the role of his wife Tonia. Martin Crewes plays political radical Pasha Antipov, Bartholomew John plays corrupt attorney Viktor Komarovsky and in the roles of Alexander and Anna are Peter Carroll and Trisha Noble.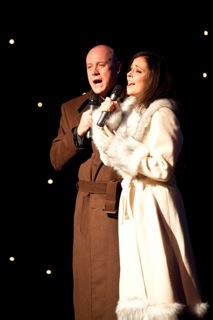 "This country is rich in musical talent and we have assembled an impressive cast of both rising young stars and theatre greats to bring Doctor Zhivago to the stage," said producer John Frost. "Based on the famous novel by Boris Pasternak, it is one of the most breathtaking love stories ever told. And with the huge talent of Anthony Warlow in the title role, and the combined creative genius of Broadway director Des McAnuff (Jersey Boys, Tommy), composer Lucy Simon, (The Secret Garden), lyrics by Michael Korie and Amy Powers, and book by Michael Weller, we can look forward to a piece of landmark theatre for 2011. Australian audiences are in for an emotional journey," he said.
Director Des McAnuff promises a "visually astonishing production; I think it will be quite magical. One of the most important things in staging this novel is to protect the intimacy of the love story and the love triangle between Zhivago and Tonia and Lara and we have done that."
John Frost also announced a Melbourne season of DOCTOR ZHIVAGO from April 9, 2011 at Her Majesty's Theatre, following the Sydney Premiere season at the Lyric Theatre, Star City from February 11.
The ensemble was subsequently announced on October 29: Johanna Allen, Gavin Andrew, Anton Berezin, Caitlin Berry, Tony Cogin, Todd Goddard, Natalie Gamsu, Frank Hansen, Scott Hili, Glenn Hill, Luke Joslin, Todd Keys, Ben Lewis, Elise McCann, Kathleen Moore, Shaun Murphy, Chris Scalzo, Annie Stanford, Belinda Wollaston and Jamie Ward.
Images: Top - Principal Cast. Right: Anthony Warlow and Lucy Maunder. Photographer: Kurt Sneddon.
Frank Hatherley has interviewed Anthony Warlow and Lucy Maunder for the January / February edition of Stage Whispers. To find out more, or purchase a copy, visit http://www.stagewhispers.com.au/news/stage-whispers-magazine-january-february-2011-out-now
Anthony Warlow's early amateur theatre days.