Drama of Living on the Street
Street, a new play about the harsh reality of living on the street by Liviu Monsted, is playing at the Chippen Street Theatre in support ofYouth Off the Streetsas part 2019 Sydney Fringe from September 25 to 28. Cast members Lucy Hadfield and Talia Chenaye speak with each other about their roles and the production.
Talia: What drew you to be involved in Street?
Lucy: My first initial attraction to Streetwas the script itself and how it does not cover the harsh reality of homelessness but confronts the audience in the face with it. I've always found myself drawn to scripts that do not fabricate world truths but bring them to light. I then found out that the play was a charity performance as part of Sydney Fringe Festival and then became even more attracted to the project.
Talia: We can expect the message of this play to be quite impactful. Is it challenging for you to portray such a strong message on stage?
Lucy: I think the challenge for me was how was I going to portray Miriam in the most honest way possible. To do this is became very important to know her back story and understand how youth do end up on the streets. I however didn't find it challenging to portray a message like this as I am very passionate about using my acting to bring inspire provocative thoughts in audiences.
Talia: How would you describe Miriam's personality and the way she approaches Fay and Christian?
Lucy: Miriam's true personality was almost hidden until she meets Fay and Christian. Before this occurs we see Miriam underplay each emotion as she does face the reality that she isn't going to get off the street in the close future. Thus, in order to survive she must blend into her surrounds which is the street and Foster who is also very reserved at the beginning. When Miriam finically meets Fay and Christian she is open to the hope of getting off the street sooner and is overwhelmed with joy of knowing other people who are potentially like her old self- before she was homeless. Towards the end of the play we see her come out of her shell and become the powerful woman she has been this whole time.
Talia: What has been a highlight for you in rehearsals?
Lucy: I have loved every process in rehearsals for Street but I have most enjoyed seeing the play go from script to a full performance where each character goes through their own personal journey. Having rehearsed almost chronologically was extremely helpful in this process. Also, getting to know everyone involved in the play had been a remarkable experience.
Talia: How would you like audiences to leave the theatre having watched Street?
Lucy: I would like the audience to leave with the knowledge that this isn't just a play but is a capsule of the reality young adolescents potentially face everyday on the street. This does not give the audience a happy ending and with much intent. It is in order to provoke a sense of understand in the audience and hopefully endowed them to start thinking more progressively and potentially bring about change.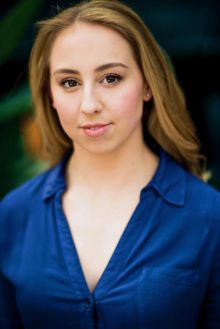 Lucy: What was the initial attraction you had to this script?
Talia: As soon as I read the audition script, I was intrigued by Fay and how much her outer dialogue contradicted her inner emotion. After reading the full script I was most drawn to how raw the topic was and the harshness of its message; being about living on the streets. There is huge importance to get awareness out through performance by expressing how serious an issue youth homelessness is.
Lucy: You play a character - Fay whom is stuck up and narcissistic, how do you feel whilst being in character and what is your outside perspective?
Talia: I have a love-hate relationship with Fay. As an actor it's been a brilliant challenge to portray her. Whilst in character I find myself sometimes frustrated, as a result of Fay's lack of worldliness. Her perfect bubble is unrealistic and immature which highly contrasts with Miriam's life.
Lucy: This play deals with heavy issues such as youth homelessness. How do you cope in and outside of rehearsal?
Talia: Inside rehearsal I think it's difficult not to feel emotionally attached to the issues we are bringing to light. Although playing Fay specifically, there is a need for me to be brutally detached from homelessness issues to better understand her character.
Outside of the rehearsal I've definitely become more aware of the homeless in society. However I have developed my skills to healthily step out of the heavy emotions I play, so it doesn't have a negative impact on me mentally day to day.
Lucy: What do you think Fay does after she has encountered life on the street?
Talia: My hope for Fay would be compassion. She's lacks understanding and selflessness. I hope in reflection to her "street" days, she would soften her heart and become grateful in her life.
Lucy: What makes Street different to other productions you have been in?
Talia: Street is about a real world topic that makes audiences deal directly with society's issues we don't want know about. I haven't acted in a production that strips backs something so raw, or that I can't directly relate my own real world experience to. It has definitely been a new and challenging process.
Lucy Hadfield (pictured top) and Talia Chenaye (pictured lower) can be seen in Street by Liviu Monsted
Dates: 25- 28th 7pm September 2019 at the Chippen Street Theatre