Drummer Queens
A female percussion group is beating a new path around Australia this year. David Spicer spoke to Joe Accaria, the creator and composer of Drummer Queens, which is on stage in Sydney, Melbourne and Brisbane.
David Spicer: Men like making lots of noise and are often associated with drums - what prompted you to create a show for female drummers?
Joe Accaria: Men and noise, yes they go hand in hand. Haha! Here at Drummer Queens we highlight the nuance associated with drumming and show the female drummer is just as powerful, dextrous and expressive as any male drummer. As a young musician I was dumbfounded by the wondrous talents of Sheila E, Cindy Blackman and even Karen Carpenter. So I guess my perception was initially forged in equality, seeing these women perform on drums and percussion - in the case of Cindy live at The Basement in Sydney, in admiration of her talent and composure as an articulate artist and person. I wanted to imbue this sentiment and feeling in an all-female ensemble exploring the powerful dynamic created with a group force.
DS: Do you think women play drums differently to men?
JA: I don't think so at all. Perhaps the perception is as such, however the techniques, training and instruments are identical and Drummer Queens particularly highlights rhythmic execution is paramount in providing the force and feel to create music with drumming and visually it's equal in its expressiveness, character and form. Now, as well as Drummer Queens there are so many fierce female drummers out there on Instagram, in the spotlight, giving a voice to something perhaps once (mistakenly) considered an anomaly. My percussion teacher at the Conservatorium, Rebecca Lagos, smashed this perception early in our fruitful and sometimes polarising lessons at the Conservatorium back in the 90s.
DS: Are you hoping to capture the public imagination like others did with male tap dancers in the 90's and noughties?
JA: Absolutely! I may have been involved in one of these shows you speak of - Why not!? I believe the world is overdue for a new group based stage spectacular based on rhythm and movement that can capture a wide audience - to inspire the public and for young musicians of all ages to aspire. Physically and visually I'm such a fan of group drumming ensembles flouting polyrhythmic and unison power in rhythm and there joy it brings to their faces and especially the audience. It's a higher power we can create. A super power!
DS: What sort of music is in the show?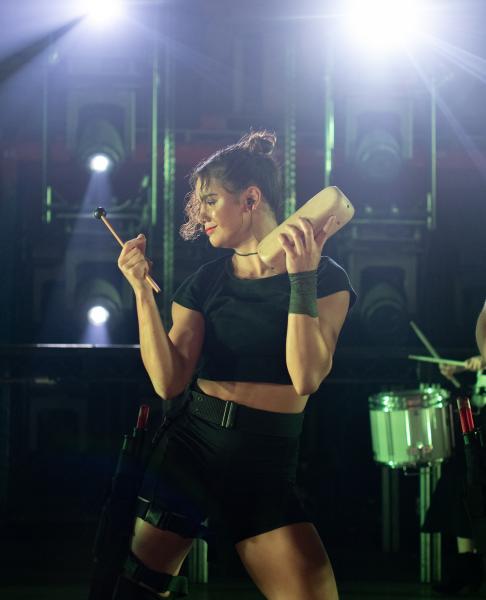 JA: The music consists of a melange of many influences musically and geographically. Drums are used in many cultures in various national and historical settings. Through travels across continents I've witnessed and participated in enlightening moments of exposition in places such as Japan, Cuba, Southern Africa, South America and Asia. The music in Drummer Queens represents these influences and cross pollinates them with electronic percussion and uses elements such as Taiko blended with intricate military and drum line forms, big beats and rock as well as utilising elements of tuned percussion such as marimba and epic symphonic drums. The innovative nature of electronic percussion triggers gives a freedom of live sampling. Spending time with Roland Electronic Percussion's research and development team has introduced us to some new innovations played by hand and blending with traditional forms of hand percussion.
DS: What are the other aspects of the show apart from the percussion?
JA: Choreography of movement formations in drum groups has always been appealing. There are strong physical and dance performers in Drummer Queens that bring this additional element to the fore in the show. You may see some new form tap, acrobatics and hip hop dance flavours throughout. We also experiment with vocal and body percussion and there is some part singing as well as melodic elements scattered throughout, played via electronic drum triggers and tuned instruments.
DS: Tell us a little about some of the cast and what characters they play?
JA: The cast come from varying backgrounds in music and dance. Our choreographer Peta Anderson has been playing drums with us for a couple of years now and creative director Nigel Turner-Carroll has given her the role of Freedom - an inspirational fun free spirit. Georgia Anderson (not related), also a dancer, has been drumming for a while now, naturally fills the role of the cheeky ingenue and provides us with some physical options with acrobatics. Some of the cast are connected with Taiko groups and perform in various ensembles and bands, as well as graduates from the Conservatorium of Music. Other characters include a Captain, a Shaman, Rebel and other characters imbue Zen philosophy, Afro/Cuban expression and an inventor.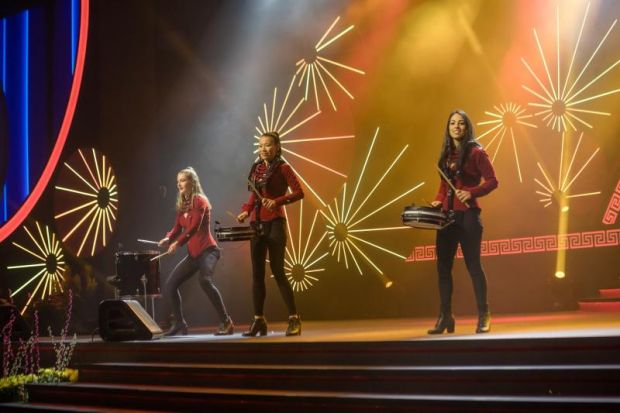 DS: Is there a global audience for Drummer Queens?
JA: I strongly believe so. There are many all-female percussion ensembles throughout the world that appeal to a wider audience. There is no text in the show, which should broaden its communicative appeal and touch on our appreciation for the various cultural references we give musically and physically. Group rhythm has a power to galvanise an audience and create a sense of a collective and pushes the boundaries of what the ear can decipher as well as create a sense of awe through danceable groove. I'm interested in growing the community far and wide and hope the show can be a catalyst for young female musicians everywhere to feel confident in expressing themselves with confidence and innovation.
Subscribe to Stage Whispers to be in the running to win one of two double passes in Sydney on Wednesday 10 February @ 7.30pm.
www.stagewhispers.com.au/subscribe
SEASON DETAILS
SYDNEY - Sydney Lyric Theatre, The Star - 6 – 14 February 2021
MELBOURNE - Comedy Theatre - 27 April – 8 May
BRISBANE - Lyric Theatre, QPAC - 11 – 16 May