ENSEMBLE THEATRE: 2014 SEASON
Sydney's Ensemble Theatre has announced its 2014 season, which will include not just one David Williamson play, but four.
Williamson himself will direct the World Premiere of his new play Cruise Control, a satirical play set aboard a cruise liner, while the Ensemble's co-artistic director Sandra Bates will direct all three plays in Williamson's Jack Manning Trilogy - Face to Face, A Conversation and Charitable Intent. The plays, based around the process of community conferencing, will be the Ensemble's first excursion to The Concourse at Chatswood. Audieces will have the chance to see the trilogy over three evenings, or at two Saturday marathons.
Sandra Bates will also direct the season-opening production of David Auburn's Proof.
Mark Kilmurry, Bates' co-artistic director, will direct and play the title role in Shakespeare's Richard III, also directing Jon Robin Baitz's Other Desert Cities and the season closer, Alan Ayckbourn's 1974 comedy Absent Friends, in December.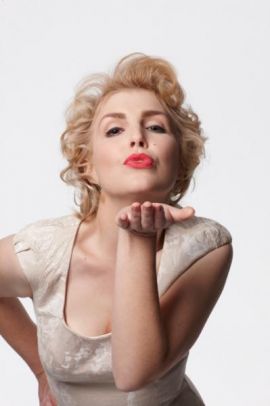 The Ensemble's second World Premiere for the year, John Misto's Hollywood-expose Dark Voyager, will be directed by associate director Anna Crawford. (Lizzie Mitchell is pictured right as Marilyn). Crawford will also direct Joe Penhall's Olivier Award-winner Blue/Orange and a reprise of popular kids' musical We're Going on a Bear Hunt.
Tanya Goldberg directs the Sydney premiere of Bruce Norris' Pulitzer Prize-winner Clybourne Park.
A short musical and video driven launch, including a season run-down to a Cole Porter standard by The Janet Seidel trio, allowed all the more time for season stars, patrons and media to mingle in the theatre's picturesque harbourside foyer at the launch on August 19, 2013.
The Janet Seidel trio are performing three of her Janet's shows at the Ensemble in June.
THE PLAYS
PROOF by David Auburn
2001 Pulitzer Prize for Drama
2001 Tony Award for Best Play
Catherine has spent years caring for her brilliant but unstable father Robert, a famous mathematician. As she celebrates her 25th birthday, she has to deal with the arrival of her estranged sister and the attentions of Hal, a former student of her father's who hopes to find valuable work in Robert's notes. Over the long weekend that follows, a burgeoning romance and the discovery of a mysterious notebook draws Catherine into the most difficult problem of all: how much of her father's madness or genius will she inherit?
From January 31.
Directed by Sandra Bates
Cast: Adriano Cappelletta, Catherine McGraffin, Matilda Ridgway and Michael Ross.
CLYBOURNE PARK by Bruce Norris
2011 Pulitzer Prize for Drama
2012 Tony Award for Best Play
2011 Olivier Award for Best New Play
2010 Evening Standard Award
Are we addicted to political correctness and do we use it to mask our inherent racism? Clybourne Park is a funny, fiercely provocative play about race, real estate and the volatile values of each. The first act is set in Chicago 1959 where a house in Clybourne Park has just been sold. Act two fast forwards fifty years where the same house is about to be levelled and rebuilt. In both scenarios, we watch supposedly civilised people behave like territorial savages.
SYDNEY PREMIERE
From March 13
Directed by Tanya Goldberg
Cast includes: Paula Arundel, Nathan Lovejoy and Richard Sydenham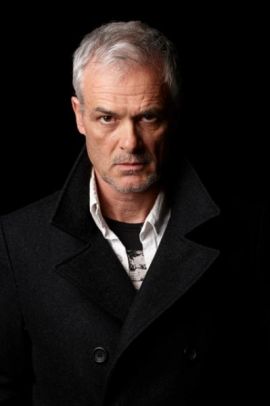 CRUISE CONTROL by David Williamson
Three couples book themselves on the Queen Mary II to enjoy a luxury escape from reality, but instead find themselves trapped in the hellish world of designated dinner seating and B-grade cabaret. Amongst the endless stream of Dom Perignon and Tequila Sunrises, this holiday cruise unfolds into a bedlam of sexual tension and drowning relationships
WORLD PREMIERE
From April 26
Directed by David Williamson
Cast includes Katharine Cullen, Helen Dallimore, Peter Phelps, Henri Szeps
RICHARD III by William Shakespeare
A man enters his flat, reveals his passion – Richard the Third. Roping in friends and potential girlfriends, the man enacts Shakespeare's play in the confines of his living quarters, using music, household goods and film
From June 19
Directed by Mark Kilmurry (pictured left)
Cast includes: Danielle Carter, Mark Kilmurry
DARK VOYAGER by John Misto
Hollywood, 1962. Bette Davis and Joan Crawford are at war – their careers are on the skids, they are aging rapidly, and they are locked in a titanic struggle for top-billing on their latest movie. When America's most feared columnist, Hedda Hopper, invites them to supper, they call an uneasy truce. However the evening turns chaotic when an unexpected guest arrives – a very young and very drunk Marilyn Monroe. Will old age and treachery defeat youth and courage? Or is there more to Marilyn than anyone could have guessed?
WORLD PREMIERE
From July 24
Directed by Anna Crawford
Cast includes Heather Mitchell and Lizzie Mitchell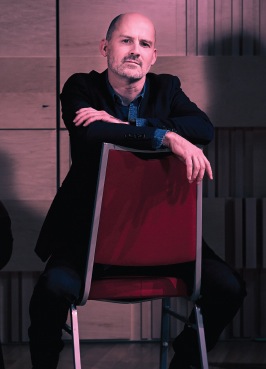 THE JACK MANNING TRILOGY by David Williamson
Face to Face, A Conversation and Charitable Intent.
All three plays focus on the process of bringing together the victims and the perpetrators of a crime to attempt some form of reconciliation.
From August 25 at The Concourse
Directed by Sandra Bates
Cast includes: Alexandra Fowler, Glenn Hazeldine (pictured right) , Erica Lovell and Fiona Press.
OTHER DESERT CITIES by Jon Robin Baitz
Lyman Wyeth is an ex-Hollywood actor. He and his wife Polly enjoy wealth and fame in the sun drenched comfort of Palm Springs. Their daughter Brooke comes home for Christmas with news tat threatens to tear open old wounds and send the family into crisis.
SYDNEY PREMIERE
From September 4
Directed by Mark Kilmurry
Cast: Rachel Gordon, Deborah Kennedy, Diana McLean, Stephen Multari and Ken Shorter.
BLUE/ORANGE by By Joe Penhall
2001 Olivier Award for Best New Play
2000 London Critic's Circle Award
2000 Evening Standard Award
Christopher has been held in a psychiatric hospital for the past month. Today he is due to be released, but his doctor Bruce wants more time to settle on a diagnosis. The tantalising question of Christopher's freedom - and future - is left in the hands of Bruce and his mentor Robert, two doctors with very different views on how this patient should be treated. Is he crazy? Or just eccentric? How do you decide on treatment? And what if you get it wrong?
SYDNEY PREMIERE
From October 23
Directed by Anna Crawford
Cast includes: Ian Meadows and Sean Taylor
ABSENT FRIENDS by Alan Ayckbourn
Absent Friends transforms the humble tea party into a romping comedy through Alan Ayckbourn's notoriously dark-humoured lens. Diana and Paul invite a few friends over to comfort Colin, an old friend who is recently bereaved. During the impossibly funny madness and havoc that ensues, Ayckbourn places a magnifying glass over the trials and tribulations of married life.
From December 4
Directed by Mark Kilmurry
Cast includes: Darren Gilshenan, Richard Sydenham, Jessica Sullivan, Queenie van de Zandt
EXTRA SHOWS
WE'RE GOING ON A BEAR HUNT by Michael Rosen
Adapted for the stage by Mark Kilmurry & Anna Crawford
Directed by Anna Crawford
Music by Daryl Wallis, LYRICS by Mark Kilmurry with Anna Crawford
Cast includes: Felix Gentle, Catherine McGraffin and Shondelle Pratt.
FOR AGES 4+
THE JANET SEIDEL TRIO
DEAR BLOSSOM - Tues 17 June, 8.15pm
DELOVELY: THE SONGS OF COLE PORTER - Wed 18 June, 8.15pm
DORIS AND ME - Thursday 19 June, 11am and 8.15pm