Ewen Leslie: Our Next Big Thing
Frank Hatherley chats with Australia's hottest actor.
I'm waiting at the Wharf Theatre to meet next year's Prince Hamlet. It's the Sydney Theatre Company's Wharf and Ewen Leslie will be the Melbourne Theatre Company's Hamlet.
Ewen Leslie is Australian acting's Next Big Thing.
Virtually unknown before his first professional stage job in 2007, his fast-track rise to award-winning prominence has been remarkable. He's won the Best Male Actor Helpmann Award in two successive years and The Australian has proclaimed "the ascension of a remarkable actor".
Today he's between a matinee and an evening performance of The Trial, a breathless, whirling adaptation of Kafka's novel. He plays the constantly onstage bank clerk struggling to understand the legal nightmare into which he has awoken on his 30th birthday.
Leslie, also 30, never pauses in the pell-mell production, but now he arrives for our meeting relaxed and friendly, fringe flopping, brown eyes alert. He reminds me of a young Jeremy Irons.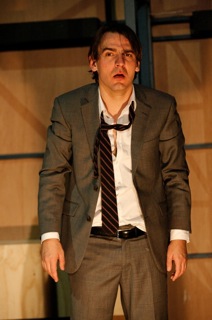 His theatre career is on a roll. After The Trial plays Melbourne and Perth later this year, his 2011 begins with The Wild Duck, directed by Simon Stone for Sydney's Belvoir B Company. Then comes Hamlet in August, directed by Simon Phillips, for whom he amazed as Richard III earlier this year, winning his second Best Actor Helpmann.
"It was about five days into the Richard season," Leslie remembers, "when Simon said 'I really would like to do Hamlet with you next year, are you interested?'"
He certainly was. The 2011 MTC brochure promises 'a fresh, contemporary interpretation'. So would this Hamlet try to match the modern-day 'West Wing' approach to Richard III?
"I don't think it will be as concept-driven as Richard was," says Leslie, "with its shades of the Bush administration. Not that I was playing George Bush with a limp, but we highlighted the spin, the using of the press to get yourself ahead.
"Simon did say that he was interested in what sort of a 'car crash' we could create for Hamlet. You know, all the things that have happened before the play starts – then a series of incredibly bad decisions all spiralling out of control until you've got a stage littered with dead bodies."
Before that comes the Ibsen; well, sort of Ibsen. The Belvoir 2011 brochure states that this WildDuckis written by director Simon Stone 'after Henrik Ibsen'.
"We're actually doing workshops for the production this week," says Leslie. "Simon did a play called The Only Child based on Ibsen's play Little Eyolf. He took the characters and the scenario and then created a new thing out of it. I loved it.
"This week we've been talking about the things that we find really interesting in the Ibsen and looking at the kind of theatre we could create out if it. The Ibsen has a cast of 13, but we're doing it with 6 characters. It's a scary thing which requires a leap of faith."
Ewen Leslie comes from Freemantle, Western Australia. He was acting in school plays when he was ten. "My mum knew I had an interest in acting, and she saw an ad in the paper saying that a company was making a television show called Ship to Shore. She sent a photo which got me an audition. There was something like 800 kids up for parts and I made it into the final ten.
"I did that show for two years from when I was 12 to 14. Actually, I don't think I was all that good. So I didn't fall in love with acting at that time. I loved the technical side of things – how it was shot and put together.
"But I got a theatre scholarship to my high school, the John Curtin College of the Arts. Sam Worthington [now in Hollywood with Avatar, Clash of the Titans, etc] was in Year 12 when I was in Year 8."
Ewen planned to go to NIDA after his final year but missed the auditions.
"Then I found out about WAAPA [the West Australian Academy of Performing Arts]. People said 'they don't take people straight out of school', but 'do it for the practice and next year you'll be more confident'. Actually, those comments really helped me relax at my audition.
"I got a call back for the acting course, didn't get in, but was on the reserve list. Then someone went to NIDA instead, so I took their place. It was good to be so close to home. I had home-cooked meals. I think if I'd moved to Sydney at that age it would have been a very different story."
He's certain that WAAPA has key advantages over NIDA, despite its geographical remoteness from the theatre centres of Sydney and Melbourne.
"The great thing is that you're given the opportunity to make mistakes without being in the industry's eye, whereas at NIDA the agents and directors come and see you in shows at any time. There are things that I did at WAAPA that I'm really glad went under the radar. I remember reading an interview with Hugh Jackman where he said that was why he chose to go there."
WAAPA actors do showcases in the east after graduating."I got my agent via a Sydney showcase. And, as I had quite a few friends in Sydney, I thought, well, I'll stay."
But it would be three years before his career picked up. "It's a really hard industry," he says. "You need to stick in there. I was auditioning a lot and not getting any parts.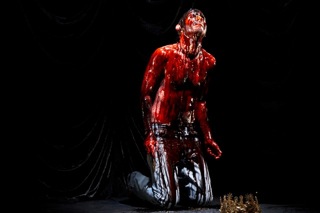 "I was working behind the bar at the Old Fitzroy Hotel and I fell in with a couple of friends of mine who were writers. We started doing shows downstairs. I would be pulling beers, and on my days off I'd be doing the shows. It was a really wonderful thing to do because the only way you get better at acting is by doing it. Doing co-op shows is the first thing I would suggest to anyone graduating."
His first paid stage-acting job came in early 2007, in Paul by Howard Brenton at the Belvoir, directed by Wesley Enoch. "It was only a small part [he played Jesus!] but it led to a co-lead in The Promise by Alexei Arbuzov at the Belvoir later in the year. And to yet another audition for the STC."
He didn't hold out much hope. "Honestly, I had been for so many auditions at the STC. I'm not bitter about it at all because in many way I was still finding my way in an audition room – so I never expected that the first job I would get there would be with one of my favourite actors."
Oscar-winner Phillip Seymour Hoffman had come to town to direct Riflemind by Andrew Upton, the STC's co-Artistic Director. "I was over the moon. In the cast were Hugo Weaving and Martin Csokas. The great thing was I didn't have a very big part, so I could sit back and watch. I learned a lot just watching those actors."
Momentum had taken hold. "Who is that?" said Cate Blanchett the first time she saw Leslie on stage.
When a contracted actor dropped out of the Actors Company, Leslie was right on-hand to audition. In 2008 he did The Serpent's Teeth and Gallipoli, before meeting his destiny as Price Hal in War of the Roses, directed by Benedict Andrews. It was the role that won him his first Helpmann Award, as Best Supporting Actor.
"I'm very lucky," he says. "There are so many good actors out there. It keeps you humble to remember that 'right-place right-time' plays a huge part in it.
"Though I do back myself in what I do," he adds.
Leslie's partner for the past eight years has been film producer Nicole O'Donohue, whose first major movie Griff, the Invisible successfully played the Toronto Film Festival and is to get an American release.
"Her producing work has been a huge eye-opener for me," says Leslie proudly. "I couldn't do it in a million years.By the time Griff comes out it will be five or six years of her life dedicated to truly working on one thing. I'm incredibly proud of her."
Does he want to get off the theatre bandwagon and taste the international film success of the favoured few young Australian actors?
"The thing with theatre is that you have to say 'yes' to something a year in advance without knowing that someone's going to say — and it has happened! — 'I'm really interested in you for this or that film'.
"Because of doing all that TV filming as a kid, I really love the process of film and it's something I'd really love to concentrate on. After Hamlet, of course."
Originally published in the November / December 2010 print edition of Stage Whispers.
Images from Top: Ewen Leslie as Richard III (MTC). Photographer: Jeff Busby. Ewen Leslie in The Trial. Photographer: Jeff Busby. Ewen Leslie in Sydney Theatre Company's The War of the Roses. Photographer: Tania Kelley.
To keep up with the latest news and reviews at Stage Whispers, click here to like us on Facebook, or follow us on Twitter.