Finding Billy
Imagine being eleven or twelve years old and playing the most intense lead role imaginable, in a musical that is touring the country. Four boys playing Billy Elliot (pictured left - Jamie Rogers, River Mardesic, Omar Abiad & Wade Neilsen- phptograher James Morgan) carry the weight on their slight shoulders. The role is compared to Hamlet, such is in intensity of the time on stage and physical demands. With Billy Elliot the Musical open in Adelaide and soon in Melbourne David Spicer speaks with members of the cast.
River Mardesic had barely turned eleven when the media watched him rehearse a number called "Angry Dance". It's an intense tap routine where the character expresses his extreme frustration at having to give up ballet.
Billy screams to his father that his mother would have allowed to him to dance. When his father shouts that his mother is dead, he launches into a foot stomping tirade. Such was the passion and intensity of River's routine at the media call that it made jaws drop.
One of those watching was Robert Grubb, who plays Billy's boxing coach.
"A couple of weeks ago he was ten years old. Today he lifted by responding to an audience. You could see the intensity on his face," he effused.
Vivien Davies who plays Grandma was equally enthusiastic about all the leading boys.
"I am gobsmacked at their brilliance. They are lovely little people. I mean it quite genuinely. They are just lovely kids," she said.
River (from Melbourne) was four years old when he caught the dancing bug.
"My mum is a professional dance teacher. I used to watch her teach. She suggested I try it. I loved it and I just decided to start dancing. The rest of my life I continued dancing."
Wade Nielsen from Newcastle was encouraged to dance by his mother at the age of five.
"I went into a ballet class and I've loved it ever since."
Jamie Rogers from Canberra took his time to start hoofing - he was seven.
"My sister was dancing, my mother encouraged me to try and I have loved it."
The audition process for Billy Elliot the Musical was gruelling. Producers first sifted through 600 expressions of interest, which they whittled down to 200 for auditions. From there a small group was invited to train for months.
"We look for passion, potential and charisma," said assistant choreographer Tom Hodgson.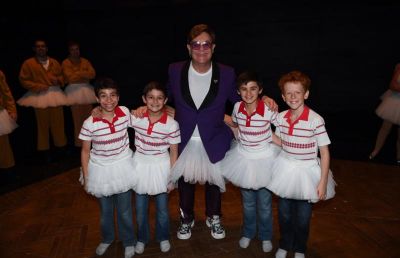 "On the first day we would have seen them. I was looking from a dance perspective. The director something different. These four boys would have had that spark."
However, none of the boys had all the skills needed to undertake the role.
They received months of training during the audition process to fill in the gaps before commencing rehearsals with the adult cast.
"We just never know the combination we are going to get," said Tom. "All the dance numbers and scenes are rehearsed with each of the four boys. Every night the cast has to be prepared for a unique version of the show. There is never a cookie cutter version."
At a media conference, each of the four boys retold the moment when they first heard the news that they got the part.
Omar Abiad (from Brisbane) said, "I was in a car going back from school with my mum, and we got the phone call from my agent. We were very emotional, and I was excited at opportunity to make new friends."
River Mardesic said, "I just got back from school when the agent called. Mum jumped around crazy."
Wade was at his sister's soccer training when news came though. "I was stunned I could not believe it."
For Jamie Rogers it didn't sink in at first. "My mum was at work. She facetimed my Dad. She said guess who got the role? I didn't understand. I only realised when my father and brother were screaming with joy."
Twelve weeks later we met the boys again at a second media conference. Tom Hodgson described how they had grown into their roles.
"Physically their bodies have changed. They have packed on muscle and become more mature. They approach the work as a professional to reach a polished performance."
This includes being taught to eat and sleep well.
"We talk about a healthy nutrition rich diet. With the amount of physical activity, they will be burning through so much. You can compare what these boys are doing to the highest-level sports people of their age. Every day is gruelling - with ballet, gymnastics, tap, pilates, or contemporary dance it never stops."
Playing the boxing coach Robert Grubb helps make rehearsals 'intense'.
"I get to clip them around the ear and bang 'em in the stomach. I do all this sort of stuff," he said with a laugh.
They also have to learn to work in a large group. Entering the rehearsal space and seeing all the alternative casts of young male and female dancers, it feels like you are at a primary school assembly.
"They have to be a special personality to get on with lots of other people. It is a very big company. Getting along is very important," said Robert.
He also observed that none of them are moody, despite the intense pressure.
"We are on tour for a whole year. Who knows how they will go? At the moment they are pulling it together beautifully."
Vivien Davies speaks of them like they are her pet kittens. "They are so much fun. You can play with them."
In another corner of the rehearsal floor I speak with Justin Smith, returning to the musical as Billy's father. During the original tour he played Billy's older brother. He tells me, "it is such a great show to be part of and do it again."
Next to him is Drew Livingstone, playing his old role of Billy's brother Tony. They speak over the top of each other when I ask how the boys are going?
One says he finds it inspiring how they get their heads down and do the work. "They show little self-consciousness. It is wonderful to watch. At their age they have not learnt to be self-conscious. Watching kids do that I get emotional. They have a freedom about them."
Then other chimes in, "they are better at everything than I was at their age. And they still have to do English, Maths and History."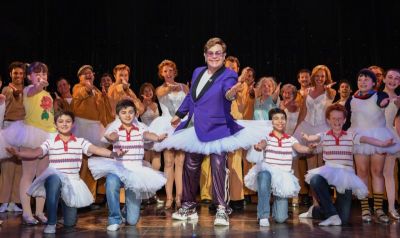 Helping co-ordinate the schooling is children's consultant Erin Fleming. She supervises the tutoring for the 21 children on the tour, mostly aged between 10 and 12.
"We set up classrooms in every venue. We put up posters on the walls, so it looks like a classroom," she said.
A typical day might involve class in the morning, followed by dancing or acting in the afternoon.
"We have a lot of chats with them and discuss how they should focus and use their time wisely. We separate school time from rehearsal time. We can't employ them if they don't keep up their studies. That can be a great motivating factor."
During the extended rehearsal period they even got to spend the odd day putting on a school uniform to attend McDonald College, a Performing Arts High School in Sydney.
"They get to fit in with other the kids."
Once the musical goes on tour a teacher goes with them.
"Every family allocates a guardian to travel with the child," she said.
A typical work week for a Billy would be to perform in two or three shows and be on standby for another two performances.
The Producer Louise Withers said a key theme of the musical which appeals widely to audiences is the role a mentor can play in someone's life.
"We are incredibly passionate about that element of this production. Each of the boys had a driving mentor behind them," she said. "This connects with audiences. It is not just about dance."
Billy Elliot the Musical was only seen in Sydney and Melbourne in 2009. At the time the company was required to replicate the set used in the West End, which had a large revolving bedroom rise through the stage then disappear.
"We had to dig a four metre by four metre hole underneath the basement floor (at the Capitol Theatre Sydney and Her Majesty's Theatre, Melbourne)."
The job required supervision from an archaeologist.
In the new production Billy's bedroom comes in from side stage, allowing the show to tour.
None of the dancing, though, appears to have been simplified. To get through each performance the four Billy Elliots are ready to dig deep.
Billy Elliot is playing at the Festival Centre, Adelaide from December 29, then the Regent Theatre, Melbourne from February 20, 2020.
www.billyelliotthemusical.com.au
Images of Elton John with the four Billys and the Australian cast of Billy Elliot by James Morgan.