Fire in the Wood
Actor and national TV icon John Wood talks to Coral Drouyn about a brand new play he is directing.
For more years than he would care to remember, John Wood was a household name to anyone who watched TV. He is best remembered as Sgt Tom Croydon on Blue Heelers (the role that won him a Gold Logie) but before that there was Rafferty's Rules, Truckies, and guest roles on various dramas; and since then he pops up in recurring roles, most notably on Doctor Blake's Murder Mysteries.
But John has never seen himself as a star, or even a celebrity.
"I'm an actor, first, foremost and always," he says with pride. "I'm not a star and, much as I love television and film, I'm happiest when I'm on a stage."
And those of us who have seen him act on stage in such plays as The Club and Art realise there are two very different John Woods at work. But it doesn't stop there.
He's also a writer and a director, and it's the latter role that he's currently embracing.
"The thing about Community theatre," he says, "is the absolute passion and commitment to the play. It used to be that way for professional productions, but that isn't always the case now. Sometimes it's just a job – and we all need to work."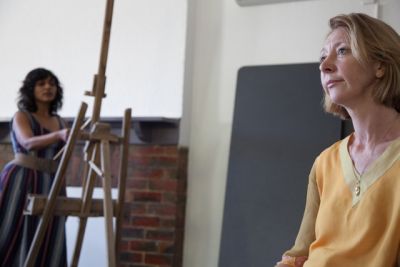 Even at 70, Wood isn't prepared to rest on his laurels; he's constantly on the lookout for the next thing to excite him.
"I've directed before," he explains, "but never a brand new play, especially one so intense and with such an emotional impact."
The play, about the aftermath of Ash Wednesday, is called The Colour of Fire, and it's written by Nadia Fragnito, an actress and drama teacher with a long connection with the Yarra Valley area.
"I live in this area myself," John says, "and it's amazing that the emotional impact of those devastating bush fires still has the power to change lives and affect us. The scars go very deep. Yes, it's emotional, but there's also humour. It's a very fine play and certainly deserves to be seen, and not just by the local community. I really believe it deserves a major production somewhere."
John feels blessed to be shaping the play.
"I am friends with actor Kristof Kaczmarek; we've worked together in the past. Kristof is Polish and a heck of an actor, but he's also full of amazing passion for everything. He's run his own theatre company, Exit Theatre, for a number of years now, and in 2014 they ran a play writing competition, and Nadia was the winner. I knew about it, but when Kristof asked me to direct and I actually read it, I knew it had important things to say….and a lot of plays don't, unfortunately … and I got excited at the prospect of directing it."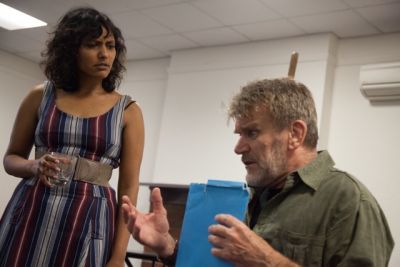 John also has learned the entire script by osmosis, so the cast knows who to turn to for a prompt, if they forget a line.
"It's a strange anomaly," he tells me. "When you have your actor cap on you learn your part and the direct cues you need to know. But when you're directing, you absorb every single word. You know the text inside out. It's that big picture overview that a director needs to have."
John is obviously proud of the way the play is shaping.
"The cast is a mixture of seasoned professionals and gifted amateurs, but everyone is working their bum off," he explains. "This really is about the Community here in the Yarra Valley. The local Men's Shed is constructing the set, locals will be selling programmes. And it's all intensely personal, since most of us endured that terrifying day. We have more at stake than we would doing some classic play from another country. And we want the audience to feel part of the experience too."
John has his hands full with the directing role, but also managed to film a guest spot for the new Hamish and Andy show last week as we talked. And after this?
"Back on stage," he tells me. "I can never stay away from acting for very long. It's too much a part of me."
The Colour of Fire can be seen over the next two weekends at:
The Memo, Healesville
THU 16 MAR - SAT 18 MAR - 7.30PM
SUN 19 MAR - 2PM
Arts Centre, Warburton
THU 23 MAR - SAT 25 MAR - 7.30PM
SUN 26 MAR - 2PM