Geraldine's Dream
"I Had a Dream" Rose tells her hapless admirer, Herbie, as she launches into 'Everything's Coming Up Roses' in the Arthur Laurents / Jule Styne / Stephen Sondheim musical Gypsy. Geraldine Turner has a dream too. It's to tackle the role of Rose in that musical. Bill Stephens has the story.
In spite of her illustrious career spanning more than 40 years, headlining in major musical theatre productions, theatre, cabaret and television, the role of Rose in Gypsy, considered by many to be the Everest of musical theatre roles, has so far eluded Geraldine Turner. Incredibly, Turner has been cast as Rose in no fewer than five productions of Gypsy, none of which have come to fruition.
The first was the infamous 1992 production, which was to have been directed by the late Richard Wherrett. Despite strong ticket sales, and an excellent cast and creative team, this production was suddenly cancelled at the end of the first week of rehearsals when the finances fell through. Showbiz legend has it that Turner's response to the cancellation of the 1992 production of Gypsy was to trash the producer's office.
"Never happened!" she laughs when I repeat the gossip. "I certainly gave him a piece of my mind, but of course I never trashed his office."
In the intervening years Turner has been cast in four other productions of Gypsy, all of which, for various reasons, were cancelled before they hit the stage.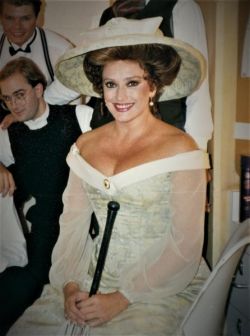 In April, Turner was poised to fulfil her dream when she was scheduled to star in a four week season of Gypsy being produced by The Queanbeyan Performing Arts Centre (The Q).
However, on 15th February, just one week before the production was due to start rehearsals, Turner's dream unbelievably came crashing down when The Q issued a brief press release advising "that, with regret, the Q and the production team announce the decision to cancel the show,Gypsy ... those who have already purchased tickets will be contacted directly."
No reason was given for the cancellation, but once again it had nothing to do with Geraldine Turner.
Indeed, when I contacted a shocked Turner she described the decision as "Unfathomable! People had booked from Melbourne, Brisbane and Sydney. It's difficult to reconcile."
She then went on to describe the moment a representative of the Q called to advise her of the cancellation.
Rep: I am sorry to have to tell you this but we have decided to cancel Gypsy.
Geraldine: (silence …can't speak) long pause.
Rep: I really want to tell you something. You are a lovely lady and I've enjoyed meeting you. (Hangs up).
"That makes five times. How can people keep doing this?" she asked uncomprehendingly.
It has since emerged that the original director, Rodney Delaney, was informed by the same representative, only the day before, that he had been removed from the production, ostensibly because of friction between himself and the Production Manager. While confirming this, Delaney reiterated that he had been thrilled with the supremely gifted cast of local players that had been assembled for the production, and disappointed for the Q, and for local audiences, that they would now miss out on the opportunity to work with Ms. Turner to bring Gypsy to life.
I asked Turner why this role was so important to her. "She's my mother. My mother was the quintessential stage mother. It's a play about mothers and daughters. Rose had a sad upbringing herself. She's such a fierce woman in many ways and yet she has great humanity. That's a great thing for an actor to play. If I don't do it soon, I'll be too long in the tooth to do it," she explains. "It's a huge part, and a huge thing to do. You've got to be young in spirit enough to be able to do it."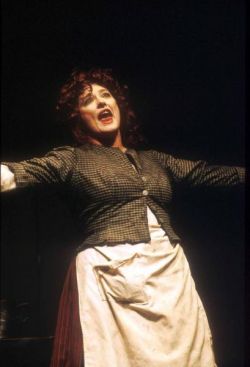 Turner has actually written her own musical, based on her relationship with her mother, called Drama Queen. She wrote the book and lyrics and Greg Crease wrote the music. Drama Queen was workshopped at The Street in Canberra in 2017 but is still awaiting production.
Turner was born to play the indomitable Rose. Her brassy chutzpah in such roles as Velma Kelly, opposite Nancye Hayes' Roxie Hart, in the original Australian production of Chicago, directed by Wherrett, endeared her to generations of Australian audiences. That performance is captured on the Australian cast recording, which is now a collector's item, as is her multi-award winning performance as Reno Sweeney in Jerry Zaks' hit Broadway production of Cole Porter's Anything Goes, which toured Australia and New Zealand for two and a half years.
Brisbane born and raised, Turner trained in classical ballet and singing. As a child she appeared in productions of Aladdin (Tibor Rudas) and The Sleeping Princess (The Borovansky Ballet), and was soon a regular on the local television variety program Cottee's Happy Hour.
During the early 1970's, she appeared with the Queensland Theatre Company in the musicals Lock Up Your Daughters, A Rum Do! and Oh, What a Lovely War!
In 1971 she participated in an extensive tour of The Legend of King O'Malley, before being cast as Betty From Boston in J.C.Williamsons' tour of No No Nanette.
However it was the role of Petra in the 1973 original Australian production of A Little Night Music (J.C.W.) that brought her to national attention. Critics hailed her as a major new star. Turner subsequently played Desiree in a 1992 revival of A Little Night Music for the STC, and again in New Zealand for Canterbury Opera.
Turner has a particular affection for the works of Stephen Sondheim and over the years has played Mrs. Lovett in Sweeney Todd (Melbourne Theatre Company), and The Baker's Wife in Into the Woods and Joanne in Company, both for the Sydney Theatre Company. She famously became the first person to record an all-Sondheim album.
She certainly hasn't confined herself to Sondheim however. Turner has excelled in roles as varied as Nancy in Oliver! (Adelaide Festival Trust), Lalume in Kismet (Victoria State Opera), Frauline Schneider in Cabaret, Sally Adams in Call Me Madam (The Production Company) and Madame Morrible in Wicked.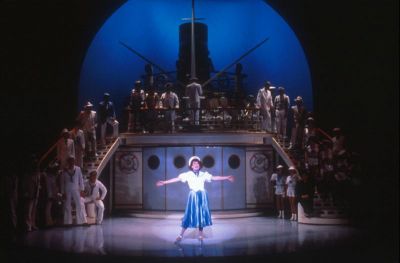 She's triumphed in the title role of Offenbach's La Belle Helene (Victoria Opera), and in 2017 made her first appearances with Opera Australia in Robert Greene's pastiche operetta Two Weddings, One Bride, which returns to Melbourne in November.
Turner has enjoyed performing Gilbert and Sullivan as a fearsome Katisha in The Mikado (Essgee), a dainty Buttercup in H.M.S. Pinafore (V.S.O) and even Captain Corcoran and Nanki Poo in school productions of H.M.S. Pinafore and The Mikado.
She's appeared in several notable Australian musicals, playing Ruby in Summer Rain (QTC) for which the writers, Terence Clarke and Nick Enright, wrote an additional song for her, 'Abracadabra Man'. She created the roles of Mrs. Yabsley in Jonah Jones (STC), Ma Kelly in Reg Livermore's NedKelly, Rosie Shaw in Peter Stannard's musical Rosie, and Philomena in Somewhere, a musical by Tim Minchin and Kate Mulvany. She's also played Nellie Melba in Jack Hibberd's A Toast to Melba (QTC).
Since her initial 1980 cabaret Geraldine Turner Sings, at the Nimrod Theatre, she has established herself as a major artist on the International cabaret scene. Critics and audiences alike have heaped praise on her most recent cabaret, Turner's Turn, which, co-incidentally, commences with her excoriating version of 'Rose's Turn'.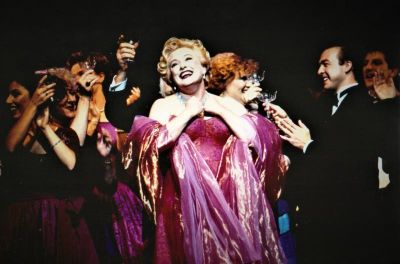 Away from the stage, Turner is very proud of the achievements of her husband, Opera Australia conductor Brian Castles-Onion, with their record company, Desiree Records. Castles-Onion has produced 8 multi-CD sets under the umbrella title 'Great Australian Voices'. These recordings preserve performances, mainly of opera singers, including Joan Sutherland, Jennifer Eddy, June Bronhill, Marie Collier, Nance Grant and Robert Allman. Accompanying each set is a booklet, written by Castles-Onion, giving a comprehensive description of each singer's career. The latest recording in the series, entitled The Golden Years, 1948-1973, features rare recordings of 39 Australian singers from that period.
As Turner explains, "The recordings are to preserve their performances for future generations. We don't make any money out of these things, but we send them to the archives. We send them to the Performing Arts Museum in Melbourne. They're there for future students.
"Brian's got so much stuff, we'll never be able to move house," she laughs. "But I'm proud of him. He's a great archivist."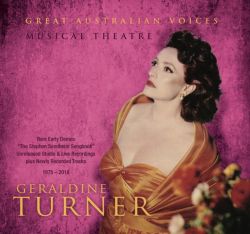 Turner's is the first musical theatre voice to be featured in the series.
"It's a sort of archive of my career from 1975 to 2018," she volunteers proudly. "I recorded three tracks at the end of last year so that people would realise I was still singing.
"The second disc is my Sondheim album. The first is a whole lot of demos and previously unreleased tracks of different things from my career. The third is basically a live album of my performances over the years."
She doesn't mention that the album also contains her stunning renditions 'Rose's Turn' and 'Everything's Coming Up Roses'.
In 1988 Geraldine Turner was awarded an Order of Australia Medal (OAM) in recognition of her services to the arts. She was the Federal President of Actors Equity (MEAA) in Australia for seven years, and is currently the Patron of Miranda Musical Society, for which she directed a production of Jacques Brel is Alive and Well and Living in Paris in 2017, and is scheduled to direct Les Misérables for them later this year. "I find directing really interesting and creative," she tells me.
But despite all her other accomplishments, she is still tantalized by her unfulfilled dream of conquering that Everest of roles, Rose in Gypsy. But, although the abrupt cancellation of this latest production, and particularly the way she learned about it, is a bitter disappointment, Turner remains philosophical, remarking ruefully, "It seems GeraldineTurner and Gypsy don't belong in the same sentence."
Stage Whispers would like to issue a call to arms. Can someone stage Gypsy in 2020? So that everything can finally come up roses.
Images: Geraldine Turner; Geraldine in A Little Night Music, Sweeney Todd, Anything Goes and Call Me Madam; cover of Geraldine's 3 disc album.