GREASE Cast Announced
At Sydney's Hard Rock Cafe today (March 24, 2013) Producer John Frost revealed the cast and tour dates for his new multi-million dollar production of GREASE, which opens in Brisbane on August 31.
In the lead roles of Danny and Sandy are Rob Mills and Gretel Scarlett. Rob Mills made a name for himself in musical theatre performing Fiyero in the Broadway blockbuster Wicked in Melbourne and Sydney for two years, and will join GREASE after starring as Warner Huntington III in Legally Blonde in Brisbane and Melbourne. Gretel Scarlett has played support roles in Wicked and Mamma Mia! and is excited to take on her first starring role.
Bert Newton returns to his radio roots to play the role of slick veteran disc jockey Vince Fontaine, while Todd McKenney dusts off his dancing shoes to star as Teen Angel, the good-looking, falsetto-voiced, Fabian lookalike. The role of All-American, rock-star student at Rydell High, Johnny Casino, has gone to Anthony Callea, returning to the musical theatre stage after success in Rent and Wicked.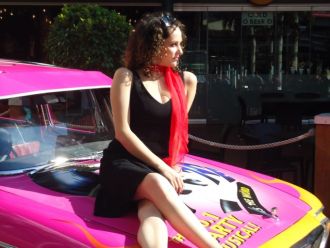 Rizzo, the leader of the Pink Ladies, will be played by Lucy Maunder (Dr Zhivago, The Threepenny Opera), and Kenickie will be played by Stephen Mahy (Jersey Boys, I Will Survive). The cast also includes Francine Cain (Frenchy), Chris Durling (Doody), Sam Ludeman (Sonny), Duane McGregor (Roger) and Laura Murphy (Jan).
Val Lehman, perhaps best known in her triple Logie winning role of Bea Smith in Prisoner, will play the role of Miss Lynch, the Headmistress of Rydell High.
John Frost announced additional cast members for the production on July 1. Playing Marty will be Karla Tonkich, currently performing in Legally Blonde, Eugene will be played by Eli Cooper, Antoniette Iesue will be Patty, and the role of Cha Cha will be played by Andrea Arena. Also joining the cast are Jared Bryan, Elisha Chin, Stefanie De Castro, Euan Doidge, Heath Keating, Mitchell Mahony, Natasha Marconi, Scott Morris, Shannon O'Shea, Daniel Raso, Stephanie Silcock and Jessica White.
At the launch at Sydney's Hard Rock Café, Stage Whispers had the opportunity to speak to several of the cast members.
Todd McKenney told Stage Whispers, "I'm Teen Angel, the fantasy character that sings 'Beauty School Dropout'. I laughed when Frosty offered it to me because at the moment I'm playing the Devil in Orpheus in the Underworld for Opera Australia, so I go from playing the Devil to the Angel, so I've covered the gamut. I think I'm more suited to the Devil, but I'll give the Angel a go. The costume I wear is like a mirror ball. I'm going to blind people as I enter the stage, and that's in my contract."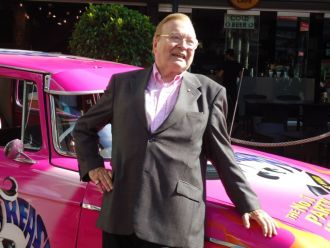 Bert Newton said, "I play Vince Fontaine, who's the DJ. It's an exciting role. I'm also covering for Todd, but they'll need a few extra stage-hands to get me up there. But it's a good role. The first thing I was told by the producers is that I'm going to be the oldest DJ in productions of the show so far, but I can wear that. I'm also the oldest Wizard in Wicked and The Wizard of Oz, and also I think I was the oldest FDR in Annie, in which I also played with Todd. So it's nice to get back to working with Todd again, because it was obvious that during Annie he watched every movement of mine, because his performance changed so dramatically. That pregnant pause, which I myself have been known for – most people think it's method, but it isn't - I'm just trying to think of the next bloody line.
But it'll be a lot of fun.
"It's a great cast and I think Gretel, as Sandy, is going to be just out of this world. I was lucky enough to work with her in Wicked, where she covered a couple of the main roles and was just great. It's a huge thrill for her, I know, and the start of big things for her."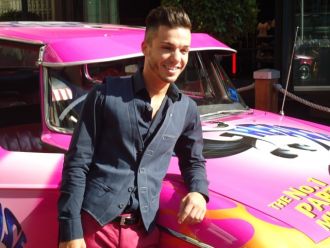 Anthony Callea told us, "I'm excited about playing Johnny Casino, because he's got a great song, 'Born to Hand Jive', and I think Grease is just one of those feel-good shows. John Frost puts on great shows, and it's going to be good to be back doing something on the stage – it's been a long while. I think I've watched the movie of Grease about a hundred times; it was either that or The Sound of Music. It's one of those shows that everyone loves, so you can't go wrong."
Lucy Maunder who will play Rizzo told said, "I grew up absolutely loving the movie, and loving Stockard Channing as Rizzo, and I continued to follow everything she's been in. I adore her as an actress. I think that Rizzo is a very exciting and complex character. She starts out being the head of the Pink Ladies, and really tough and sassy, but then in the second act she gets to show a very vulnerable side to her personality, even fragile at the very end. And she has arguably the best song in the show – it's a gift to be given that song to sing every night."
Among the stars of Grease, Gretel Scarlett is described as a 'rising star'. What's it like scoring her first leading role?
"It's quite overwhelming at the moment. It's so exciting, and I think sometimes you've just got to take a step back and breathe. But it's so fantastic."
What does she love about the role of Sandy?
"Her innocence – that she's just an everyday girl who's a little misunderstood. That's pretty universal. And then, to have that turnaround at the end. I feel Grease is pretty timeless. As a child growing up I could always I could relate to it in my school days. School is very universal, and so growing up you have those sort of characters around you, so you can relate. You can say, yeah, I know that person – there's a Frenchy in my life, or a Jan."
"GREASE is one of my favourite musicals, and with this top draw cast of musical theatre stars I have no doubt it will again be everyone's favourite party musical," John Frost said. "I'm thrilled that Rob Mills will be our Danny, straight from his success in Legally Blonde, and that we have found a new leading lady in Gretel Scarlett. Both Rob and Gretel gave sensational auditions, and our UK creative team knew instantly that they were the ideal Danny and Sandy. And it's wonderful again to be working with the wonderful Todd McKenney, the talented Anthony Callea and, for our sixth musical together, the irrepressible Bert Newton. What can I say about this cast – You're The One That I Want!"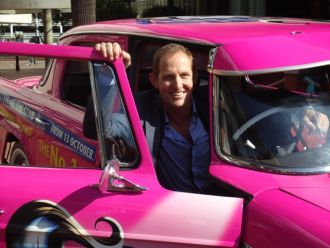 GREASE will open at Brisbane's Lyric Theatre on August 27, with seasons at the Sydney Lyric Theatre from October 13, and at her Majesty's Theatre, Melbourne from January 2, 2014.
So get ready to dust off your leather jackets, pull on your bobby-socks and take a trip to a simpler time as "bad boy" Danny and "the girl next door" Sandy fall in love all over again.
Lyric Theatre, QPAC, Brisbane
Season: From Tuesday 27 August
Opening Night: Saturday 31 August
Bookings: qpac.com.au or phone 136 246
Lyric Theatre, Sydney
Season: From Sunday 13 October
Opening Night: Thursday 17 October
Bookings: Ticketmaster.com.au or phone 1300 795 267
Her Majesty's Theatre, Melbourne
Season: From Thursday 2 January 2014
Opening Night: Saturday 4 January 2014
Bookings: ticketek.com.au or 1300 795 012
Crown Theatre, Perth
Season: From Saturday 21 June 2014
Opening Night: Sunday 22 June, 6pm
Bookings: Ticketek.com.au or 132 849
TICKETS ON SALE DECEMBER 16, 2013
Festival Theatre, Adelaide
Season: From Sunday 3 August 2014
Opening Night: Thursday 7 August, 7.30pm
Bookings: www.bass.net.au or phone 131 246
TICKETS ON SALE DECEMBER 16, 2013
More Reading