Greening Jemma
Jemma Rix has been playing Elphaba in Wicked since 2008. That's six years of defying gravity, covered in green make-up. When Jemma spoke to Neil Litchfield, he began by asking how she keeps her performance fresh after so long, and how she copes with the make up.
"The green is difficult. It's a MAC makeup, so it's good make-up for the skin; it's not like paint or anything like that. My skin does get very sensitive, because there's a lot of scrubbing to get it off, and I have to do it every day, and twice on Sundays. I never get it all off. I've always got this tinge of green on my hands, on my face, and in my hairline as well. It's the tricky part of the job, but it's such a cool role that you feel proud at the same time that you have the opportunity to play the Wicked Witch of the West.
"Keeping it fresh is definitely something that is difficult, but having a really strong company and cast really does help with delivering a truthful performance every night. They're all very open and free; they'll deliver a line differently, so my reply will be a little bit different, though it's something that the audience won't feel.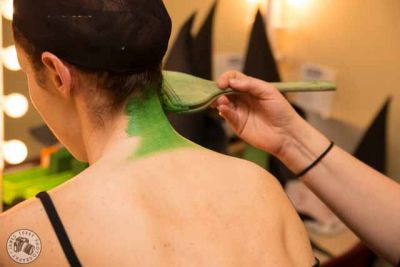 "I meditate a little bit, so when I'm on stage I try to be 100% Elphaba. I try not to let any other thoughts creep into my head. It's hard to do, but it means that you are focused and in that moment, so by the end you've delivered 100% of the performance as Elphaba. That's been my little trick.
"Wicked is such an amazing musical, with a strong script and beautiful music, so I always feel challenged, and I'm always trying to be better. That really helps with doing it for such a long time."
The flying in Defying Gravity, however, is something that Jemma never tires of.
"Defying Gravity is quite vocally challenging. You're concentrating so much on singing that you don't even feel the flying part.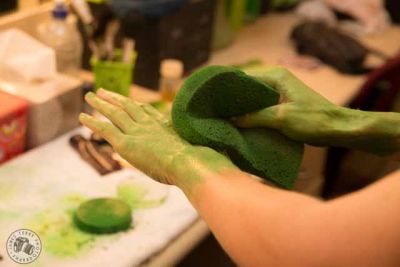 "When we've teched it in, and I haven't sung and we've just gone up, it's actually more scary because you're concentrating on the levitation. But when you're singing, you're so distracted at that point that you actually don't notice it. You feel it, but you don't feel nervous or scared.
"But you never get sick of it. When I finish that end note and the curtain comes down, and the lights go black, the response from the audience is amazing. You can never get sick of that feeling that they've had a wonderful time."
Jemma mentioned the sensitivity of her skin, so I was interested to know how she's managed this aspect for these past six years.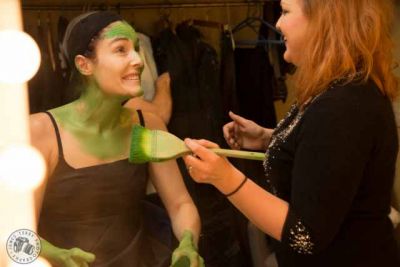 "Because my skin is so sensitive I have to use everything non-perfume, super-hydration, no chemicals or anything like that. Even when I've tried to use something natural with essential oils in it, my skin will just flare up. I have to be very, very careful, so when I remove the make-up I use Sorboline cream, which is a very, very mild cleanser. Obviously it's a moisturizer, but when you add water it turns into a cleansing agent. I use it as a barrier as well, before the green goes on. So that helps because the green doesn't penetrate all the way through, but also when I jump in the shower after the show it comes off a bit easier. So my process is actually less-is-more."
So what 's involved in the nightly the make-up process, which transforms Jemma into Elphaba, as seen through the photographs (by James Terry) which accompany this article?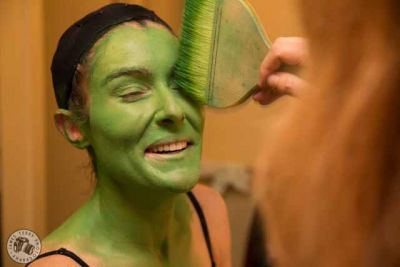 "I have a make-up artist, Kelly Ritchie, who looks after me. I jump in the chair and I put on the Sorboline. We also put my hair in pin curls, because I have a wig that goes on as Elphaba.
"Lucy (Durack) also comes in and does her pin curls in my room, and we have a catch up. We're friends off stage as well as on. That really helps and gives value to the show and the friendship onstage as well.
"I put on my moisturiser, and then a foundation, and that's sort of my barrier. Then Kelly has the MAC makeup and big wide brush. She adds water to the make-up and starts lightly putting it on my face. As she's doing that I also do my own hands, to mid-way up my arms, using a sponge. I have to paint my nails green as well. It's a water based make-up, so its actually quite light, so even though the colour is quite dramatic, bright and vibrant, because it's been diluted with water, it's actually quite light on the skin, and almost feels like just a normal foundation.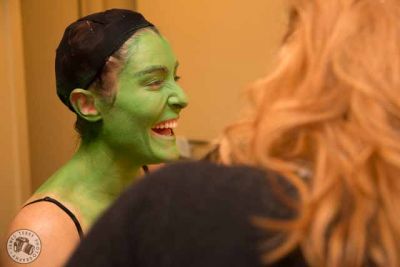 "What sets the make-up, once you've done the green, is another another oil-based green. On stage obviously I get quite hot and sweaty, and so that holds the green on better.
"Once you've done that we powder. Powder is the key for Elphaba to stay green. Otherwise it would just melt off. That sets the make-up together. I powder my hands and Kelly powders my face. Once the green is on, the procedure of putting the make-up on is relatively natural.
"Elphaba is a schoolgirl, so the make—up for Act 1, in particular, is quite light, just some shading of the cheeks and some soft detail around the eyes, because she's meant to look quite young and natural at that point.
"In Act 2 Kelly deepens the eyes, deepens the cheeks, and darkens the eyebrows, so I look older and a little bit more mature. I retouch my hands as well, because at that point I've touched a lot of things and the green starts to wear off. It does pretty well, but it does still come off, so I touch it up, and I darken my lips as well, with black. I wear black lipstick in Act 2.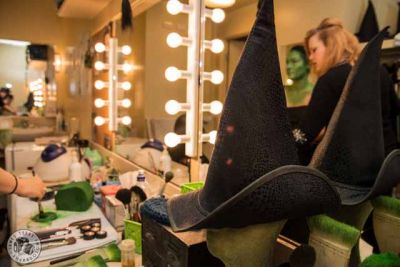 "We have little spots in the show where we have to be touched up, so if we're sweating, Kelly will have a check over my face and make sure that the green is at full coverage. It depends where we are. In Melbourne, where we are at the moment, it's quite cold, so you don't get as sweaty as we got in Manila, for instance."
Are there moments of the make-up process which Jemma dreads?
"Kelly is so talented, and she makes me look really pretty, so I love when she does my make-up. Even when I'm not green as well, for special events, she'll do my make-up. I love it most when she does Act 2, because the make-up is so detailed and it's just amazing what she does. She always does things a little bit differently as well, and tries different things.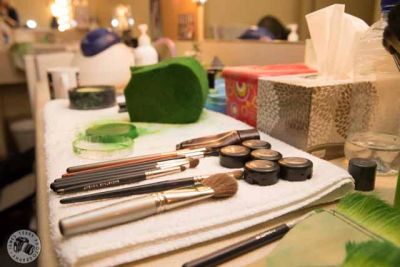 "The thing I don't like is having had a shower after the show, and still being a little bit green. It's in my hairline all the time, so when I get up in the morning and I look at pillow it's got this green tinge. I try so hard to get it off, but I always miss bits – particularly in the hair, and that's just there in case the wig falls back so there's green there as well, and that's always a little bit gross."
Does she end up ingesting any of the green make-up?
"Sometimes if I'm talking, and Kelly's got the big paint brush, it does definitely hit the tongue, but I think that the thing that Kelly and I both definitely ingest the most is actually the powder, because that's obviously in the air. When we leave each theatre there's a nice thick formation of powdered shelves and desks."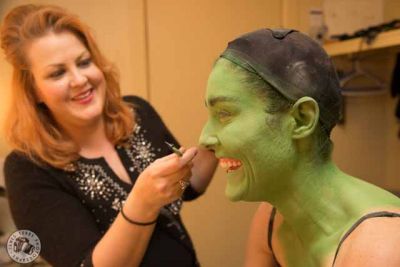 Does the make-up help Jemma establish the character of Elphaba each night?
"When the make-up is done, I don't feel quite Elphaba yet. For me it's definitely just before I go out. I'm all dressed in my Shiz uniform, I've got my boots and my glasses on, and it's actually when I pick up the suitcase and I'm on the stage about to go out that I really in body as Elphaba, and feel 100% her. That's my moment where I'm at full focus. When the green's done, I'm not ready, or I might not have the wig on yet, so when I'm in that full outfit, and my feet are on that stage I really do feel like Elphaba then."
I wondered what insights Jemma has gained into the role over the years, since she first played Elphaba in 2008.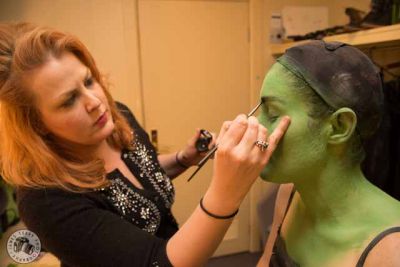 "When I first started I was new to the actual musical theatre world, so I was learning on the job, and I learnt from watching Amanda Harrison, so I just watched and I learned; I wrote, and listened, and did all those things. Then once I took over it was my Elphaba and my experiences.
"I was 23 when I first started, and I'm now 29, and my Elphaba has definitely evolved. It's not just being comfortable with the role, but growing as a human being outside work as well, and being able to think a little bit more maturely about Elphaba. Life experiences can deepen how you respond to different words and certain lyrics, and how you feel about different things, because you might have experienced them in life, whereas before I hadn't.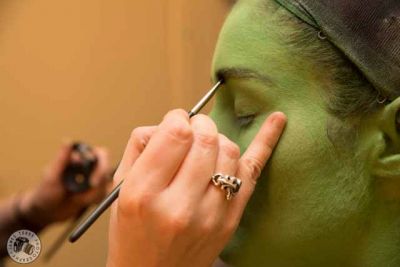 "I definitely grow every day, and that's why I'm sticking at it. I really do feel that if I look at how I've evolved from the Elphaba back in 2008 to the Elphaba now, it's a completely different character, vocally and emotionally. She's a lot more detailed and a lot stronger. That's developed because Elphaba is a bit older and has had some of those things happen to her. She's still fighting, but she's tired and exhausted and she's giving up in 'No Good Deed'. I feel I can add more to that now than I could when I was a little bit younger. That's just got to do with age and experience. I feel like I'm still learning and still getting better, and I think I'll feel like that till my last show, for sure.
"What makes Wicked so successful is that everyone can relate to the show and the characters in some way. With Elphaba, all she's trying to do is good, and she just keeps getting things turned against her, no matter what she does, and it almost makes it worse; every time she tries a little harder it gets even worse for her. Things get misconstrued, and everything is just against her. But she keeps that strength, and keeps trying to move forward and deal with what she's been given.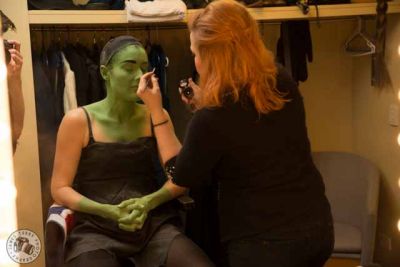 "I can relate to that. Life is tricky sometimes, and you have hardships and things that happen, but you've got to keep moving forward.
"And the younger Elphaba, when she's being picked on at school. I mean we've all been picked on at some point, so that moment in the Ozdust Ballroom when she's got that hat on, and all the kids are laughing – it's horrible, and I can go straight back to a time at primary or high school when I can relate to Elphaba, that I can bring up from my own life."
When it comes to a favourite moment in Wicked, even after so many performances, Jemma finds it impossible pin down one definitive answer.
"It changes every night. Lucy and I have so much fun in the cat fight scene, and last night the audience made this response that they never made before – they all went 'Oooh' and Lucy and I almost lost it because it really took us by surprise. We were having a lot of fun, delivering the lines with little bit more sass, and playing off each other, and I think the audience really felt that.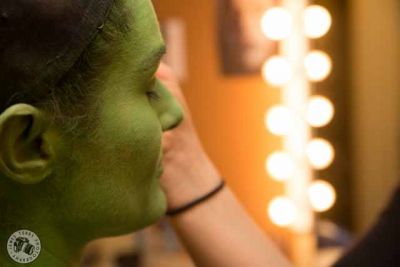 "That's the brilliant thing with live theatre; yes, it's the same thing, but it's not. You still get such a different buzz every night; every show is different because every audience is different. 'No Good Deed' also felt really good last night, but it changes for me all the time, because I'm always different every day. Some things will fit well and I feel really connected."
Those of us who follow Wicked on Facebook and YouTube were quite stunned by the rock star scenes at the stage door on the closing night of Wicked in Manila Just what was that like?
"It was insane. We felt like we were really, really famous, like Katy Perry or any of those people feel any day, but for us it was insane. You can't get the smile off my face even thinking about it now.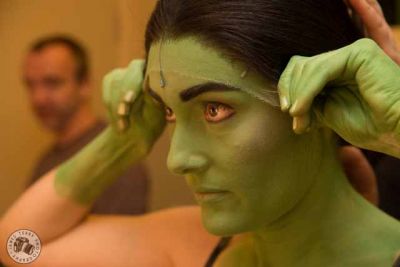 "They just loved the show, and from the moment that we did publicity there, which was before Wicked had technically arrived, the response had just been such excitement, and so much love. I can't put into words how that really affects you. You're bringing this show to these people, and they're so appreciative. They were so kind and so loving.
"Every show there was just magic. They were so responsive; they loved everything about the show. You appreciate that as a performer because you get so much back. People don't realize how much you actually get from an audience, and we just felt that so much. It was a really wonderful time for us."
Wicked flies into Brisbane from February 2015, following its current Sydney season at the Capitol Theatre.
Images: James Terry Photography except Jemma reading Stage Whispers, by Lightbox Photography.
Article originally published in the September / October 2014 edition of Stage Whispers.