Hairspray - Do Stars Matter Anymore?
Ian Nisbet looks behind the scenes of Hairspray, the latest big musical to open in Melbourne.
Producer Paul Dainty raised some eyebrows at the cast launch for Hairspray in June.
"The big shows now don't have names in them [anymore]" he said.
"[Hairspray will be] the most elaborate and expensive musical to be staged this year" (Herald Sun) and "the production… will cost about $1m more than [Dainty's] current hit Jersey Boys" (The Australian).
Dainty's claims were especially topical, considering Mary Poppins recently opened around the corner from the Princess Theatre (where Hairspray will open) with one of the biggest budgets and 'name' casts the country has seen in years.
[Ed. In an interesting and ironic twist, since this article went to print in the September edition of Stage Whispers, it has been announced that Tevin Campbell, though hardly a big name here (he replaced Corey Reynolds as Seaweed J. Stubbs on Broadway), has arrived in Australia to recreate the role for this new production. Do stars matter anymore? Apparently so!]
The cast, announced in June, includes proud mum Edna (Trevor Ashley), doting dad Wilbur (Grant Piro) and their ambitious daughter Tracy (Jaz Flowers).
The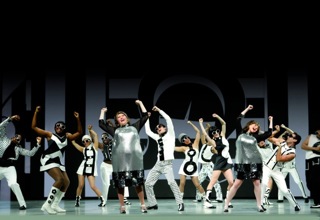 co-producer Joel Pearlman, Managing Director of Roadshow Live, asserts that the Australian production was cast out of necessity.
"We had an extraordinary response to auditions for this show, so we ended up having the luxury of being able to choose the people who were right for the performance. Our objective is to put on the best version of Hairspray. We're fairly ambitious in terms of what we're trying to do [and] we want to really raise the bar of what's being done with musical theatre in this country. … Consequently we need performers who have both the capability and the ability [for] the level of ambition we're pursuing," he said.
"Our feeling is we've cast the best people for the roles and there's an incredibly broad range of experience, both locally and internationally. Our lead, Jaz Flowers, has just come off Fame and all the cast members have some pretty amazing experience. The creative team's decision was all about finding the best people for the roles. That's what we've done and we're unbelievably excited. … We think the cast is absolutely remarkable, perfect for this show and really embody the characters that they're playing, " he said.
Director David Atkins OAM, fresh from directing the 2010 Winter Olympics opening ceremony in Vancouver, Canada, believes that "comparisons to Mary Poppins are a little bit difficult to make. I mean Mary Poppins is a very, very different piece of musical theatre and its genesis is very different as well. It follows the same path in that it was a film that became a musical, but Hairspray was a film that became a musical that became a film and now we're reinventing it as a musical again. Musically they're very different – they're very different times, very different styles, and our show is very different in terms of the way we're approaching it scenically and in terms of the interface with technology," he said.
"
Hairspray has very strong credentials and I think the difference for me is the challenge of recreating a show. Mary Poppins was created on the West End and transferred to Broadway. Apart from the book and the score [we've taken Hairspray] in a new direction: new choreography, new design, new costumes, and new conception in the way we're delivering the show, so they're very different. You're not going to see this version of Hairspray anywhere else in the world, other than the Princess Theatre. This production is unique to this market," he said.
Those audience members who love the 2007 movie starring John Travolta as Edna Turnblad need not fear that the show will not live up to the movie.
Joel Pearlman says: "The show is very different from the movie. It inspired the movie, it's the source material that the film came from, and theatre and film are very different mediums. … This is a show that was very much conceived as a stage musical and it really shows. [For] audiences who love the movie, this is a way… to enhance the experience even further, by seeing it performed live. It will be incredibly exciting for anyone who loved the movie and we anticipate there will be many others who will be discovering it for the first time," he said.
Roadshow Live was formed specifically to produce this show and Pearlman believes this is the best show for their theatrical debut: "This is one of the great books, in my opinion. It's just extraordinary music for the stage and one of the things that's so great is the musical inspiration is very much grounded in American R'n'B and Motown, and because of that it's a big music musical. Also, with David Atkins and Jason Coleman in charge, it's going to be a big song and dance musical. We're going to see spectacular dancing by absolutely spectacular performers, so it's going to be a pretty unique show."
Atkins agrees: "[Hairspray is so important because] it has such a fantastic score and also a book that actually says something. There's some great messages and the obvious, simple, and very important message is about discrimination. I think that gives it some real grit and makes it a very fulfilling emotional journey."
C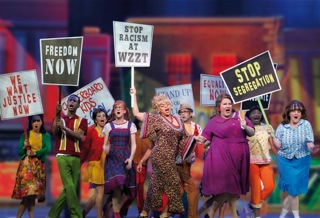 ast member Esther Hannaford (Penny Pingleton) gave a very personal insight into why Hairspray is important to her: "Hairspray is so important because it spreads a message … to not judge someone by [his or her] cover. I'm so passionate about it - it just kills me. People are so wonderful and interesting, and unless you can look into someone's soul and see them for who they are and not just what they look like we're never going to progress as a race. The black and white thing - it's still happening. In Australia we see it happening every day. ... We accept one culture and then another one comes along and we're not OK with them. I just think it's an important message … and it's one that we can always learn from – that love conquers all.
"[The whole show is] taking shape so quickly and what I'm excited about is watching things when we're only in the first week [of rehearsals] and people are making me laugh and cry already. … That really excites me, knowing that we've got another five or six weeks up our sleeves, so when it gets to previews and opening night I'm going to be even more excited!"
Hairspray (Music: Marc Shaiman; Book: Mark O'Donnell, Thomas Meehan; Lyrics: Scott Wittman, Marc Shaiman) first opened on Broadway on 18 July 2002, and played for six and a half years until January 2009. It is a winner of thirty major awards including: Tony Award® for Best Musical (2003), Tony Award® for Best Original Score (2003), Olivier Award for Best New Musical (2008), and a Grammy Award for Best Show Album (2002).
One in ten Australians saw the film and the subsequent DVD release has achieved multi-platinum sales of 300,000 copies.
Hairspray is currently in previews, and opens at the Princess Theatre, Melbourne on October 2.
Originally published in the September / October 2010 print edition of Stage Whispers.
Photographer: Jeff Busby
To keep up with the latest news and reviews, like Stage Whispers on Facebook, or follow us on Twitter.