Hairspray - Fun Facts and Hair-Raising Figures
The full cast and crew of Hairspray will come together tomorrow (2 June) as the Sydney premiere of the smash-hit musical draws near. Preview performances commence on 11 June in advance of the star-studded Premiere on Thursday 23 June.
It is 1962. The 50s are out and change is in the air. Baltimore's Tracy Turnblad, a big girl with big hair and an even bigger heart, has only one passion: to DANCE! She wins a spot on the local TV dance program, "The Corny Collins Show" and, overnight, is transformed from outsider to irrepressible teen celebrity. But can
a plus-size trendsetter in dance and fashion vanquish the program's reigning princess, win the heart of heartthrob Link Larkin, and integrate a television show without denting her 'do? Only in Hairspray!
Welcome to the 60s!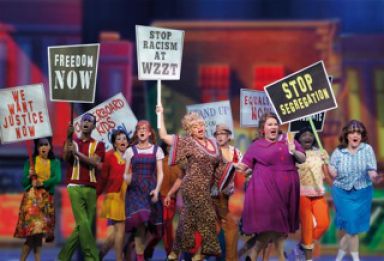 This all-Australian production of the multi-award winning Broadway musical is conceived and directed by show-business legend David Atkins OAM and uses breath-taking, cutting-edge technology to transport audiences to a visually astonishing world where anything seems possible.
With an authentic and unforgettable Motown-inspired score, electric choreography by Jason Coleman, Hairspray will have you up on your feet dancing and stay with you long after you leave the theatre.
Hairspray will play in Sydney's Lyric Theatre for a strictly limited season.
Here's some Fun Facts and Hair-Raising Figures
✿ 12 semi-trailers were required to move the physical elements in the show from Melbourne to Star City's Lyric Theatre
✿ "The Corny Collins Show" – which is central to the show's plot – is based on "The Buddy Deane Show", a real TV variety show that aired in 60s Baltimore and the issues of segregation explored in Hairspray are based on actual events
✿ There are 60 wigs in the production and each wig is made of approximately 80 metres of human hair, which if laid end to end would be approximately 4.8 kms of hair!
✿ Each strand of hair is individually sewn into wig. Each wig has approximately 50,000 holes in which the hair is hand sewn into. Each hole has 3 strands of hair
✿ In total, 9,000,000 strands of hair are sewn into the wigs
✿ 50 Cans of Hairspray used every week on the wigs
✿ There are over 1000 individual costume pieces
✿ Approximately 148 pairs of shoes were handmade for the production
✿ Each of the six LED video screens weigh in excess of 4 tonnes
✿ A French designed and engineered Digital Content Playback system (called Only View) is used to control and generate the video content in the show. Its most recent application was the 2010 Vancouver Olympic games Opening and Closing Ceremonies
✿ 2,784 individual media objects are used to take audiences back to 1962 Baltimore and these individual objects create a larger-than-life vision of the 60s using the six moving LED screens and three circular platforms
✿ Director, David Atkins donated two shirts from his vintage collection for the show, worn by Link Larkin (Jack Chambers)
✿ The design for "Welcome to the 60s", a mod dream sequence was inspired by a vintage handbag found by Costume and Wig designer, Janet Hine
✿ The "glomesh" style fabric for Tracy and Edna's for their "Welcome to the 60s" costumes was supplied by a german company, who use it to make safety fences. The last time it was used for fashion was for gianni Versace
✿ All the dresses in the finale of show have elements of vintage fabrics in the design which have been recut and embellished to add authenticity to the look
✿ All dresses have authentic 60s trim and buttons discovered at a country market at a stall selling off haberdashery
✿ Some fabrics were found in Bali where the Costume Designer came across a storeroom with original 60s fabrics that had remained untouched for 50 years
✿ The women in the show wear authentic pointy bras from the 60s. It took several weeks to adjust to the size of the point as they kept bumping into each other
✿ A vintage 60s size 10 dress fits a modern size 6
✿ Each tulle petticoat has 50 metres of tulle
✿ All vintage jewellery had to be restrung and reset with earrings made into pierced as it was not common to have pierced ears in 60s
✿ Over 5000 Shawrovski crystals were used in the costumes for the finale scene
Photographer: Jeff Busby
To keep up with the latest news and reviews, like Stage Whispers on Facebook, or follow us on Twitter.