A Horse of Another Colour
Coral Drouyn explores the evolution and wonder that is War Horse as it returns to Australia in 2020.
How do you recognise an icon - except with hindsight? Writers write because they have something to say. But whether anyone wants to hear that story is another matter entirely. You can't predict what will be a hit, or what will end up in the "Sale Bin" at the bookstore. As the late great screenwriter William Goldman wrote, "Nobody knows anything" – if they did, we could all predict a runaway hit. And that wasn't the case with War Horse.
Perhaps "runaway" is a paradoxical description, though there's a strong element of running away by Albert in the story, in the search for Joey the farm horse. War Horse in its original form, a short book for adolescents, made headway into our consciousness at a trot rather than a gallop. Written in 1982 by noted children's author Michael Morpurgo, the book became a favourite with those in their early teens, selling steadily for twenty-five years, but couldn't be described as a smash hit.
It's been reported that Morpurgo's inspiration was two-fold. The first was a very old man in the Devon village where he lived, who remembered the First World War and the commandeering of farm horses to be sent to the front. Hardly any returned. Those that survived the battlefields were slaughtered, forgotten by all except the owners who had given them up out of a sense of duty, but never stopped wondering what happened to them.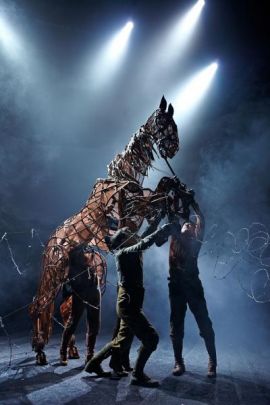 The second was a young boy, severely withdrawn and with a stutter, who visited the Morpurgos' farm in Devon, where they ran a programme called "Farms for City Children". There, author Morpurgo observed the boy communicating with one of the farm horses, speaking to it without stuttering, confiding in the animal who couldn't have understood what the boy was saying, yet empathised with him. Morpurgo had the theme for his book, and his stroke of genius was to tell the story in the first person, through the voice of Joey, the horse. It wasn't the hit that Anna Sewell's Black Beauty was, or perhaps even Walter Farley's The Black Stallion, but it was much loved by those who read it.
That could easily have been accolade enough except that Tom Morris, an innovative young theatre director, was artistic director at the Battersea Arts Centre in the mid-90s when he encountered South Africa's Handspring Puppet Company. Tom, responsible for BAC's breakout production Jerry Springer: The Opera, saw Handspring's puppetry at work in The Fastest in Africa, and was overwhelmed by the sense of reality the puppet animals were infused with. He realised that things could be done with puppets which could never work with live animals on a stage; even a life-sized giraffe made audiences suspend disbelief and accept the magic of the performance.
Every expression, every movement, could be controlled by master puppeteers; the puppets themselves could become more real, more alive, than their living counterparts. They could be real characters with emotions, and the ability to connect with an audience, not merely props. Tom got to know Adrian Kohler and the Handspring team, and became even more determined to find a vehicle he could explore through puppetry, but it took his mother to introduce him to War Horse, a book he'd heard of but never read, and he knew then he had found the vehicle. The prospect was enthralling - huge puppets, the size of real horses, live on a stage, with human actors riding them. But was it a dream or merely a fantasy?
Tom had been headhunted by the National Theatre and Creative Director Nick Hytner had charged his new associate with finding other, more visceral ways to approach theatre. He gave the green light for Tom to pursue development of War Horse with Adrian Kohler and his partner Basil Jones, and they were soon at the drawing board designing prototypes. If there were misgivings, they lay with the author, Michael Morpurgo. He couldn't bear the thought of his work ending up like some bizarre pantomime. His fears were dispelled when he saw the original drawings and realised the commitment that was going into the development of the show. But of course the author had written the novel in the first person, and there was no way The National Theatre was going to put a talking horse on stage. Apart from the obvious difficulties, there truly would have been a sense of pantomime caricature if Joey had been allowed to tell his own story. Slowly but surely, the children's book was morphing into a horse of another colour.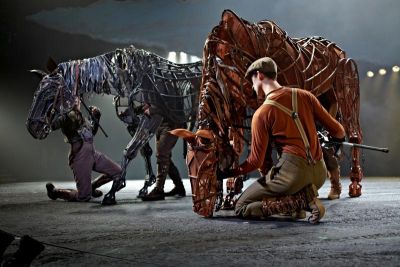 When young playwright Nick Stafford came on-board, War Horse shape-shifted yet again. No talking horses and, despite WWI being the story backdrop, the driving force of the play became the relationship between Joey and Albert, the young boy who never stops loving the horse his father sells to the army. Stafford concedes that it initially seemed that the play would have to focus on the human characters, largely because, during the workshops, no-one – including the puppeteers themselves – was sure what the limitations of the horse puppets would be.
Gradually, the more sophisticated the puppets became as they developed over more than two years of workshopping, the clearer the story became, the more focussed Stafford's script evolved, and the more of a living, breathing, character Joey the horse became. The project, though, was getting 'bigger than Ben Hur' and Marianne Elliott joined the project as co-director. With a large cast, and three puppeteers to work each horse (there's even a separate puppeteer as Joey's heart), there was more than enough work to justify splitting the workload.
As the October 2007 opening approached, it was clear that War Horse was not like any other play – with or without puppets – that anyone had seen before in dramatic theatre. The hope, and expectation, was for a success, but no-one foresaw that the show would reach iconic status and spawn an international star in Kit Harrington as Albert, in addition to a Steven Spielberg hit movie. Michael Morpurgo was so elated that he regularly makes walk-on appearances when he's in London, just to stay connected to the story he created 37 years ago now.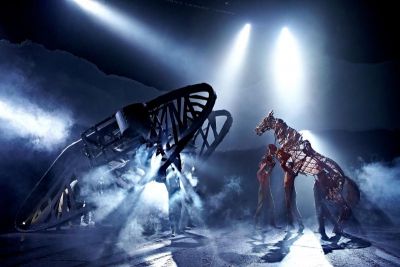 On that opening night, grown men and women wept openly, an entire audience stood and cheered at the poignant ending and War Horse became an overnight icon after 25 years. There will always be debate about who created the icon. Michael Morpurgo certainly created the basics, but without Morris's vision, or Kohler's astonishing puppetry, would War Horse have ever become a part of theatrical history? It's doubtful, but sometimes, especially in the world of the ARTS, the planets align to produce something which is greater than the sum of its parts - something that will last for generations.
In the ensuing twelve years, War Horse has won 25 international awards (including Tony Awards for the New York production). It's been seen by eight million people in 97 cities in eleven countries. Its audiences range in age from 7 to 97, critics unanimously rave about it (I wrote my review of the Australian opening with a box of tissues by my side) and people leave the theatre feeling not just entertained, but spiritually uplifted. That makes it a horse of a unique colour - one we can all embrace.
War Horse follows its Melbourne season, with a Sydney season (February) and Perth (March).