HOT @ HOTA
Coral Drouyn takes a look at what's on offer, along with sunshine and sand, at the Gold Coast's Home Of The Arts.
Let's be honest, no-one moves to the Gold Coast for the Arts scene. The weather, the beaches, the café culture, the fact that you can donate all your sweaters to Lifeline; they're all factors. But culture? Not so much.
Since the clever re-branding of the GC Arts Centre last year, the Arts have become a major talking point for the area. HOTA added an outdoor stage, a huge education programme, works in tandem with the Bleach Arts Festival and has provided a cultural home for The Farm, one of the most innovative (and multi-award winning) performing collectives in the country.
With September now upon us, here's what to expect in the coming weeks.
Would any of us have the slightest interest in Shakespeare if it were not for the Bell Shakespeare Company? Their current tour offers one of the Bard's most entertaining comedies, Much Ado About Nothing (pictured above).
Bell Shakespeare's Associate Director James Evans directs this saucy battle of wits between the bickering Beatrice and Benedick, who wield words as weapons, their banter betraying their love for each other.

Claudio and Hero are deeply in love; however, Claudio is quickly seduced by envy and this idyllic world threatens to come tumbling down as he humiliates Hero, causing Beatrice and Benedick to join forces and defend true love.

Starring Zindzi Okenyo (Antony and Cleopatra, MTC's An Ideal Husband) as Beatrice, this adaptation of Much Ado About Nothing explores of the struggle for identity and self-knowledge in a male-dominated world. Which is the politically correct description. The fact is that it's rollicking good fun with a terrific cast including Marisa Bennet and David Whitney. And no, it's not just for elite theatre-goers who like to brag they've seen Shakespeare. If you love Rom-Coms you might be surprised to know that Shakespeare invented them…complete with gender bending and mistaken identities. It's the perfect play to relax and enjoy terrific acting and all that witty and beautiful language.
Bell Shakespeare is touring MAAN for most of this year and HOTA's turn is Sept 4th and 5th. Mind you, you'll miss the 10 piece band Blues Brothers Tribute on the 4th, presented by the Gold Coast Jazz and Blues Club, but you can't have it all.
But if Shakespeare isn't your thing, there's Opera Queensland only a few days later on Sept 8th with a wonderful offering called Songs to Die For, featuring some of the dramatic, as well as comedic, highlights of a number of operas, and showcasing some of Opera Queensland's finest voices.Songs To Die For is a cheeky nod to the over-dramatised deaths of opera's leading characters masterfully entwined with pop classics. Presented by three of Opera Queensland's leading artists, Songs To Die For is a celebration of the end brought to vivid life in a night where Don Giovanni meets Highway to Hell.

Monkey Baa Theatre Company is arguably Australia's finest theatre company for young people (is there anyone who hasn't seen Possum Magic with their children or grandchildren?) But Hitler's Daughter crosses the boundaries of youth/adult theatre. This multi award-winning play directed by Sandra Eldridge from the renowned novel by Jackie French is thought provoking for all ages and continues to stun audiences everywhere. It cleverly time travels between contemporary Australia and 1940s Germany and examines the (fantasy) life of Hitler's Daughter, disfigured and hidden away, through the eyes of four Australian teenagers some 80 years later, and poses powerful questions in relation to our fears and prejudices in Society. The moral issue of how one would deal with coming face to face with, or even being, the child of an historical monster, makes for compelling theatre.
The Queensland Symphony Orchestra makes a welcome return to HOTA this month with a very special concert entitled Sounds From The Deep on Sept 27th
Composer Guy Noble, and special guest classical guitarist Karin Schaupp, will lead the orchestra and bring to life images of a small trickle of water that transforms into a floating river, a royal barge gliding down the Thames, and the frozen expanses of Antarctica.
In the lead up to the concert, Queensland Symphony Orchestra is inviting a number of Gold Coast secondary students to become involved in the 2019 Prodigy Project. Successful students will be welcomed to HOTA to attend a mentoring session with a Queensland Symphony Orchestra musician, participate in a rehearsal prior to the stage show, and perform as an honorary member of the Queensland Symphony Orchestra's Sounds of the Deep concert. It's all part of the all ages inclusion policy that HOTA has for the arts on the Gold Coast.
For Dance lovers there's I am - a production from Global Dance Pro, Aerial Angels– Cirque Central, Ikin Elite, on Sept 19th and for music lovers English singer /songwriter James Morrison brings his You're Stronger Than You Know tour on Sept 22nd
That's on top of 2 seasons of NTL plays on screen and numerous workshops for kids and adults covering everything from Circus to painting to DJing skills. Or just take a bottle of Champers and join Fridays on the Lawn…it's free and there's live music.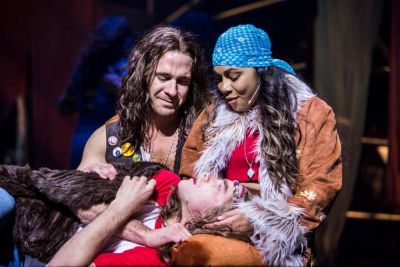 We'll see David Hawkins' production of HAIR on Oct 11th and 12th, with a cast including Hugh Sheridan, Paulini and Prinnie Stevens. Fifty years on it still has relevance to what the world is facing today. It's currently playing in Capital cities and will hit HOTA next month. But this time it will play in the open-air theatre in the balmy Gold Coast spring nights, with picnickers singing the well-loved songs.
It's hard to over-emphasise how important the concert Nitin Sawhney Beyond Skin Revisited is. Sawhney will only perform three concerts in Australia. The middle one is at HOTA, right before he appears at the Melbourne International Arts Festival. In this concert he recreates his seminal album Beyond Skin.
This is a unique chance to see one of the most important musicians of his generation recreating this culturally iconic work, live and in full along with other tracks from his back catalogue. Nitin will be joined by Aref Durvesh on tabla, Anna Phoebe McElligott on violin along with Nicki Wells and Eva Stone on vocals.
As a composer, producer and musician, Nitin is recipient of over twenty international awards including a CBE, an Ivor Novello lifetime achievement award, 6 independent honorary doctorates and has scored approximately 60 films (including Warner bros' Mowgli for Netflix), numerous tv series, including BBC's epic Human Planet series, made over 20 studio albums, 11 under his own name, and has also scored extensively for theatre, dance and video games.
This is a must see for all lovers of world music on Oct 19th
If you add, later next month, Colin Friels in Scaramouche Jones, Jimmy Barnes, the Imperial Russian Ballet's production of Swan Lake, and Paul McDermott and Gatesy in a comedy duo first, it's a wonder we ever get to the beach or have time for coffee