Hot at HOTA 2020
Coral Drouyn looks at the rapidly expanding Arts Scene on the Gold Coast
It's a New Year and that means New Excitement! Though Queensland is still sweltering through a disgustingly hot summer, the Gold Coast's Home Of The Arts is once again proving it's one of the coolest places to be if you love Art, Theatre, Music and Cinema.
This week the legendary Noni Hazlehurst presents her award winning one woman play "Mother". As the homeless bag lady Christie, Noni gives the performance of a lifetime, and that's saying something in a career that is full of award-winning performances. Mother plays Feb 27th to 29th February. (My interview with Noni about the play and her fabulous career is now on-line at Stage-Whispers.)
March is a huge month for HOTA and kicks off with Monty Python'sSpamalot – the production that took Sydney by storm last year, and was a complete sell-out. Eric Idle's crazy musical mixes King Arthur and the Lady of the Lake in a mish-mash of hilarious story-telling and wildly "inappropriate" songs. I've seen Spamalot on a couple of occasions and have loved every minute of it. It's not your classic musical, but if you love Monty Python (or, further back, The Goons) you absolutely must put this one in your diary – but it's a short season, March 5th to 7th, and tickets are scarce.
On the music scene, a new festival called OUT LOUD will premiere on March 6th on the outdoor stage, and run through to March 15th. The first concert is a Latin-American fest with Brazilian Superstar Jorge Van Jor, known as the father of Samba Rock (and a close associate of Sergio Mendes – who hasn't heard Mas Que Nada?). It's a rare treat for music lovers and with him will be one of Brazil's fastest rising stars plus her group Liniker e os Caramelows – a transgender singing sensation. There are a heap of supporting artists, and in the following ten days all styles of music are covered, from Americana, to Irish, to Cotton Club big band.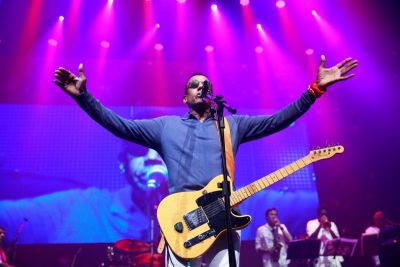 No sooner does the music fade (temporarily) than comedy takes over. Kathy Lette rocks into town with her irreverent comedy show Big Night Out (12th-13th March.) The iconic author of Puberty Blues covers everything from hiding Julian Assange in her attic, to tongue kissing Prince William, and just about everything in between.
Kathy's show is the perfect prologue to Laugh Festival, the Gold Coast's answer to the MICF - but with more sunshine, and many of the same names. The line-up is stellar, including Joel Creasey, Melanie Bracewell, James Veitch and Em Rusciano, and more than a dozen shows (ALL at HOTA so no need to carry a map to find the venues) to choose from.
Along with Jazz on the Lawn ( perfect for picnics) and free dance (and yoga) events, Art classes, an Art gallery and a super sophisticated Arts Cinema Complex, HOTA doesn't forget the Creative Development side of the arts. In order to encourage future or new local artists in any field to develop new work, HOTA has $200,000 available as grants to aid the development of new works. The inaugural programme last year turned in stunning results and HOTA's CEO Criena Gehrke says, "Successful applicants covered a wide spectrum of disciplines including dance, storytelling, visual art and mind blowing experiences and it was a great privilege to see first-hand how this kind of support can really help artists thrive."
The Arts are truly in good hands and there's lots more to come later in the year.