Hot Shoe Shuffling for 21 Years.
The Dancing Man - David Atkins - has dusted off his tap shoes to help introduce a new generation to Hot Shoe Shuffle, the musical he co-created. Now opening in Sydney, and soon Melbourne after a Brisbane season, the director of iconic sporting ceremonies in recent times is back on stage. David Spicer reports.
David Atkins relishes telling the story about how the musical which has now been performed in six countries, and was a hit in the West End, got started.
"We had been doing a couple of shows such as Dancing Man and Dynamite and the Hills Centre (in Sydney's North-west) told us they had a three week vacancy in 12 weeks time."
"Overnight I wrote a one page document of a show called Hot Shoe Shuffle. They said we will have it. But there was no show. The next weekend I got together with Max Lambert and over the weekend, with the help of white wine, we created it."
It went on to tour Australia three times and won an Olivier Award in the West End.
"It's a tribute to the musicals of the 40s and 50s and in lots of ways Dein Perry (the choreographer) and I dedicated it to the tap dancers who inspired our careers, people like Fred Astaire, Gene Kelly and Sammy Davis Junior."
An avid watcher of a BBC TV special on Hot Shoe Shuffle in those early days was five-year-old Jaz Flowers.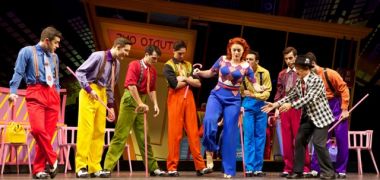 "My grandmother taped it for me. I used to watch it every day with my brother. We split the cast in half and performed everyone's role. I played David Atkins in my lounge room," she said.
Auditioning for the only female role in the musical for the latest season was a breeze.
"They asked me to learn this song. I said I knew it when I was five."
Having already impressed David Atkins with her talents as the star of Hairspray, which he directed, you could say that Jaz was a shoe in (pardon the pun) to play April, the long lost sister of the Tap Brothers.
The seven lads named after tap moves - Slap, Spring, Buck, Tip, Wing, Slide and of course Tap - are sent on a mission to recreate the famous Hot Shoe Shuffle to secure their father's inheritance.
David Atkins unapologetically describes it as a 'good old fashioned musical' which relies on the talents of the cast.
I've Got To Be A Rug Cutter
In the original season, aged in his thirties, David Atkins could twinkle with the best of them. The boys are required to dance at a level of athleticism which might bring water to the eyes of elite sportsmen.
How does he cope 21 years later?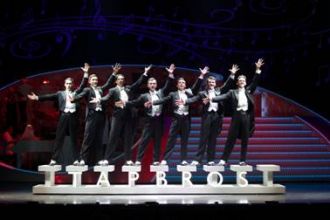 "The role I am playing in the show is not a particularly taxing dance role. That is one of the reasons I was attracted to it. It's more an acting role. He has two numbers in the show done in soft shoe."
"It's the boys that do the heavy lifting."
But he still needs to dance and work out to keep in form.
"My Mum passed away (this year) and she was dancing until her 80s. You don't really ever lose those skills. You hone them and get fit again. It is a bit like riding a bike or a horse."
Tackling big projects is in David's blood. For more than 20 years he was the Producer for shows that he was performing in. In 1992 the song and dance man even made the cover of Stage Whispers Magazine (see below).
Then came the opportunity of a lifetime.
"The dramatic change was in 1998 when I became the Artistic Director for the Sydney Olympics, (and later) the Producer. I became much more engaged behind the scenes."
The success of the Olympics saw David Atkins Enterprises engaged to stage a host of mega events. They ranged from the snow-laden spectacle of the opening and closing ceremonies of the Vancouver Winter Olympics, to the beauty of the opening of the 2011 Rugby World Cup in Auckland, to the desert landscape of the 12th Arab Games in Dohar.
It struck me while watching him at the Sydney launch of Hot Shoe Shuffle that he is relishing the chance of getting back under the spotlight.
"It is a lot of fun. Getting back into the show was like meeting an old friend."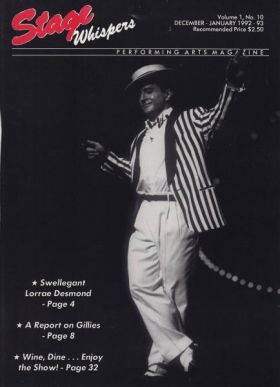 This begged the question, is it less stressful being a performer than producing and directing?
"Being a producer is much more stressful. As a producer you are responsible for the entire show - for everyone's salary, the marketing, raising the capital and looking after ticket sales. As an actor you are worried about your performance. That is daunting but you can control how good you are. You can't predict whether the market is going to buy tickets or what your costs are going to be. There is a whole range of things that makes commercial producing much more nerve-wracking. "
Landing a big part in a major production might be the most stressful part for today's performers with intense competition from a wider pool of dancers.
David Atkins noticed this from the quality of people who auditioned.
"More people are dancing, more people are tapping and like all skills in life each generation improves on the previous."
Commercial TV shows like Dancing with Stars obviously helps but he also especially credits Tap Dogs (created by Dein Perry) for making dancing more popular for boys.
"Tap Dogs is grungy and street wise. It was like when Michael Jackson released Thriller for the first time. It made dance more masculine, so it was easier for boys to do it. "
It's also a great way to stay fit and lose weight. Hot Shoe Shuffle has been performed by some highly skilled amateur companies in recent times. My favourite question to cast members is how many kilograms did you lose during the season? I think the record is about eight. Given the furious dancing on display at the launch I suspect that the cast of Hot Shoe Shuffle might need to add some new notches to their belts by the end of the season.
Hot Shoe Shuffle opens in Sydney on July 6, and Melbourne on August 10.