Immersive Thriller To Cut Through At 2015 Adelaide Fringe
Duncan Graham's psychological drama Cut will season the diverse smorgasbord of entertainment at the 2015 Adelaide Fringe with a pinch of terror.
The intimate 18-seater environment of Holden Street Theatre's The Manse, together with the show's immersive installation-style design, will serve to enhance the heart-stopping atmosphere of this Sydney Theatre Award-nominated play. Those lucky enough to be part of the audience can expect a tense and spine-tingling theatre experience.
The image of a catastrophe unfolds in front of an air hostess when, before a mirror, she readies herself for work. Who is the man with eyes of ash? In fact, what is real and what is fantasy?
Described by the Sydney Morning Herald as a 'complete work of art…not to be missed', Cut had its premiere season in 2011 at Downstairs at Belvoir. While Adelaide is first in line to see the play's new production, it looks like heading offshore in the near future.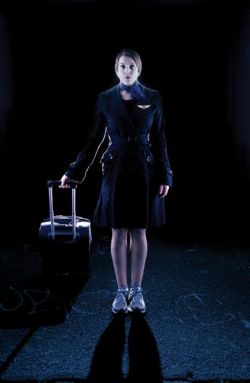 Directed by the playwright Duncan Graham (Dreams in White), the design team, including Tony Award-nominated sound designer Russell Goldsmith, works with him to meld the technical aspects of the show into the memorable performance of Adelaide Fringe Award-winning actor Hannah Norris.
"I've been looking for the right show to take to Edinburgh Fringe for a number of years, and this is it," says Norris. "As a fierce theatregoer and lover of playwriting, I know that Duncan's work stands up on the world stage; and this extraordinary design team are going to build something spectacular for me to showcase over there- but Adelaide gets it first!"
Hannah Norris and Duncan Graham met in 1999 during his 4th year Medicine studies at Adelaide University. Hannah was studying acting with Duncan's brother Patrick. It seems a theatre collaboration was in the stars even then, because it wasn't long before Duncan left his studies to become a playwright. He has since won an Adelaide Fringe Award for Best Original Work.
The South Australian Premiere production of Cut marks the first time Adelaide Fringe Award-winners Hannah Norris and Duncan Graham have worked together, generating more than a little industry anticipation.
With the limited seating of Holden Street's The Manse, those who gain seats for Cut will know they have secured a much sought-after opportunity to enjoy a truly terrifying but memorable theatrical event.
Lesley Reed
When: February 10-March 14 at 7.30 pm. Weekend matinees at 3pm.
Where: Holden Street Theatres-The Manse, 34 Holden Street, Hindmarsh.
Tickets: $15 previews (Feb 10 and 11). Adults $28, Concession $20 (incl booking fee).
Bookings: FringeTIX or Holden Street Theatres Box Office.
Rated M.
55 minutes duration.
Photos: Sarah Walker.
More Adelaide Fringe 2015 Previews
flowerchildren – the mamas and papas story