INTERNATIONAL CABARET CONTEST WINNERS ANNOUNCED
Eleven finalists took to the stage at the 2015 Your Theatrics International Cabaret Contest (YTICC) Grand Final at The Basement in Sydney on Saturday night. Heat winners from Adelaide, Brisbane, Sunshine Coast, Melbourne, Auckland, and Sydney came together to compete for the chance to win a career changing prize package.
Adelaide entrant Michaela Burger won the judges' vote with Melbourne entrant Noni McCallum taking the runner-up title for 2015.
Burger's eight-minute cabaret snapshot presented an excerpt from her show, Exposing Edith. The show explores the life of Edith Piaf through her songs and experiences, and audiences can expect to hear re-imagined, contemporary re-workings of Piaf's music in her solo show, including favourites such as La Vie En Rose. Burger and collaborator/guitarist Greg Wain are now preparing to tour the show extensively in the coming year as part of their prize package. Runner-up Noni McCallum presented the audience with a hilarious and touching insight into what it's like to be a woman in her thirties looking for love, incorporating You Can't Hurry Love and The IKEA Song, among other interludes.
Contest Producer Jeremy Youett said, "The heats this year were incredibly strong across the board and the judges at the Grand Final truly had their work cut out for them as a result! It was incredible to see so many talented artists continuing to develop and present a vast array of ideas and styles across Australia and New Zealand and especially to see the growth of artists who returned to the Contest from previous years."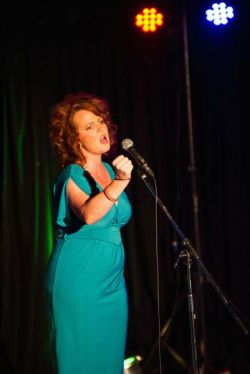 The full line-up of additional finalists included Adelaide winners David Gauci, Brisbane winner Judy Hainsworth, Sunshine Coast winner Jenny Wynter, additional Melbourne winners Bethany Simons with Peter de Jager, from Auckland, Cherie Moore with Robin Kelly along with Sydney winners Jaimie Leigh Johnson, Ben Hudson, Shondelle Pratt, and Dash Kruck. Previous contest winners Sheridan Harbridge and Marika Aubrey co-hosted and performed during the evening, which also included special performances from previous contest winners Nick Christo, Toby Francis, and last year's winner Melody Beck.
Judges for the evening included Adelaide Cabaret Festival Executive Producer John Glenn, Noosa Long Weekend Artistic Director Ian MacKellar, Ballarat Cabaret Festival Artistic Director Graeme Russell, Tasmania Cabaret Festival Executive Producer Lucinda Wilson, Founder and Executive Director of Grayboy Entertainment Graeme Gillies, and Principal Sponsors and YTICC Patrons Ron and Margaret Dobell, who collectively had the unenviable task of deciding on a winner from the talented pool assembled.
The major prize package includes the opportunity for the winner to present their show at the New York Musical Theatre Festival, with flights and accommodation for their appearance to the value of $3000 contributed by The Ron and Margaret Dobell Foundation, a booking on an Australia/Pacific cruise ship courtesy of Grayboy Entertainment, a cash prize of $1000, a photographic package from Blueprint Studios valued at $1000 and a music theatre and cabaret music package from Hal Leonard. The runner-up takes home a $500 cash prize, and a photographic package from Blueprint Studios valued at $500. Each act will also be extended various performance opportunities from our Major Festival Partners including the Cabaret Festivals of Adelaide, Melbourne, Ballarat, and Queensland, as well as the Festival of Voices in Tasmania and the Noosa Long Weekend Festival, which all guarantee flights and accommodation.
For up-coming tour dates of both the winner (Michaela Burger) and runner-up (Noni McCallum), stay tuned to the Your Theatrics website where updates will be posted as dates are confirmed: www.yourtheatrics.com 
Images (from top): Michaela Burger & Greg Wain; Noni McCallum, & Jeremy Youett, Michaela Burger, Noni McCallum, Sheridan Harbridge and Marika Aubrey. Photographer: Kurt Sneddon, Blueprint Studios.