Jemma Rix: Defying Gravity
Meet the Rising Wicked Witch of the West.
For Jemma Rix, the popular star of the musical Wicked, it has been a meteoric rise. She's soared from the ensemble of her local musical society on the NSW Central Coast to the plum role of green witch Elphaba. Jemma spoke to Neil Litchfield as she prepared for the Brisbane, Adelaide and Perth seasons.
Neil Litchfield: How do you prepare for a performance as the green witch Elphaba?
Jemma Rix: We have an hour call, but I turn up an hour before that. I go into my dressing room and steam, using one of those vaporizers from the chemist, have a tea and relax and get calm for the night. Then I start to warm up my voice – just very gently at first – I do that for probably about 20 minutes. I don't do any longer because it's a three-hour show, so you don't want to be at your warmest by Wizard and I, because you've still got so much to get through. So just a relatively quick, relaxing warm-up.
Then I sit in the chair at the hour call and I get all my hair done, and I get all the green on. It's actually a Mac make-up. They had the colour beforehand, so it wasn't made specifically for Elphaba. That's pretty relaxing for me. It's a body paint, which artists use for painting all these beautiful colours on people. We use a big Japanese paintbrush, and add water, and it's really soft. My make-up artist Kellie Ritchie just sort of slips it on my face and blends it into my face. Then she has another green, which she uses where I get a bit sweaty, and that just helps to keep it all together, then lots of powder. That's what sets the make-up. It normally takes about 45 minutes.
Then after the green is on it's just a normal make-up. She does my eyes and my cheekbones. It's just the green that's the unusual thing. I do my own hands, so I paint my nails green, and sponge the green onto my hands and wrists with water.
Then I have my microphones put on. They're absolutely tiny. One is in the middle of my forehead, and the other is to the left, where my eyebrow is. So if one of the microphones goes out, they have their back-up. That's all hidden under my wig. The battery pack goes around my waist.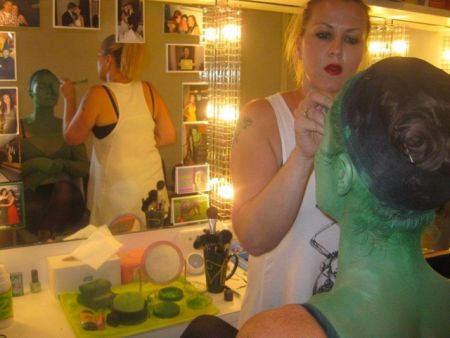 After I've dressed, I've got the whole first scene to get my head around what's happened. I sing through I'm Not That Girl, just the start of Defying Gravity and The Wizard and I before I go out on stage just to make sure I'm ready. Then I head around the back, grab my suitcase, and I'm on stage.
N.L.: What goes on behind the scenes during the show?
J.R.: People don't realize that we've got a massive crew behind the scenes on Wicked, so we're always joking around, and we're all good mates. One of the things that I think would be hilarious to watch is Lucy and I in our quick change for One Short Day. It's literally 25 seconds, and I have to take off a vest, bag, dress, then get into another dress, put my hat on, put on another bag and its so fast. And Lucy has to do the same thing. She has to get out of her whole outfit and get into another one in 25 seconds. I have three people doing different things to me at the one time. It's pretty full on.
N.L.: And while everyone else enjoys a break at interval?
J.R.: Literally, my dresser makes me a cup of tea, and I have to sit down in the chair, take off my wig, and they retouch all the areas that have come off. I'm having a bit of trouble here in Brisbane because I'm getting quite hot. Hopefully it will begin to get a bit cooler when the people begin to fill the auditorium, for the air-con to be turned up a little bit more, but I'm literally melting. So I have to re-do my hands, and then Kell touches me up and deepens my make-up, to make me look a little bit older, and I put on darker lips, and I have another wig, so I have a nice fresh wig for act 2. That's when I get dressed into my Wicked Witch costume, which is pretty much what I wear the whole of act 2.
But it's not a lot of time. A lot of people at intermission get have to have a little something to eat, and have a little rest, but I have things to do the whole time.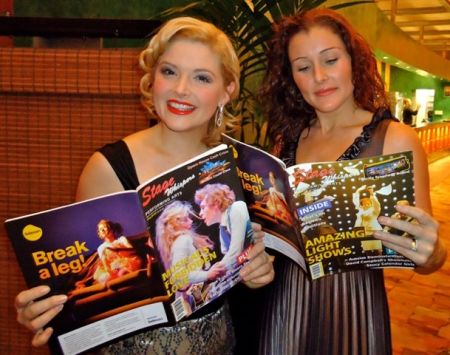 A lot of the ensemble come to visit me. Elphaba is a lonely plot, but I do have a lot of the ensemble who come and visit me, while I'm getting green, which makes me happy. It's hard, because otherwise I only see these people onstage. So a lot of them come in and have a chat with me, and Lucy does the same thing, and we have a little chat, just to have that sort of connection before we get on the stage.
N.L.: Do you have favourite or most challenging moments in Wicked?
J.R.: It changes depending on my mood of the day or the night. I love doing Loathing – you have fun with the cast. That's another thing – Elphaba's a bit of a lonely plot, because she's on stage the majority of the time, and with the hour call that we have, I'm getting green. In intermission I'm getting touched up, and my make-up is getting deeper, to make me look a little bit older, and stuff like that. So basically I'm in my dressing room or on stage. I miss the ensemble, so when we're on stage together we have a bit of fun, and I really enjoy those moments.
Most challenging would definitely be No Good Deeds, which is such a tricky song. It's just so intense, and you have to bring that intensity every single time. It really needs to be the breaking point for Elphaba where she says 'That's it. I've given up.' That's a really challenging scene for me, but I love it, and if I'm in a really frustrated mood or something like that, it really brings another level to that song. You just get so worked up, and you get out of breath. You've got to hold these long, long notes, so it's really exhausting. If I had a heart rate monitor on, I'd be frightened to know what my heart is pumping at. And you've got to be so angry and so intense, but you've also got to be able to control your voice, so you're kind of multi-tasking.
Obviously I love Defying Gravity, where I get to fly. It's pretty special.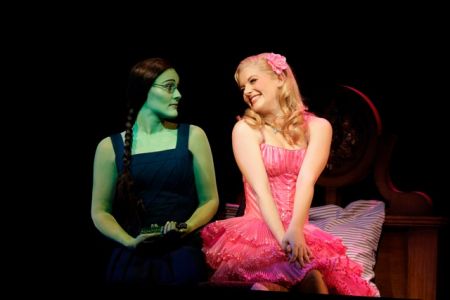 N.L.: Tell us about your journey to this role in Wicked. How did you begin performing?
J.R.: I've been one of those lucky people who've sung all their life. My mum was pretty shy, so she had a plan of getting me into all sorts of activities to make sure I was confident. But mum said that as soon as I was about two years old she knew that she didn't have to do anything, I was already singing and dancing. We've got footage of me playing a little piano at the age of two.
I always loved music and got into dancing when I was three. It wasn't until I was 10 that I started singing lessons. I did the Johnny Young Talent School in Gosford. I got to perform in little half-hour shows in shopping centres, and absolutely loved it.
In high school I kept singing and doing drama. It was a theme through my whole life.
I actually used to do highland dancing as well – that's a little unknown fact about me. When I was about six years old my best friend was doing highland dancing and I thought that's cool. I got really into it, and did competitions with swords and bagpipes until I was 14.
I didn't really enjoy school, and in Year 10 didn't know what to do with my life. My parents said, 'If you want to become a singer, you should have a trade, so you've got something to fall back on.'
I left school after Year 10 and did an apprenticeship in beauty therapy for four years while continuing dancing, acting and singing lessons.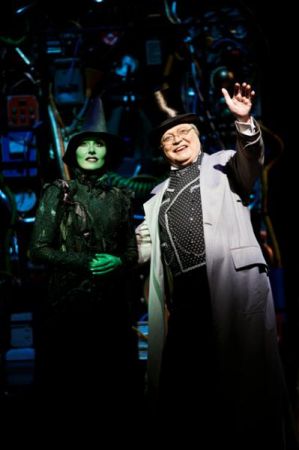 Then I started doing amateur theatre at Gosford Musical Society. I was never a lead role. I just had my little parts and danced and sang, and literally did it because I loved it.
The first show was The Best Little Whorehouse in Texas, then came Cabaret. They've got great actors and singers and dancers on the Central Coast, so I was just in the ensemble, and learning my harmonies and getting into my dancing.
Then I did a really cool swing show created by Trevor Whittaker. It was when I stood up a little bit more, and I had some lines and sang a solo. I started to feel more confident. I was kind of like, OK, I can do this.
That was when I made the decision that I love doing this, and it just feels right, so I may as well give it a go.
When I finished my apprenticeship I was doing gigs with a band in Sydney - Top 40 kind of stuff. I really loved that sort of lifestyle but didn't know how to make money out of it.
I moved to Melbourne, started auditioning, and it all just snowballed very quickly from there. I didn't even have an agent at the time. I was just hearing about auditions, and going along to audition for things like cruise ships. That's how I auditioned for Universal Studios in Osaka, Japan, and I was lucky enough to be chosen.
I was over there for a year, and about two months into the contract they said they were staging a Land of Oz show. I'd already heard of Wicked through friends in the musical theatre world, and I'd always thought, listening to Elphaba, that it would be an amazing role to play, but I never thought that I could do it. But I knew the music, and they actually asked me to audition, so I was like 'that's wonderful.'
I did some tapes that got sent to America to (the composer) Stephen Schwartz. I got through and I couldn't believe it. They actually had three casts on rotation because they do so many shows. It's a half an hour version of the show.
I was there for over a year, had a wonderful time and got to meet Stephen Schwartz and Winnie Holzman. I literally got pushed into it so fast that my brain couldn't comprehend where I was at. I worked very, very hard.
Then I came back to Australia and had a low point. I was doing auditions, but my voice is very specific, and a little bit difficult for musical theatre. I've got much more of that pop sort of voice, so certain roles definitely don't match me. And deep down I was kind of like, 'that's all right, Wicked's coming … that's alright, Wicked's coming.' Then when Wicked auditions actually came, I worked myself so much, the pressure I put on myself was ridiculous.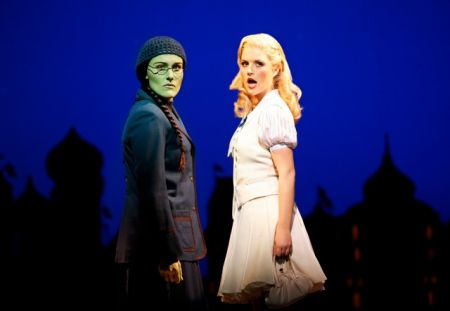 I never thought that I'd be the lead because I knew that I was so fresh in the industry. I honestly thought I might be the understudy who has an ensemble plot, but goes on for Elphaba. But even if I'd got into the ensemble, I would have been 'Woo-hoo!!!' – because I just wanted to be part of it. Then I got the standby for Elphaba. I had to ask my agent 'What's that?' I didn't even know what a standby meant. So I was quite happy with the fact that whenever Amanda Harrison was off I was on. I didn't have to do a plot as well, so my focus was purely on Elphaba.
The rest is history, in the way of doing lots and lots of shows, and now I'm so lucky to actually be taking on the role myself for the tour.
I shared the role with Pippa Grandison when Amanda left, then when Pippa left Patrice Tipoki came back after having a baby and we shared the role till the end of the Sydney season. But it's solely me now, so it's a little bit nerve-wracking, but hey, the time is now!
N.L.: You've played the role for quite some time now. There must be lots of little things that you've learnt about Elphaba along the way.
J.R.: Absolutely. I think for me, because I was so new to it all, the best thing was being next in line, and watching Amanda Harrison. She's done so much and she's such a great actress and singer. I just watched, and learnt on the job.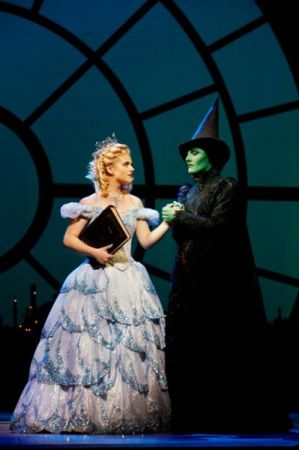 Because I was a standby, when we first started I literally followed her around. She probably thought I was like some annoying girl. But I was literally watching everything she did. I was listening to all the direction she got from Lisa, our American director.
I took everything on board, and I took down Amanda's notes as though they were my notes, just to ensure I got the concept of what Lisa wanted Elphaba to be. And then I was able to watch Amanda play the character.
From then on, when I started going on, I gradually got my confidence up, and my fitness up.
That's another thing with the role. Even coming back now, we've had about three months off from the show before we start Brisbane, and I'm so unfit. I've been running and keeping fit that way, but show-fit is a whole different story
For all that you need to become happy with your performance. So I basically learnt from Amanda, and then found my own Elphaba in my own interpretation.
N.L.: What are the little things that mark your interpretation apart?
J.R.: I find Elphaba hard to play because she's so tough. I'm a tough person, but I still show a vulnerable, sensitive side to me. I'm a happy-go-lucky kind of person, whereas Elphaba, when she has those moments of happiness, still has to have this shield.
At the moment, because we're in tech and dress rehearsal, we're really trying to build Elphaba up as a much stronger person, because Jemma still comes out of Elphaba. While she still has those emotional sides, I need to remember where she's come from and how she's been treated her whole life – to be a little more unsure about happiness. She doesn't feel happiness, she's never had happiness – until that one moment where she's told, you can actually meet The Wizard. You actually can't comprehend the sensation that you're feeling because you've never actually had this experience before. Your one thing in life has been to look after your sister Nessa. You can go quite deep into it, so it's a constant workshop for me.
Every show you're dissecting your performance and trying to get it to the level that is real and raw. It's not a case that once you've done the show you can just phone it in every night. It's always trying to find the truth in it, the freshness of it. In a long running show, that's the most challenging part – to make sure that you always have a truthful performance, and always 150%.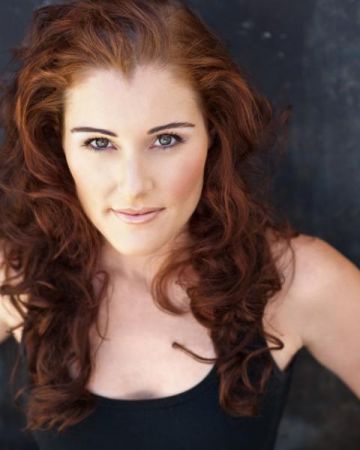 Carmen Cusack, who played the role in Chicago, came in as my stand-by for a period of time, and then we had Jennifer DiNoia, who's currently the stand-by on Broadway, and they both said the same thing; that my Elphaba is a little bit more comical. But when I watched Carmen, and I watched Jenny, it's like everyone has their own slightly different interpretation, even with all the similarities of what we have to bring as Elphaba, because we're all different people. That's what I think makes it really interesting.
And it's the same with Glinda. You'll never see the same type of Glinda, no matter where in the world. There's always going to be a slight interpretation difference from each person. That's what makes it so cool, I think, because every time you go and see a show of Wicked, it's always going to be a different flavour, because of the different girls playing the roles. You have freedom in that way, with still the basis and the core of what Elphaba is. That's what makes everyone individual in that way. Plus, it was awesome to be able to have that luck of having other Elphabas, seeing their interpretations, and even being able to take some of their interpretations into your Elphaba.
I think Elphaba is awesome. That's why we have such a great fan base too; I think people really relate to Elphaba. I love that she's really dry … and her comedic timing is priceless. I think Aussies really love dry humour. People just love that she's the underdog, and people really do relate to that, especially younger girls in school. That's what I find really inspiring about her too – despite whatever she's gone through she's still so strong, and so motivated to prove, and go through with what she believes in.
A new interview and photoshoot - Greening Jemma
Images feature Jemma Rix, with Lucy Durack (Glinda) and Bert Newton (The Wizard).