KAT HOYOS ON 'FAME' AND MORE
Birdie Productions' FAME opens at the Bryan Brown Theatre in Bankstown on the 18th August with Kat Hoyos in the iconic role of Carmen Diaz.
Kat starred as Layla Habib on the hit new Aussie TV show, Here Come the Habibs, which has just finished airing its second season.
We had a chat with Kat to see what she's been up to since Here Come the Habibs, what's next for her and about FAME the musical and its involvement with the mental health organisation, Headspace.
Q: The second season of Here Come the Habibs has just finished up, what is next for you?
KAT: Doing Fame, but also my next goal is to tackle Hollywood. I've had a manager over there for nearly a year now and have my 01. So the rest of the year will be dedicated to being able to head over for pilot season. I also sing and dance as well as work with Motif Dance Productions creatively as a choreographer, so I will be pretty busy doing that too, come Christmas and New Year!
Q: Who do you draw inspiration from?
KAT: So many! My close girlfriends are all hardworking independent women, and we all encourage each other to do well. I'm inspired by my own mother, who came to Australia with nothing; that has given me so many values about how strong you can be. I'm inspired by people who are creative and thrive on creating a supportive mindset.
Q: What does a regular day entail for you?
KAT: I don't think any of my days are regular! Being your own boss you create what you want. Input vs output. I'm always active though, whether it's gym, dance class, rehearsal. I regularly learn through private lessons or workshops and seminars. So there is consistency, however it varies day to day. Choreography, admin - invoicing, emails, self tapes, events to attend, classes, booking talent for jobs, learning lines - I don't ever have a weekend off though, thanks to time differences with USA!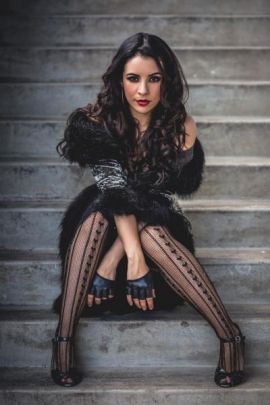 Q: You're supporting Headspace during the production of Fame, can you tell us what this means to you?
KAT: Naturally, I think we creative people go through our own demons at some point. Whether it is anxiety (which is unbelievably common), depression, and obsessive compulsive, bipolar, there's a lot. Mental health is such a huge and real issue for everyone, whether you've gone through it, or know someone who has.
I'm thankful I live in a time where it is not a taboo topic, and we need to keep this conversation open and honest. Individually, have an awareness of what resources are out there, and keep an eye on your friends. Ask them if they're ok. Be a supportive friend, a good ear, because one day you may need it too. I would know!
Q: Are there any characters or themes in Fame that might relate to Headspace?
KAT: All the characters have some inner conflict about who they really are. Carmen, for example, hides behind a personality that her acting teacher picks up and says she's fake. She doesn't know how to be vulnerable. Schlomo is stuck living in his father's shadow so there's a high expectation of what he can deliver, which effects him. Mabel has trouble with body image, being a dancer. Iris leads people to believe she's rich but her family are not. Tyrone can't read because he has dyslexia and puts on a front that he's too good for reading. Serena has self-confidence issues. Nick is in the closet about his sexuality.
I think one of the key themes in Fame is about knowing who you are. The pressures of being in an institution filled with varying personalities and creativity can question your own, and really plays on where your status is in the pecking order. It's definitely a mental journey of who you are.
Q: Why should people come and see Fame?
KAT: I think people should firstly come and support young and upcoming local talent! A lot of the performers here have potential and it would be nice for them to experience their love for what they do in front of an audience. Secondly, the story is universal - kids going through school and how they deal with it. Plus, it's an 80s musical, and the title song is FAMEous.
Q: What's been your favourite experience so far in the rehearsal room?
KAT: My favourite experience is everything. Watching people grow within their characters, the production team being very open. Seeing the journey of a rehearsal period, from where it has to started to where it goes is always a pleasure to be a part of and fills my creative soul immensely.
To book tickets to see Kat and the rest of the cast in FAME and to support Headspace head to www.birdieproductions.com.au