Ladies Night on Tour: Postcard
Jally Entertainment is on the road to present Ladies Night, a funny and most cheeky stage play.
Fifty-three venues across Australia from North Queensland to Canberra will be presenting this comedy. They are sending Stage Whispers the occasional postcard.
The play is about four unemployed guys, motivated by 'The Chippendales' to form a male stripping act, in order to make some fast cash.
They pitch the notion to a local club owner, Bernie, and take lessons from Glenda, a slightly shop-worn, exotic dancer with a heart-of-gold in all manner of things, including what women really want from a male stripper (and how to deliver it).
Written in 1987, by Anthony McCarten and Stephen Sinclair, Ladies Night has been translated into twelve languages and remains New Zealand's most commercially successful play of all time.
With eight sell-out tours of Britain and the U.K, it won France's premiere theatre award for comedy - The Molière Prize, in 2001.
See the guys give it their all, as they strut their stuff to - 'Bad to the Bone', 'Smooth Operator' and 'Wild Thing' to name a just a few of your favourite tunes.
Will they GO ALL THE WAY?
Featuring Ken James (Skippy) Steven Tandy (The Sullivans) and Alli Pope (Steaming).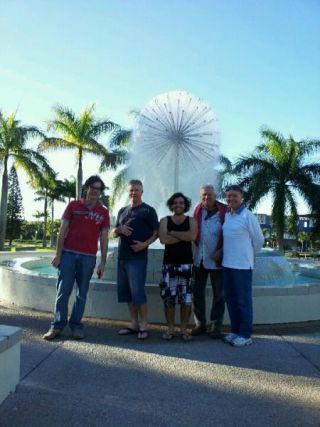 Week 1. on the Road Update from John Bailey (August 16, 2012).
Jally Entertainment's national tour of stage comedy Ladies Night kicked off last week with a fundraiser in Gympie- Queensland, for the local charity 'Little Haven'.
It was a huge hit on opening night and even more successful the following night at Logan Entertainment Centre, where large groups of "hens nighters" were amongst the very excited crowds.
Next stop was The 'J' in Noosa Heads for yet another 'sold-out' performance on home ground.
A very cold night the following Tuesday, saw a very appreciative audience, in lesser numbers, turn out for the performance at Maryborough's Brolga Theatre and Wednesday the cast enjoyed the hospitality of The Pilbeam Theatre, in Rockhampton.
The crowds were smaller (and much noisier) at Capella Cultural Centre, the next evening; the guys were enjoying lots of female attention and signing many autographs.
Friday night rocked the Mackay Entertainment Centre with a large audience and Saturday night wrapped up in Proserpine with a huge standing ovation. A great first week!
Week 2.
Jally Entertainment's national tour of the stage comedy Ladies Night has entered its second week with an audience at the fabulous Cairns Civic Centre totalling just under 700, on a Tuesday night.
The venue manager - Phil Finkelstein, who saw the show witnessed the overwhelming response from the eager crowds and was so impressed he has requested a return season, scheduled for 2014.
A night off in Ingham was next, followed by a small, appreciative group, at the stunning World Theatre at Charters Towers raising much needed funds for the Zonta Women's Charities. Friday we played at The Burdekin Theatre, in Ayr, a fundraiser for breast cancer and the crowds loved it!
On Saturday night Ladies Night was re-located to the Gladstone Marina Marquee, with the Entertainment Centre currently in renovation mode. With a few minor set adjustments and a spot of re-blocking, the show was a huge success and all went home happy!
Biloela was our next stop, working in conjunction with the lovely ladies at "Bilo" Arts Council, who also supplied our very grateful cast and crew with a delicious post-show supper.
Here's a few random comments received during our travels-
"Thank you Jally Entertainment for the fantastic show tonight. Ladies Night was awesome! All the best for the rest of your shows and hope to see you back in Biloela soon." Faith Flowers-Biloela
"I saw this show - hilarious! I haven't laughed like this for years." Jessica Samuels - Rockhampton
"I went to "Ladies Night" in Mackay with a group of girls from work not knowing what to expect. We now all have a new appreciation of theatre. We got a show that was absolutely hilarious and a little bit naughty, with some really talented Australian actors. Was such an enjoyable night and we recommend that if you get a chance you go see it - the show is travelling around Australia at the moment."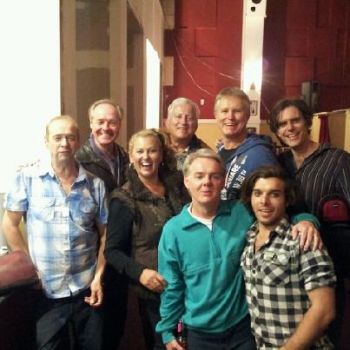 Week 3.
Jally Entertainment's tour of the stage comedy Ladies Night is into its third week of the national tour and gaining momentum, along with many new fans.
Wednesday night in Boonah played to a small, but very noisy crowd, then the Ipswich Civic Centre on Thursday evening to a magnificent crowd of 350 very excited patrons. This performance went off, with a huge response from the audience and fans queued up for autographs afterwards.
On Friday and Saturday night in Redcliffe to numbers of over 700 with feedback from those attending reaching fever pitch. The Cultural Centre's venue manager Roseanne Kelly also placed a booking for a return season now scheduled for 2014.
From those venues we have attended so far in our first three weeks – the feedback from the venue managers has been exceptional – with many committing to a return season in 2014.
Week 4.
Week four of Jally Entertainment's tour of the stage comedy Ladies Night.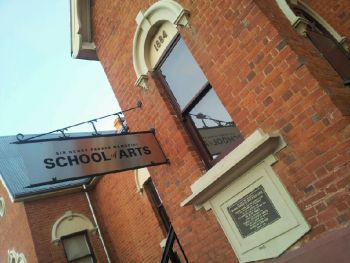 First for the week was the magnificent Tenterfield School of the Arts on a chilly Monday evening, to a very excited and appreciative audience.
Next stop on Tuesday was the Royal Theatre in Quirindi, with a fantastic turn-out of locals that absolutely loved the show. The audience was queued out the door and down the street, trying to get in!
Wednesday was a smallish crowd at The Civic in Gunnedah yet very vocal and the feedback was great!; Thursday night we performed at The Capitol Theatre in Tamworth and then the 'best show' so far at The Crossing Theatre at Narrabri with a large, excited and most responsive audience. The final performance of the week was at Dubbo RSL with a tough 'bump in' but a great crowd. One of the actors had a pair of undies thrown at him, which caused much amusement and made him feel like Tom Jones.
A very nice comment was received from Tamworth……..
What a night!! How FANTASTIC is my life right about now...
My Thursday night started with having dinner @ the Tudor, then going to my 2nd Home the Capitol Theatre in Tamworth to watch a BRILLIANT! Show called "LADIES NIGHTS" starring Ken James, Steven Tandy & Alli Pope. The story is about 4 Male friends looking into making some fast cash. After being kicked out of their local drinking hole.. Hear girls screaming @ a Chippendales show! These guys decide to form a strip show.. got the picture so far? Well I laughed from the time these guys stepped onto the stage to the final bow! All I am going to say is if this show comes to a theatre near you! Do yourself a favor GO see it!! BEST Entertainment.
Venues on tour: Gympie, Logan, Noosa, Maryborough, Rockhampton, Capella, Mackay, Proserpine, Cairns, Ingham, Charters Towers, Ayr, Gladstone, Biloela, Boonah, Ipswich, Redcliffe, Tenterfield, Quirindi, Gunnedah, Tamworth, Narrabri, Dubbo, Gulgong, Bathurst, Griffith, Benalla, Swan Hill, Broken Hill, Hilton, Tanunda, Marion, Gawler, Golden Grove, Esperance, Bruce Rock, Bunbury, Gosnells, Carnarvon, Shark Bay, Geraldton, Moora, Mandurah, Katanning, Horsham, Werribee, Rosebud, Bendigo,Orange, Queanbeyan, Goulburn, Coffs Harbour and Redlands.