The late, great IsoLate Late Show: Last (online) live performance.
For the last 10 weeks, The Little Red Company has been surviving and thriving in these crazy times by producing a weekly online show. Company founder/producer/performer, Naomi Price, and her talented friends have put together a power-packed mix of pop songs, cabaret, variety, music and comedy, broadcast live every Friday night at 8pm on Facebook. Hosted by Naomi, with Luke Kennedy, Tom Oliver and others, with special guests, including Natalie Bassingthwaighte, Darren McMullen, Brian Cadd, John Paul Young, and the Australian cast of SIX and The Book of Mormon, online audiences are loving it – with more than 300,000 viewers tuning in every week. Everyone involved has given their time for free, raising nearly $90,000 (and counting!) for the Actors' and Entertainers' Benevolent Fund QLD, helping to support creative industries workers who have lost their livelihoods due to the shutdown. Beth Keehn spoke to Naomi Price to see what's in store for the final show – and find out more about the journey so far.
Stage Whispers: Say it isn't so… is it really the LAST IsoLate Late Show this Friday 29 May?
Naomi: Yes, it will be our 10th and the final episode of our philanthropic season of the show. With our core team of 30, plus special guests, we've engaged with around 300 artists in the last 10 weeks, and a number of people have worked around the clock. We are so proud of everybody – and very happy to have raised so much money and donated our time – but we are definitely ready for a break, and obviously it's just not sustainable to keep going when everyone's working for free. But the format works really well and it's such a cool structure to be part of, it would be great to see the show have a future life, but 10 episodes feels like the perfect number to end this chapter of the story.
Stage Whispers: How did you get the show up and running so soon after the lockdown?
Naomi: We had the show ready 48 hours after the venue closures were announced. The Prime Minister addressed everyone on 18 March and we had our first show live on 20 March. I spent those two days rallying friends and colleagues I've worked with for the last 10 years – and thankfully everybody said 'yes!' It was a direct response to all of us losing our jobs a few days earlier. Everyone who donated their time to that first episode was very recently unemployed so, while there was great sadness, the feeling was definitely one of defiance and boldness.
It's been both the longest and the quickest period of my life. There have been so many amazing moments. I've been producing shows through The Little Red Company for 8 years – and in that time I've never asked anyone to do anything for free. So, this was a new experience for me. But everyone was really keen to mobilise and do something positive. It's been such a unique project – none of us could connect physically; everyone was creating a show from different parts of the country and bringing it together every week – but I'm really glad that we've done it because we'll never have the opportunity to respond in the same way again.
Stage Whispers: Was it difficult to be creative given the global situation?
Naomi: To have a creative response to a crisis like this is phenomenal. It has been a really interesting time because, even though everyone wanted to be involved, many were also navigating their own personal shock and grief at the current situation. Under those circumstances, I think it can be difficult to motivate yourself – and there is a kind of myth that, if you are a creative person, as long as you are continuing to create, you'll be fine – and that is just not true. We have bills to pay, children to feed, and mortgages just like every other household. I think everyone felt disappointed, unsupported, and vulnerable – some of the team could access JobKeeper – but some weren't eligible and that's been really difficult. All of the people who work on our show are professional musicians, artists, creators – people at the top of their game, and yet they can't get government assistance to help them navigate this period. It's devastating, it's depressing and it's unacceptable. 10 weeks ago we didn't know what was ahead – and we still don't. It has been a huge team effort to keep the momentum going and continue to keep making something together, despite all the crazy stuff that's happening in our personal lives.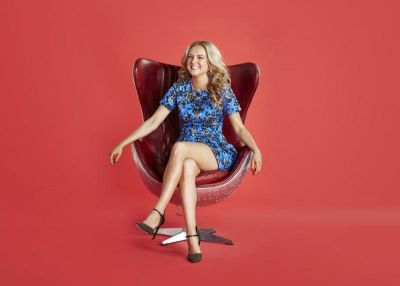 Stage Whispers: Despite the challenges, do you think the online format has given cabaret and variety a different avenue to reach new audiences?
Naomi:I think it's been an interesting exploration of what you can achieve online but, after doing this for 10 weeks, I can categorically say that nothing beats live performance in front of an audience. Online you connect with an audience in a very different way. With streaming platforms, everything is on demand; we are asking people to tune in at a certain time and that's where the theatrical aspect comes in. It's 'curtain up' at 8 o'clock!
Stage Whispers: The show has highlighted a huge gap in Australian TV programming for variety entertainment. And there's so much talent in Brisbane!
Naomi: Definitely – I think it's been about 10 years since we've had a really good variety show in Australia. People love this kind of entertainment. They love great musicianship, great comedy and creativity. I think that's been part of the success of this show. There are no gimmicks – just excellent talent!
Stage Whispers: You've raised nearly $90,000 and reached more than 300,000 viewers.
Naomi: Don't forget, we are closing in on our target $100,000 this week – it's not too late to donate. Just look for the links on our Facebook stream or our website.
The organic reach of the show has been amazing, with people tuning in by word of mouth through friends. We have an incredible audience, with about 300,000 unique viewers for our live episodes, plus extra family and friends in households. More people have watched the IsoLate Late Show than any of our previously produced works in total! It's really exciting and impressive for an unfunded, unsponsored show. It is also a testament to the fact that audiences are missing that shared experience, the feeling of community and connection that you get from going to the same place and watching the same performance together – that's what we provide every Friday night. It's a new experience where you can see which of your friends has tuned in, respond to comments, request songs – and engage with the familiar faces in the cast.
Everyone you will see in Episode 10 performed in Episode 1. We wanted to keep the same team who donated their time in that first episode. When you look at the artists we've worked with, it's an incredible body of work from Irena Lysiuk, Tom Oliver, Rachel Everett-Jones and Lai Utovou, Mik Easterman, Scott French, Luke Kennedy, Michael Manikus, Jason McGregor – It's been banger after banger!
Stage Whispers: How do you put on a show week after week?
Naom: Each episode takes two weeks to assemble from start to finish. It starts with a music meeting call where the artists decide which songs they are going to do. Recording starts on Monday with the band getting their music ready. That is sent to the singers and they record their tracks. Everybody films themselves on video as they are recording and then uploads audio and video to our central server – that content is sent to our editing and audio team for final cuts and audio mixes. Our Musical Arranger has never actually met most of the players he's arranging for; and we have Camerata – Queensland's Chamber Orchestra, who provide strings for us every week. When you take into account the number of people who are working on the show every week – around 30, plus special guests – it's just huge – certainly not a one-woman show.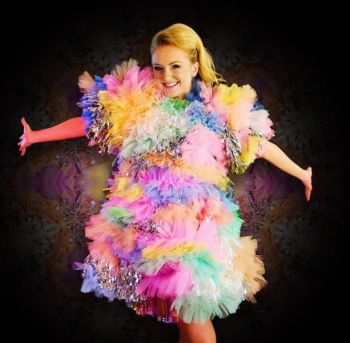 Meanwhile, I'm also working to get content from special guests, booking artists, lining them up for upcoming episodes. We plan a rundown and the order of live songs that I perform with Luke and Jason. At the same time, we are also writing a script – which gets uploaded to Autocue. Our Publicist and Social Media team help with promotions and engage our audience, responding to feedback.
On Friday, we arrive at the Studio at La Boite's Roundhouse Theatre in Brisbane. We are all theatre people so that just felt like the right space. It's bittersweet at the moment because when we walk in, the seats are empty and the audience never arrives. But it's nice to keep the space alive and active with music.
Our Lighting Designer arrives three hours before us and plots the lights for the live show. Then our Broadcast team – Vision and Audio – get ready to operate from outside the building. Inside is just the three performers, one Producer and one Cameraman. Then we do a full camera rehearsal – all watched online by the rest of the team from their homes. They give us notes about changes to audio and lighting. Our lighting is operated by someone in Cairns and our Supervising Producer is working from Sydney, watching the feed and discussing the script, talking to our Broadcast Director about changes to vision. We do our full rehearsal, have a quick dinner break, get changed and the show goes live! Then on Saturday morning, we get up and start the whole process again!
Stage Whispers: What can you tell us about the final show?
Naomi: In true IsoLate Late Show style, we are going to try something we've never done before for our last show. Our entire set list will be audience requests from the past 10 weeks – and we will finally assemble our core artists to make music in the same space together – with strict scheduling and safety guidelines – which is going to be amazing! We are very excited to finish with a bang of fabulous audience favourites. We do have a couple of surprises in store – which I can't give away – but it will certainly be a celebration of the last 10 weeks. And a tribute to everyone who has donated their time. I look forward to seeing everyone there.
Watch the last IsoLate Late Show: facebook.com/thelittleredcompany
IsoLate Late Show recordings are now available on Spotify and Apple Music.
Donate and buy branded merch: abfqld.com.au/shop
Image credit: Tnee Dyer (Raw Mint)