Lee Lewis New Artistic Director at Griffin
Lee Lewis has been appointed as Griffin Theatre Company's new Artistic Director, set to take over from Sam Strong on 1 January 2013.
Lewis is currently Associate Director at Griffin and has worked for numerous main stage companies, including Sydney Theatre Company (Honour, ZEBRA! and Love Lies Bleeding), Belvoir (That Face), Bell Shakespeare (Twelfth Night), and Griffin (Silent Disco, The Call and The Nightwatchman). She has also directed widely for independent theatre companies in Sydney.
Griffin Chair Michael Bradley said "Lee Lewis is the perfect person to take over Griffin at this stage of its development. She has a deep personal passion for Griffin's mission to be the voice and heart of Australian writing in the theatre. She is also a brilliant director and nurturer of new work. Griffin has enjoyed wonderful success in recent years and is rapidly becoming recognised as a critically important Australian cultural institution. Lee's appointment marks the beginning of the next exciting phase for the company, its artists and its audience."
Lewis trained as an actor at Columbia University in the United States, working on Broadway and Off-Broadway productions, before returning to Australia to study directing at NIDA. She has been an outspoken advocate for increased cultural diversity on Australia's main stages, and a leading voice for the representation of female directors and playwrights.
Of her new appointment, Lewis said: "I am excited to champion the works of Australian writers on the Griffin stage, around the country and internationally so that the company is increasingly recognised for the vital work we are so passionately committed to: the development and staging of the best Australian stories."
The appointment comes at a time of great momentum for Griffin, with many shows in the last two years selling out, attracting both audience and critical acclaim. The company's work has recently been nominated for four Helpmann Awards, including two for the 2012 Sydney Festival production of The Boys, and for Paul Capsis' one-man show Angela's Kitchen, currently on a national tour.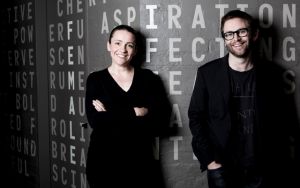 Outgoing Artistic Director Sam Strong will be taking up a new position at Melbourne Theatre Company in the New Year and is thrilled to be handing over the reigns to his colleague.
"Lee is one of the country's finest directors, a passionate and persuasive advocate of new writing, and a person and artist of deep integrity. She has been a vital part of Griffin's current success and she is ideally placed to lead the company into an even more exciting future" said Sam Strong.
Response to the appointment from with the arts has been overwhelmingly positive. Sydney Theatre Company's Co-Artistic Directors Andrew Upton and Cate Blanchett commented "It's a wonderful appointment. Lee is a genuine developer of new work and a great collaborator. We look forward to continuing to work with her in her new role."
John Bell, Artistic Director of Bell Shakespeare and director of the first production ever to take place in Griffin's SBW Stables Theatre in 1970, said "I am delighted to hear that Lee Lewis has been appointed Artistic Director of Griffin. For many years now she has been achieving wonderful theatre and is a great advocate of new writing. Lee's enthusiasm, energy and freshness of approach will be a great asset to her new role."
Lewis' most recent directing work includes A Hoax, currently playing at Griffin's SBW Stables Theatre until Saturday 1 September, Highway of Lost Hearts for Darwin Festival, and School for Wives, currently touring the country for Bell Shakespeare. In 2013, Lewis will direct Rupert for Melbourne Theatre Company, and a new work for Griffin.
The Griffin 2013 season will be announced on 3 September.
Images: Lee Lewis (top) & Lee Lewis and Sam Strong. Photographer: Brett Boardman.