Lloyd Webber in Oz for Love Never Dies
Andrew Lloyd Webber has been composing new music right up to the eve of opening of the Australian premiere of Love Never Dies, Lucy Graham reports from today's media preview at Melbourne's Regent Theatre.
At the Love Never Dies sneak-peek held at Melbourne's Regent Theatre today, Director Simon Phillips revealed composer Andrew Lloyd Webber has composed additional new music since arriving in Australia last Friday for the Australian premiere.
"He [Lloyd-Webber] was so inspired that he wrote some extra music for a couple of sections so we've put that in over the week which has been an exercise in daily excitement."
"This [production] has been conceived in its entirety from the beginning by an all-Australian creative team which has been a thrilling process for us, we've loved doing it. The score is really ravishing…in my opinion it's the most unstoppingly beautiful score Andrew's ever done," said Phillips.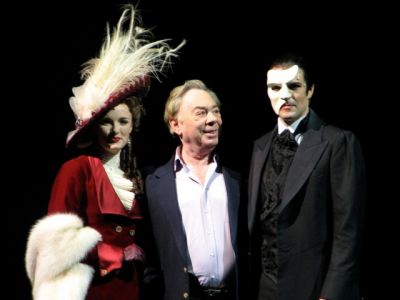 Andrew Lloyd Webber expressed admiration for the production team saying that the quality of their work was 'very very rare'. He did not take media questions.
According to one insider Lloyd-Webber "has been totally hands-on" after Love Never Dies received damaging mixed reviews in London. Introducing Ben Lewis (The Phantom) and Anna O'Byrne (Christine), Lloyd-Webber declared, 'This show is absolutely fantastic".
If nothing else scenes performed for the media today, The Prologue, Coney Island Waltz and Once Upon Another Time, indicate, Love Never Dies will feature deliciously extravagant music, rich and clear voices, and astonishing set and costume design.
The show will be unmasked tomorrow night.
May 27, 2011.
There is a free Love Never Dies CD with Melbourne's Herald Sun on Sunday May 29.
Read our earlier coverage.
Opening Night Party and media preview pics on our Facebook Page
A Brand New Production of Love Never Dies
Love Never Dies – Inside Rehearsals.
To keep up with the latest news and reviews, like Stage Whispers on Facebook, or follow us on Twitter.