Lloyd Webber Tour (and Trivia)
The Music of Andrew Lloyd Webber begins its national tour in Melbourne on March 19.
Stuart Maunder directs the production, featuring Blake Bowden, Alinta Chidzey, Andrew Conaghan, Michael Cormick, Trisha Crowe, Delia Hannah, Kirsten Hobbs and Shaun Rennie, with musical supervision by Guy Noble.
The publicity promises that through state-of–the-art technology, audiences will be swept from the avenues of Broadway to the magnificence of Eva Peron's Argentina, to the speedways of Starlight Express, in a dazzling journey through the many settings of Andrew Lloyd Webber's greatest works. All the 'big' moments from Evita, The Phantom of the Opera, Cats, Jesus Christ Superstar, Joseph and The Amazing Technicolor Dreamcoat, Sunset Boulevard, Woman in White to the current Love Never Dies will be there.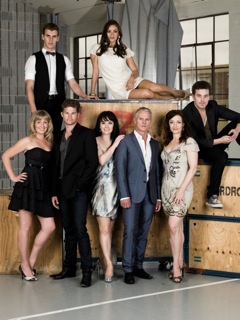 Here is some (ALW) trivia, with thanks to Kim Ransley at ORiGiN Theatrical, agent for licensing the works of Andrew Lloyd Webber for performance in in Australasia.
Andrew Lloyd Webber's most popular musical is Joseph and the Amazing Technicolor Dreamcoat (Lyrics by Tim Rice) with an estimated 1,150 licensed productions each year.
It's played everywhere from Ethiopia to far north Canada (by an Inuit cast). It can be performed in more than a dozen languages.
Some unusual stagings of (ALW) musicals include a kabuki version of Jesus Christ Superstar in Japan. Tragically in 1997 an English actor – playing Judas – accidentally hung himself on stage in front of 600 people at a Greek hotel, when he forgot to attach the noose to a hook on his back.
More than 13 million people have seen a production of Starlight Express, which is still running in Bochum Germany.
Unusual stagings of Andrew Lloyd Webber musicals include a
kabuki version of Jesus Christ Superstar in Japan but the production has also played in London and an all-female production of Joseph in Israel.
The longest running Broadway show in history is Phantom of the Opera, opening January 26, 1988 and still running, with Cats as the number two show, opening October 7, 1982 and closing Sept 10, 2000.
Subscribe to Stage Whispers for the chance to win tickets and CDs. Details Link.
Season Dates - The Music of Andrew Lloyd Webber
Melbourne, Regent Theatre from 19 March
Adelaide Entertainment Centre from 30 March
Brisbane, Lyric Theatre QPAC from 6 April
Perth, Burswood Theatre from 16 April
Sydney, Lyric Theatre Star City from 25 May
Canberra Theatre Centre from 1 June