Love Never Dies – Inside Rehearsals
Love Never Dies threw the doors of its rehearsal room open to the media on Wednesday March 20, after two and a half weeks of rehearsal. Neil Litchfield was there, and spoke to members of the cast and creative team.
Prior to a preview performance of two songs from the new Lloyd Webber musical Love Never Dies, the continuation of The Phantom of the Opera, Director Simon Phillips introduced this new Australian production, reworking the show after the tepid reception for the original London version, which otherwise would have been reproduced globally.
"For the first time in the history of the relationship of Really Useful with Australia we've been given the opportunity to do a brand new production of this piece," he said. Tim McFarlane approached me to do it, and I went across and had a chat with the Lord (Lloyd Webber). We came to some conclusions, had a look at some changes that had been made to the structure of the London production, and I went about putting together my creative team."
Standing amongst a selection of intriguing costumes and props, Phillips introduced Designer Gabriela Tylesova, providing an insight into the new Australian design of the production, which he said "brings the razzamatazz side of the production alive on the mean streets of Coney Island."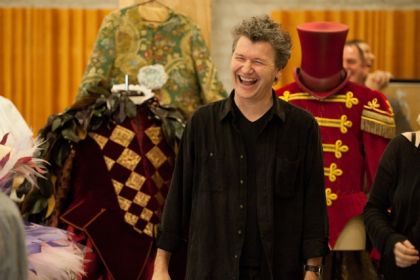 "As I said to the company on our opening day, I just knew that on this show I needed someone who could deal with curves, because the whole show is set in the environment of Coney Island – it's all about those kind of curving shapes, and Gabriela is actually, I think, psychopathically incapable of drawing a straight line," Phillips said.
"Helping me to help realise the teeming, seething life of that area, I'm so honoured to be working with Graeme Murphy and Janet Murphy – living legends of the Australian dance scene.
"The show is set on a triple revolve, so we're in the kind of hell of trying to imagine what that is in a completely static rehearsal room, so it's little surprise that we're showing you nothing today that involves that revolve because it would make no sense to you at all. Under these circumstances."
Introducing the performances, Phillips put them in context.
"Christine has been brought to New York to sing by opera impresario Oscar Hammerstein (the lyricist's grandfather), and the Phantom, who has been exiled in Coney Island since the end of The Phantom of the Opera sees the opportunity to detour her by force, and bring her to Phantasma, which is the establishment which he has set up, and is now running in Coney Island."
In conjunction with Stage Whispers, a special episode of The Theatre Show captured these performances (click the link at the end of this story).
After the performances, Ben Lewis, playing the Phantom, shared his experiences.
"It's been a really exciting first two and a half weeks. Obviously the first thing that strikes you when you walk into the rehearsal room is how many lines there are on the floor. There's going to be a lot of moving parts in this show, which has been the first challenge for us to overcome. We're lucky that Simon has such a strong vision of the show, so we've been able to work through that.
"The other thing that struck me is that the emotional stakes in this show are incredibly high. The love story is taken to the next level, and certainly the rollercoaster that the Phantom rides in this show is massive.
"The challenge, but also the exciting part for me as well, is really going to be exploring what is essentially a universal issue. We have moments of togetherness in this show, and moments of devastation, separation. That's definitely going to be the exciting part of the show for me."
What discoveries has Ben made about the Phantom?
"Without giving too much away, there is a humanising of him in this show. He faces issues of his mortality and his place within the world, and the importance of the people around him. He starts to realize the impact he has on people around him – not just Christine, but other people, so really it's a discovery of what that means to him. He's not your ordinary man on the street, so his reactions are not always what you expect them to be. That's exciting too, and it's certainly not presenting the mundane.
"It's melodramatic in structure, but certainly, he's really fleshed out in this show.
He has a pretty harsh and dramatic arc to embark on."
Anna O'Byrne, Christine in the production, is no stranger to the younger incarnation of the role.
"It's really special, having understudied the role and played it back in 2009, to be discovering Christine 10 years on," she said, "and bringing some of my my mid-20s sensibilities to this role; being Christine in this new phase of life, being married and having a child and responsibilities."
What differences has she discovered in the role, 10 years on?
"The Phantom is still there, but I guess her sadness, and her sense of regret, but also her real love and passion for her son has been very special. And we've got five great little boys working on this production as Gustave. It's been a joy to work with them.
"This is one of the most spectacular creative teams I've ever worked with – Simon, Gabriela, Graeme and Guy – these people are just giants in our industry and it's thrilling to be able to work with them.
"Watching Simon Phillips work is phenomenal. He can somehow imagine the whole set, the stage mechanics of the revolve, plus everybody and every prop in its position on the stage. He can somehow process that in his head at the same time."
Simon Gleeson plays the role of Raoul, now Christine's husband.
"I guess the beauty of this process is the original aspect of the idea," he said. "If we were just opening the book and doing what was there, that is when I think things get worrying. The fact that they are changing a lot – that you walk in and there are different pages, different words, different ideas getting thrown around – that's what is making it interesting in the creative process – something that's really enjoyable to do."
Raoul, of course, isn't part of the more theatrical world of the play.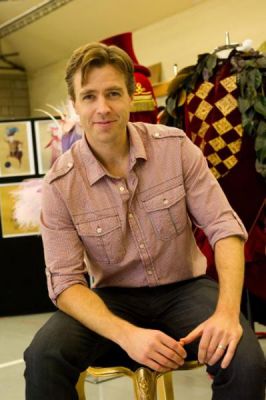 "He isn't, and he's completely different – it's almost chalk and cheese from the first one. In Phantom he was this archetypal romantic lead – very flowing, very romantic - and in this one he's kind of brutal, and a gambler and a drinker, and damaged, angry and ashamed. I think he's a far more interesting character to play, not that I've played it, than the first one. He has to fulfill a romance of kinds, but that it can be messy and a bit charged is just ideal for musical theatre, and very rarely happens.
"And you're right, he's not part of the world, he doesn't have to fulfill any kind of status in that world at all."
In his introduction, Simon Phillips said that Musical Director Guy Simpson has been working on Lloyd Webber so long, "that the vernacular is so strongly in his blood that it means that he just understands how the muscle of Andrew's music works."
What is Guy enjoying most about the production?
"It's quite different. Most of my career I've been looking at productions and duplicating big shows from around the world, and I'm still doing that, but with this one we've been given the opportunity to create our own production.
"The challenges that go with that are making the score fit with the transitions, the scene changes, and the elements that Simon wants in this production. So the big difference for me is devising slightly new scene change music, adding stuff that Simon needs or taking away bits that we don't need. It's not wholesale changes, I don't want to make it sound too big, but it's the freedom to create new little episodes that we might need, within the structure of the score. That's very exciting.
"I will be orchestrating the new bits. Again, not trying to make more of this than there actually is, it's just little changes. But it's just so exciting to be able to do that – we're not sending the new stuff back to England to be orchestrated – we're doing it here."
What's been particularly thrilling about the experience?
"The team is not a team that I've ever worked with before, but we clicked within the first two minutes, and we've really formed a terrific team. It's a lovely collaborative effort between the team."
Has Graeme Murphy's choreography impacted on the dance music – has new music been added?
"Only in Coney Island Waltz. We've added 15 bars for a little more crowd movement in Coney Island. We haven't had to make much change at all to the music for the dance numbers he has done inside the Coney Theatre – maybe the introduction, for example. We needed the curtain to rise on the theatre, so we needed two bars there that sounded like a curtain was rising – that's a good example of what the little additions have been.
Over lunch, I enjoyed a chat with a group of ensemble members.
Beginning with Claire Lyon (showgirl, ensemble and Christine cover) I asked a few questions, but soon the chat took on life of its own, as the performers shared their experiences.
There wouldn't have much work on the cover aspect of the show yet, I suggested.
Claire:We've had a music call, Todd and I, a bit of a note bash through, but we've really just been watching and writing post-it notes of what they're trying to do onstage.
Working with Graeme Murphy is just a dream – he and Janet are just lovely. Their choreography is extremely fun and he has a very dry sense of humour in the rehearsal room. You can see that all the ideas are coming together, and it's going to look amazing.
The showgirl routines are cutesy and kind of vaudeville. To go with that our costumes are really cute – little pantaloons and mini-tutus and things like that. That contrasts with the Coney Island scene where it's a lot darker and more mysterious – I play a gypsy in that one.
NL: How does the choreography develop that darker, more mysterious atmosphere?
Claire: Everyone is very different because we're all different characters, for example, Colin's a man in a bear suit, Ellen's a contortionist …
Ellen Simpson (showgirl, ensemble, and covering Fleck): It's a more movement choreography rather than dance.
I'm really enjoying the fact that this is quite a collaborative process in terms of the creative team. They're all quite open to suggestion - a lot of us have thrown things at them and they've taken them on to some extent.
And working on a brand new Andrew Lloyd Webber production is so rare, and we all feel so lucky.
Clare: It's not act by numbers any more – it's not a cardboard cut-out type thing – it's very fresh and new, and exciting.
Tod Strike (ensemble and cover for Phantom and Raoul): The set is going to be one of the biggest things that Australia has seen for a long time. The whole thing – the lighting, the costumes and sets by Gabriela.
The first day we had a meeting, and they showed us the overview. I don't think I've seen a show bigger than this for a long, long time, going back to the good old days when helicopters and gondolas were all the rage, but this is going to be something else. The creatives are amazing. It's a show with a lot of spectacle, a lot of pizzazz, but a lot of heart as well. People will love it.
Colin Dean (male ensemble and understudying Squelch): To be in an Andrew Lloyd Webber musical is amazing – to be in a new one is just outstanding. And highlights, going back to what Claire was saying, watching Simon, Graeme and Guy working together you can always see them sitting there watching the finished version already, in their minds. The creative process is amazing.
And also with Graeme Murphy – I want you to move from this side of the stage to that side of the stage is not just a simple walk from there to there – he gets people twisting themselves inside out, climbing up on top - it's just fantastic.
Andrew Broadbent (Ensemble and understudying Raoul): The main thing we've been dealing with in the last couple of weeks is trying to replicate the triple revolve in a static rehearsal room.
Often while we're watching these bursts of creativity happen and being part of that, one of the challenges is that while we've seen the set in pictures, I don't always have the picture in my mind of exactly what it is, and what level everything's on.
That's one of the challenges we're dealing with. While you can see Simon and Graeme going, and that will be there, physically you can almost see it in their eyes, as was mentioned earlier, that they're looking at the whole and what's coming up next.
As we rehearse bits and pieces, it's less clear as to where we fit, or how that's going to work – negotiating with all the physical aspects, and the costumes, … and the fire.
Simon's referred to the curves - everything's quite spectacular – and because things aren't square, that's kind of an added dimension to what we're trying to replicate in the rehearsal room, that when we get into the theatre will become clearer.
That, and where you fit into each scene, not only character-wise, but also physically in the space. How tall am I? … Matt is on stilts for part of the time, so he's negotiating where he can actually go, and when the revolve is moving, because you can't actually move onto the revolve from standing still when the revolve is moving. Meanwhile there is a guy twirling fire at about the level of his head.
So there's a lot that's kind of inherently dangerous about what we're doing, but that's the danger of Coney Island. So it's the essence of the whole thing, embodied in the movement, not just ours, but the whole stage and the whole set. So I think there's a real sense of total theme in it, visually and aurally, because some of the music is dark, with very complex harmonies running through things. That's all embedded in the story of what Coney Island was at the time – the darkness, the danger, and the fun at the same time – all of that kind mixed in together, and high stakes too.
All the main players have high stakes that they're playing with, so finding that within this environment is pretty amazing.
Matt Holly (Male Ensemble): As it was mentioned, I walk on stilts in several sections in the show. My favourite part so far has literally been building the show from the ground up, being allowed to be a part of the creative process, being allowed to have our own input, and having the show built on our bodies and our capabilities.
So, Ellen gets to do some acrobatic contortion things, and I get to be on stilts where I'm throwing my legs around and all the girls are doing all these crazy leg mounts. The show is being built on what we can do – we're not having to fit a cookie-cutter mold of another production that's already been cast, and done, and tried and tested. We're just sort of strapping ourselves in and hoping for the best
Clare: It's cool to think that the next cast that they get, somewhere else in the world, they'll mold those people on what we're able to do – they'll need someone who can who can do flips.
All Images, except ensemble shot, are by Kurt Sneddon.
May, 2011
Click here for The Theatre Show's Love Never Dies Special Edition.
And check out the video of Love Never Dies moving into Melbourne's Regent Theatre.
Our Previous Coverage of Love Never Dies
To keep up with the latest news and reviews, like us on Facebook, or follow us on Twitter.