Magic to Do
Image: Matt Jenson, Gabrielle McClinton and Bayley Edmends. Photographer: David Hooley
Coral Drouyn is excited by the return of Pippin to our shores, talking to its creator Stephen Schwartz (Wicked, Godspell) about the musical almost 50 years after its creation.
Have you been missing the magic? You know - that magic that live theatre represents to all of us avid theatregoers and performers. It's been a bleak, bland world for the past six months without any live theatre to speak of. Thankfully we have had internet performances to keep us on life support, but nothing compares to being in the stalls, or dress circle, with slightly tacky carpet underfoot and the smell of musical theatre history all around you.
Well fear not, the magic is upon us again. At the Sydney Lyric, the Leading Player is again invoking us to "join us … come and spend an hour or two" and draw us into the world of "Magic To Do", as the Tony winning Broadway revival production of Pippin opens in Sydney.
Pippin is not just any musical. It's the musical that launched Ben Vereen as a star, cemented Bob Fosse as the undisputed director/ choreographer of his time, and established Stephen Schwartz as one of the top composer/lyricists ever seen on Broadway. It is wildly theatrical, a phantasmagorical, not to be missed experience, and arguably one of the top ten musicals of the entire 20th century.
Videographer: David Spicer.
If you think that's hyperbole, then you haven't seen Pippin - and that's probably the bulk of Australians since it is so seldom performed.
It opened in Australia at Her Majesty's Theatre in Melbourne on February 24th, 1974 and created history. Starring Australia's reigning King and Queen of Pop – John Farnham and Colleen Hewett - it had starpower plus and drew audiences who had never been to a live theatre. They came just to see their pop idols, but many stayed, becoming avid musical theatre supporters over the following 45 years. It was the first full musical I took my children to see, and they have been fans ever since.
It was remarkable that there wasn't a single "import" in the cast - the great Ronne Arnold had already been an Australian resident for more than a decade, and was perfect for the Leading Player, while the 'supporting' cast included the splendid Nancye Hayes, the wonderful Music Hall star Jenny Howard, Tony Bart and David Ravenswood.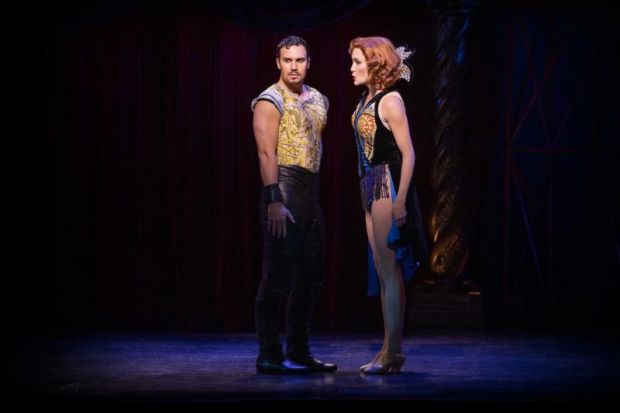 Image: Euan Doidge and Leslie Bell. Photographer: David Hooley
The unlikely story of the Emperor Charlemagne's son rebelling against his father and experiencing the seedy side of life through a group of travelling players brought us songs like "Corner of the Sky", "Magic To Do", "Glory" – and a style of music that Schwartz has perfected in more recent shows like Wicked. In fact, without Pippin it's safe to say that there wouldn't have been a Wicked at all, and there may not even have been a Stephen Schwartz as we know him.
Schwartz's remarkable career started when he was only twenty, at college where he was studying theatre directing. Schwartz had studied music all his life, taking the train into New York to study at Julliard on Saturdays, but he often skipped class and took in a matinee on Broadway. Though he went to college (Carnegie Mellon) to study fine arts (with theatre directing as a major) it wasn't long before he found himself involved with the theatre club - "Scotch'n'Soda" - and suddenly he found himself writing musicals.
'I love the drama, the theatricality of musicals, but I was also influenced by pop music,' Stephen tells me. 'The Beatles were huge during my teen years, and I loved them lyrically - I think I got my love of rhyming from them. I always thought I'd be a composer, rather than a lyricist, but I loved playing with rhymes - something Bob Fosse used to tease me quite brutally about.'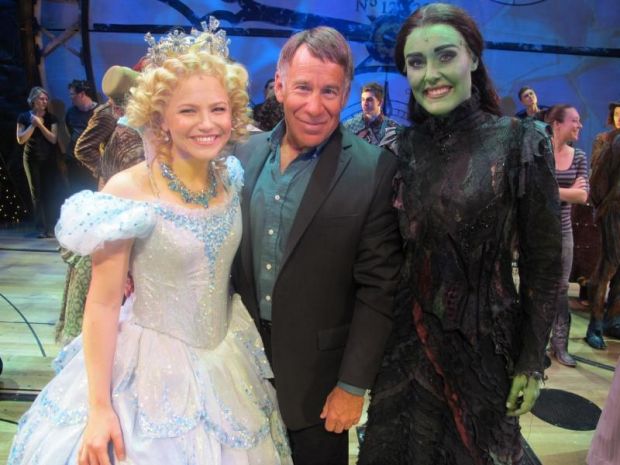 Image: Susie Mathers, Stephen Schwartz, Jemma Rix and the Australian cast of WICKED
It's been well documented that Fosse was a bully and that he and Schwartz butted heads frequently over the tone of Pippin, which Fosse saw as far darker and lewder than Schwartz was initially hoping for. Eventually Fosse had the composer banned from the rehearsal room.
'With hindsight, I can see that many of Bob's ideas added to the richness of the themes and gave us a far more adult show. But I was 23 and full of myself. What did I know? I think I learned more from Fosse than anyone. I just didn't know it at the time,' Stephen tells me.
Of course many of us have heard the story of Stephen writing Pippin at college in 1967 when he was just 19 - an astonishing feat. But is it true? Stephen chuckles when I ask him.
"Well…yes…and no,' he says. 'Ron Strauss found this story about an uprising by Charlemagne's son Pepin, and that became the basis for a short musical we called Pippin, Pippin. It was full of gags, catchy one-liners, and some pop songs. But is it the Pippin that made it to Broadway? Heck no! It's safe to say there wasn't a single line, a single song, from the college production that made it to Broadway. And again, nor should there be. It took 5 ½ years of development to get it to where it became a complete show. I'm glad I was pushed, or I probably would have settled for less. I was not the easiest person to work with in those days."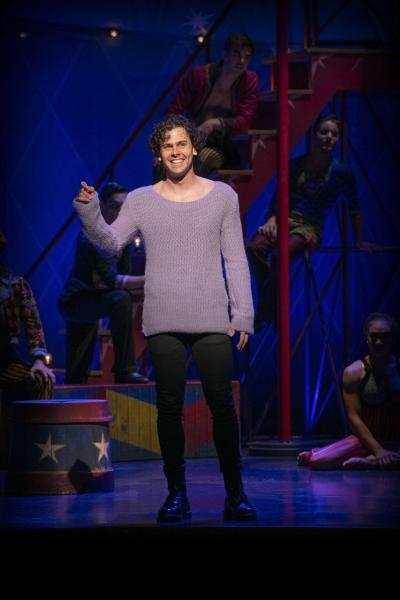 Image: Ainsley Melham as Pippin. Photographer: Brian Geach.
He pauses for a second.
'You have to remember that from the beginning of the seventies all young people were rebelling - against authority, against government, against the Vietnam War, and just against not being taken seriously - so I rebelled, as does Pippin. And that rite of passage/rebellion combination still drives young people today. Look what's happening in the US right now. Young people are frustrated and sometimes their reactions go too far, but they have a right to their mistakes. I think the greatest lesson in Pippin is learning to take responsibility for your own life, including the mistakes. We all ask 'What's the point? What am I supposed to do with my life?' That really hasn't changed at all in almost half a century.'
Some things don't change, but others become so different as to be unrecognisable - so it was with the show before it even hit Broadway. Stephen takes up the story again.
'So Bob (Fosse) had seen Ben Vereen as Judas in Jesus Christ Superstar a year or so earlier and really wanted him in the show. I knew he was a great talent, but I couldn't see where he would fit in, so I wasn't thrilled. But nothing was going to stop Bob having his way,' Stephen explains. 'Roger Hirson (librettist) combined a couple of small characters in the second act to make him the leading player of a travelling theatre group, but Ben was wasted. Then we had problems with the first act not working the way we needed it to - it was a slow burn. So we tried "Magic to Do" as an opening number – and it was the rocket we needed. It changed the entire show.'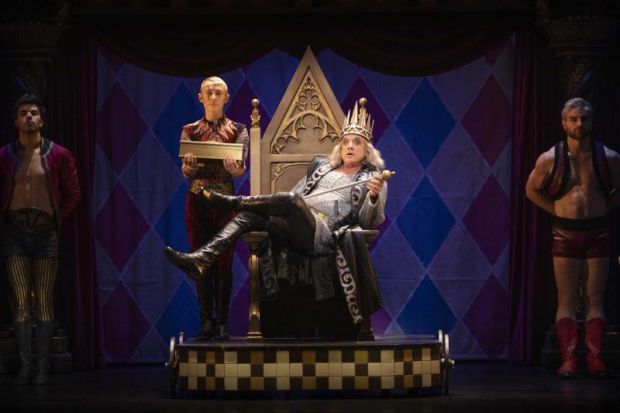 Image: Andrew Sumner and Simon Burke. Photographer: David Hooley
I point out (stating the obvious) that changing the opening number changed the entire dynamic and narrative direction of the show. Now we're with a travelling troupe right from the time the curtain goes up. Is the troupe putting on a show, telling a story or simply relating history? The title character becomes an object for the Leading Player (now the star) to manipulate.
'Exactly!' Stephen exclaims, 'and suddenly there are no boundaries restricting the theatricality of the show; nothing is too outrageous, and there is tremendous freedom in that, even if it means that everything you thought you had got right was still not reaching its potential.'
Pippin was a smash hit, with arguably the best opening number in Broadway history. It earned a slew of Tony nominations, with Vereen and Fosse winning even though Stephen missed out. Nevertheless, it made him Broadway's Golden Boy and, with the opening of The Magic Show the following year, and with Godspell still running, he had three shows running on Broadway at the age of 25.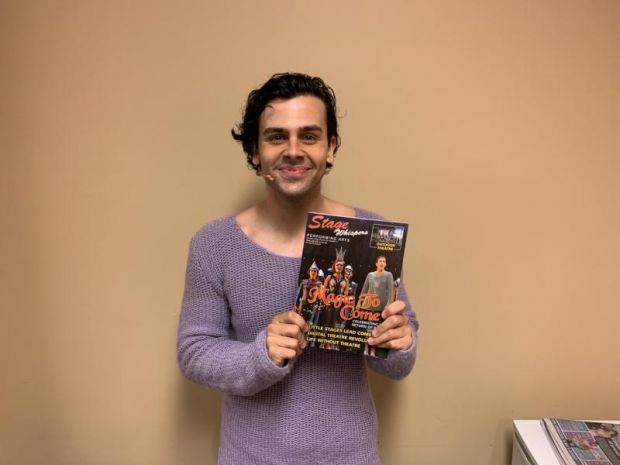 Image: Ainsley Melham (Pippin) with Oct / Nov 2020 edton of Stage Whspers. Read more.
And then he crashed.
'I had to walk away,' he says ruefully. 'I had lost my way and I had to re-evaluate why I was doing this at all. Some people said I was finished but I never stopped writing, I just stopped being a part of it all. I often say the three years I spent in deep depression were the happiest years of my life.'
Stephen withdrew and got to spend long months really enjoying time with his children and wife. "But always I would be jotting down melodies - couplets of lyrics. It wasn't Broadway, but it also wasn't pressure."
Stephen didn't have another Broadway show until 2003, when Wicked opened, some 30 years after Pippin. In between he wrote a slew of musicals like Children of Eden (his favourite) and The Baker's Wife, and some of the best Disney movie musicals. By then Pippin was little more than a magic memory for those who had been there in the seventies.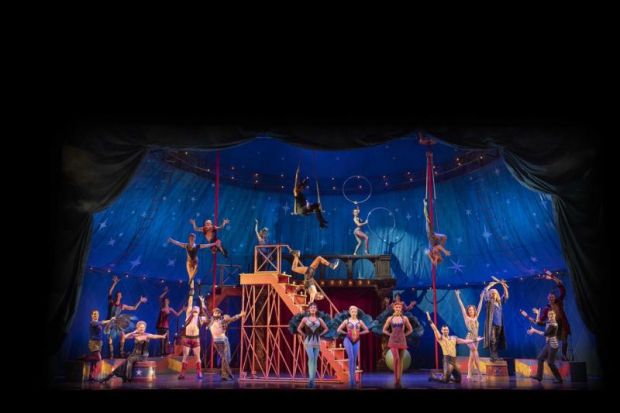 Image: Cast of Pippin. Photographer: Brian Geach.
But then came 2013, and the American Repertory Theatre took Pippin back to Broadway, some 41 years after it was first a smash hit. The troupe of players has become a travelling circus and the Leading Player has become a female. Though hats are tipped to Fosse's original work, Director Dianne Paulus has created a vision that is new and fresh, and Lord knows (even though it's seven years down the track) we need that after the horrendous year of 2020. The revival picked up a host of Tony awards, and it's the only time (with Ben Vereen and Patina Miller) that opposite genders have won Best Actor awards for the same role - 40 years apart.
Stephen is excited. 'I just so want to be there for the opening night, but they won't let me in (because of COVID 19). I love this production so much. When I saw it on Broadway it wasn't like a revival for me. It was like this was the way it should always have been. It's all my dreams rolled into one and I am so thankful it hasn't just ended up as a credit on my CV.'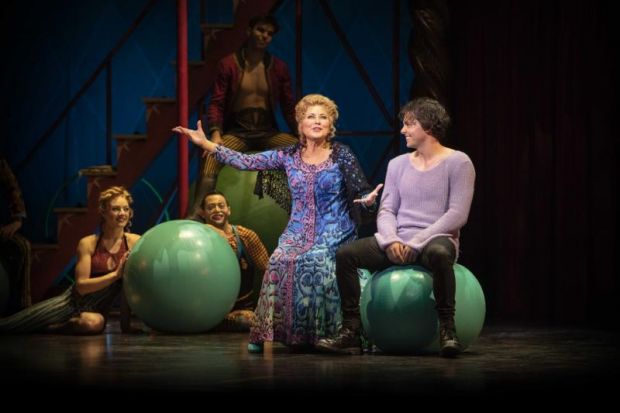 Image: Kerri-Anne Kennerley and Ainsley Melham. Photographer: David Hooley
Auditions for the production included a request for circus skills. Triple threats needed to be quadruple threats.
And Stephen is working on his next project - still creating at seventy.
'This production gave me so many new ideas. It really is an inspiration.'
I ask him one last question - is he still the incurable romantic who fought for a happy ending in Pippin when Fosse wanted the dark death by fire ending?
Stephen laughs.
'Through the years I would have liked people to think I was cool and detached, and maybe just a little bit cynical. It sounds so sophisticated," he tells me. "But yes, you're right, I am STILL an incurable romantic. I love a happy ending."
And that's why there is always magic to come…in theatre and life.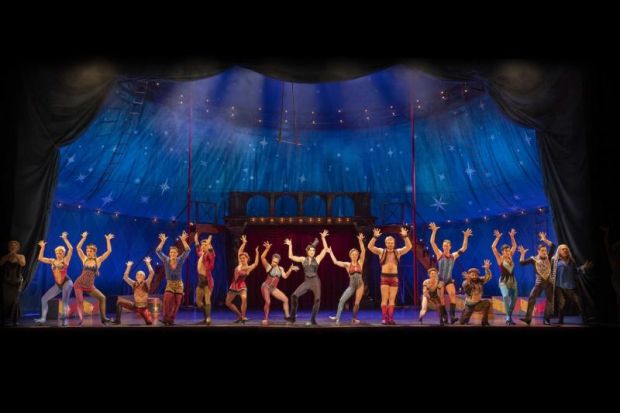 Image: Cast of Pippin. Photographer: Brian Geach.