Mary Poppins: Practically Perfect in Every Way
Ian Nisbet caught up with the Australian cast of Mary Poppins during rehearsals, and found out what really makes the show fly.
Based on the beloved books by Australian author, actress, and journalist Pamela Lyndon Travers OBE, and the classic 1964 Walt Disney film, Mary Poppins the musical has all the classic songs from the movie as well as some new inclusions.
Verity Hunt-Ballard flew to Amsterdam for her final audition to be Australia's Mary Poppins. Her trip came at the end of a massive audition period involving 650 women from Melbourne and Sydney, and another 400 from Auckland, Wellington, and Christchurch. Even an appeal for talent to upload their auditions to YouTube failed to find the right nanny.
Fresh from playing Frankie Valli's lover in Jersey Boys at the Princess Theatre, Melbourne, Hunt-Ballard, a graduate of the Western Australian Academy of Performing Arts, has also performed in The Rocky Horror Show, South Pacific, Eureka and Oklahoma!
When asked what excited her most about being Mary Poppins, she replied: "I'm excited about working with Matt Lee (laughs)" who was sitting next to her.
"When I got the role I got messages from people back home in Adelaide who I hadn't seen for fifteen years and people were just over the moon. They were so excited that an Australian girl got it. [Mary Poppins is] a story that stays with you forever and [no matter if a person first saw] it at five or fifty, they find something to relate to."
Matt Lee plays the role of Bert. Lee grew up with the Disney film: "I used to put it on after really scary films to make me feel better." Lee's theatre credits include Miss Saigon, The Boy From Oz, We Will Rock You, The Witches of Eastwick, Grease, Hot Shoe Shuffle, Rent and Rags, but Australian audiences know him better as the hat-wearing judge from So You Think You Can Dance. Lee was also the motion capture performer behind Mumble, the tap dancing penguin, in the Australian, Golden Globe and Oscar nominated feature film Happy Feet.
"I'm excited that the role of Bert is all singing, all dancing, all acting, and dancing upside down. It's really a role where you can show off everything that you've trained your entire life to put on stage and it's all within the one show. Since getting the job on television, people know me as the judge [from SYTYCD] but I've been doing musical theatre for fifteen years. You get on TV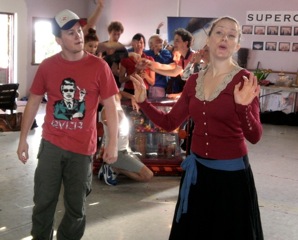 and you get the gig (laughs). It's just really exciting to have the public that know me from SYTYCD now say 'You know what? He isn't someone who just sits behind a desk and has an opinion, he's actually been doing this for a long time.' It's been three years since I've been on stage. Bert is my first major role and I'm just excited that it gets to be with Mary Poppins."
The stage version of Mary Poppins has evolved from the movie. In developing the musical, Cameron Mackintosh and Disney's Thomas Schumacher went back to Travers' books for inspiration. Hunt-Ballard recognized that "P. L. Travers' books are quite a bit darker than Disney's film, which is fascinating – it gives [the show] a whole other element."
Lee continues: "The great thing about the stage show is that it's very different to the film. [Mackintosh and Schumacher] looked at the books and took different storylines and characters… to make it a new show so we haven't just got the film slapped on stage… One element that's different from the movie is the whole 'Jolly Holiday' section but I think [audiences are] going to be pleasantly surprised as there's lots of exciting surprises and things – magic and other [aspects] - so I don't think anyone's going to be disappointed that it's not exactly the same as the film."
This raises an interesting question: despite the changes, how will audiences will be affected by their memories of Dame Julie Andrews and Dick Van Dyke, the Bert and Mary of the Disney film, when they watch the musical?
Hunt-Ballard says the original English creative team has given her and Matt "a lot of license to collaborate with them and find our own characters. We both asked to see the show and they would prefer us not to see it overseas because they want our own interpretation, and that gives you so much room to really own the character rather than just be imitating."
Lee doesn't want to copy Dick Van Dyke: "That would be really boring, wouldn't it?"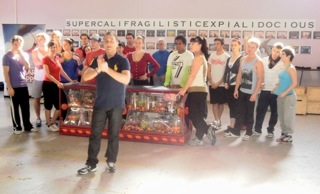 Theatre veteran Philip Quast, who is playing Mr Banks, agrees: "This is not a carbon copy of what was on in America or London, it will have it's own peculiarities."
All three performers are excited about the prospect of working with such a talented cast. Hunt-Ballard says: "The whole creative team and cast are extraordinary and of a very high caliber. The cast is phenomenal."
Quast is actually "[more] excited about the company than the show. I know that sound funny, but to have Marina (Prior), Debra (Byrne), Judi Connelli, and Sally (-Anne Upton) in the company is extraordinary. I think the company itself has been very carefully chosen with a lot of loving, caring people and I don't think it functions without that … There is absolutely no competitiveness and that's what I'm excited about – the prospect of being able to do this for a very long time with that feeling in the rehearsal room and that doesn't always happen … The other thing I'm excited about is the choreography; I think it's just amazing."
Mr. Banks' journey is really the true moral of the Disney film.
Quast says: "I just think that Mr. Banks, because of the damage from his childhood, he passes that on to everyone: his wife, his children, all those around him. "
"Mary Poppins comes and she's the healer, and of course Mr Banks makes a great change, but I think everyone else has their own journeys as well. It's not until Mr Banks starts to have his epiphanies that he can let go and take on the responsibility of being a parent and learning to love, which he never learnt to do. He was never hugged, he was never kissed, and so he could begin to learn to have fun and realise how fast your children grow up."
"In the melee of trying to earn money - the pressures of all that, your career, the responsibility - it's something that relates to a lot of men and it's not sentimental. I was surprised too, because when we had our first read through the other day it caught everyone by surprise at different moments. I do believe everyone has a journey to make, mine is just a bit bigger than a few other people."Lee reflects upon what Mary Poppins means to him: "It's just a timeless story – how important the family bond is."
Hunt-Ballard agrees: "Thirty years ago it was relevant and it's relevant now; somebody objective entering the home, who is magical and has some other-worldly power to shake things up a bit and take the children on a learning curve and a learning journey through amazing music and amazing magic. I think that's why it doesn't matter how far technology progresses, we always want to have somebody to come in with warmth and magic and lessons as a mentor to help us through the journey of life."
Michael Lindner, who is covering Mr Banks, began his career when he was accepted into WAAPA straight out of year 11. He recently played Hunter Bell in the Australasian Premiere of [title of show].
Lindner says the magic scenes will surprise and delight audiences. "The context of the songs is different compared to the movie. Supercalifragilistic is now in a magical shop where you buy conversations (reminds me of the conversation cards in Monty Python's The Meaning of Life), rather than at the animated racetrack, [which is an element] from the book."
I mention that I had wondered how they were going to stage the carousel horses: "There's still a lot of magic in Jolly Holiday – the park comes to life [with] statues springing into life and [there's even] a visit from Queen Victoria."
And what of the penguins?
"[There's] no penguins, it's different."
We'll leave that as a bit of a secret.
Matt Lee is concerned about the penguins, though: "I think people will expect me to pull my pants down [around my ankles] and dance like a penguin (laughs)."
Well Matt, it's not like you haven't done the penguin thing before.
Mary Poppins had its Australian Premiere at Her Majesty's Theatre in Melbourne on Thursday, 29 July 2010
Photo: Mary Poppins cast in rehearsal - courtesy Ian Nisbet - see more rehearsal shots in the album at www.facebook.com/stagewhispers