Meet the Fangirl of Theatre
With Fangirls about to open in Melbourne, and the launch of a cast album we revisit an interview with Yve Blake - the writer / composer and original star of hit Australian musical. Yve Blake, spoke to Peter Eyers for his Stages podcast. (Buy the script at Stage Whispers Books.)
In high school Yve Blake was discouraged from choosing music as a subject because she could not play an instrument. Now she's penned a hit musical, after learning how to use music composition software on YouTube. Her musical Fangirls is based on a teenager whose crush on a pop star gets out of control. The career of the writer/composer/actor is now on a star trajectory with a string of movie and TV commissions.
Peter Eyers: What were you like as a 14-year-old?
Yve Blake: Very ostentatious. Fangirls is sort of a love letter to my 14-year-old self. I just had no idea how to be in my body. I'd walk to high school and not know where to put my arms. I remember running my thumb nail down the sides of my nose and I was a disgusting, smelly grease ball. But around me, the whole world was telling me that to be a teenage girl, and to do it right, was to be like young and hot and sexy. I was watching TV shows where 30-year-olds who looked like models were playing teenagers, and all had boyfriends. And I just remember constantly feeling I could never get anything right.
Did you have any crushes yourself?
The reason I wrote this show is that, as a teenager, I was not a "Fangirl". I felt above it all. Was that an internalised misogyny? That being expressive is too feminine and being feminine is weak and uncool? Privately I was obsessed with theatre and playwrights.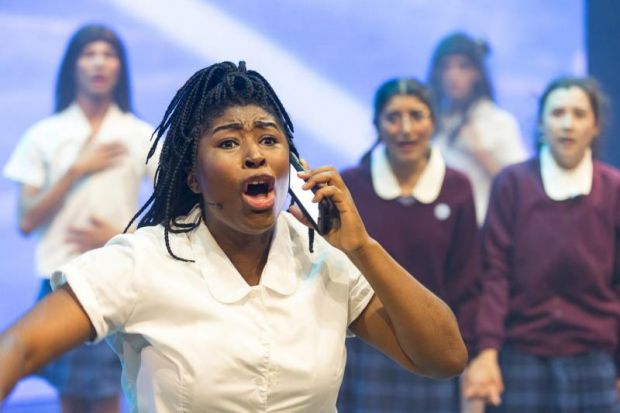 What then drove you to write about this obsession that (other) teenage girls had?
I met a 13-year-old girl who told me she met the man she was going to marry. I laughed at her and I said, 'Sure, who is he?' And then she said, 'Harry Styles.' I laughed at her even harder, because at the time he was a big pop star in the world's biggest boy band. And then she said, 'Don't laugh at me, I'm serious, I would slit someone's throat to be with him.' I was just arrested by her conviction. From a place of morbid curiosity, I was, like, I must write about this.
I became obsessed with researching fangirls. I assumed it was going to be super aggressive and competitive, and all about young girls competing for the attention of a boy and attacking each other, but I was wrong. There were so many stories about fangirls that were these extraordinary reflections of young female enthusiasm and its capacity for good. It felt unfair that fangirls were described as hysterical, but the image of young men screaming at a football match was described as passionate and loyal. (For young men) that's the love of the game, whereas women screaming at a pop concert was minimalized and ridiculed.
So, I guess you could quite possibly have grandmothers taking their grandchildren to the musical, with the Nannas having experienced the same thing with The Beatles that their grandchildren experienced with One Direction.
It's fun that people of all generations are going. I loved to see so many teenage faces and glinting braces in the audience. The clever thing about the show, too, I think, is the production concept is very immersive. The audience feels like they're at a concert at several points with lasers and smoke machines.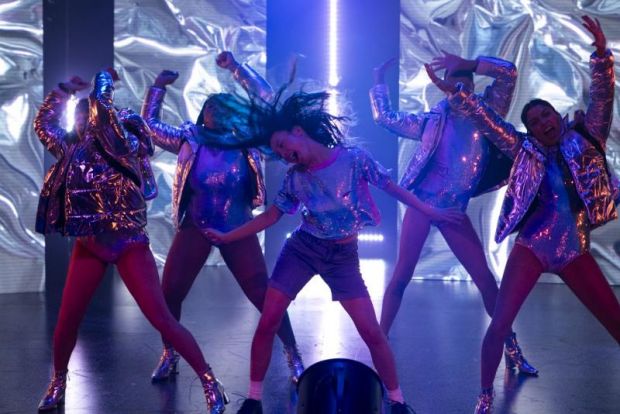 You're obviously a fan of musical theatre. Why is it such a great form?
Sometimes people see it as a genre, and they see it as capable of a sort of narrow set of things, like tits and teeth or singing or dancing, but I think there is so much more to explore. If you see a play and it touches you, it's ephemeral and you remember it. But it's slightly out of your grasp, and something that's so powerful to me about musicals is you can go home and smash the cast album and continuously relive it. And so, the lyrics in these shows can be like spells and handrails that you reach for in tough moments of your life. I certainly have felt that way with musicals.
Did you learn an instrument as a child?
I got assigned the euphonium in Year Four, and then after a year of piano I could only play "Twinkle, Twinkle, Little Star". Year Nine music rolled around, and they were like 'listen, um, you can't play any instruments, so you can't do this subject.' I had a couple of singing lessons in high school because I wanted to get into the school musicals, but I could not read or write music.
How then did you end up composing a musical?
I had always made-up songs and sung them into my phone. But it had felt like I was a computer with no printer. There was no way to get them out. So, when I was 20, I started on a music composition software called Ableton Live. I watched a lot of YouTube videos of sweaty teenage boys giving me tutorials on how to use it, and I taught myself how to use it to compose songs. Then somebody takes that and arranges it (for musical instruments.)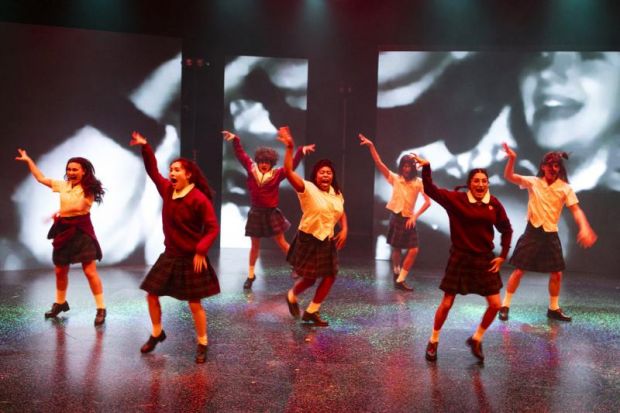 When you're writing a musical, what comes first, the music or the lyrics?
(Sometimes) I meditate on a certain theme- say the theme was the feeling of being a teenager and not feeling at home in your body. I would just write mad sentences and then I would cherry pick which ones seemed interesting. And then I would say them and try and notice if there were any rhythms and if I wanted to say them with pauses in them. (Then I explored) how those words work with melody.
Another way in is I would spit out these little sections (of music) that were maybe four bars long and just go on a walk and repeat and hum them to myself. I came up with drafts of songs that were way too long, and then I would work with my dramaturg on Fangirls – Johnathan Ware - and he would help me condense it down.
What's the most difficult thing that you had to write about?
Oh, whoa, that's such a good question. The thing that maybe was the most painful is a ballad, from the perspective of the (lead character's) mother. She's trying to get through to her daughter but there's kind of nothing she can say. Every time she tries to appeal to Edna to look out for her best interests, she just can't get in. In this moment she just tries to explain that it is just because I love you. This was the fastest song I wrote in the show. The unbelievable Sharon Millerchip played my mother in the (original season) and sang that song, and every night we would both just be sobbing.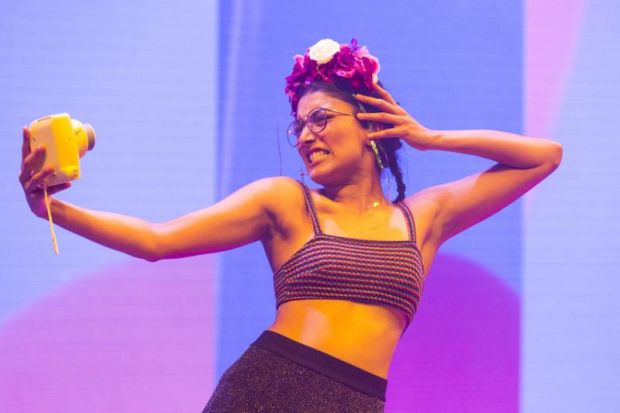 Can only young people tell stories about young people?
I don't think that's necessarily true, but it's something I reflect on that a lot. I am in my late twenties and I'm writing about teenagers, but I don't know what it's like to grow up with the Internet at the scale that an actual 15-year-old does now. There are some things that will never change about being a teenager.
For the first season in Sydney and Brisbane you were in the lead role. What was it like in the rehearsal room when you were the writer, and leading player? Did you have arguments with yourself?
The director Paige Rattray really supported me. She was like, we can meet before rehearsals and you can have your writer's hat on, but then as soon as the clock strikes 10 and everyone shows up, you are an actor. Just be an actor until six, when we've finished, and then you can put your writer's hat back on.
What wisdom did you gain from playing the lead role?
Being in the show humbled me. As a writer it gave me so much appreciation of what actors put their bodies through. Doing that show eight times a week for two and half hours, and this show has stunts, is very physical.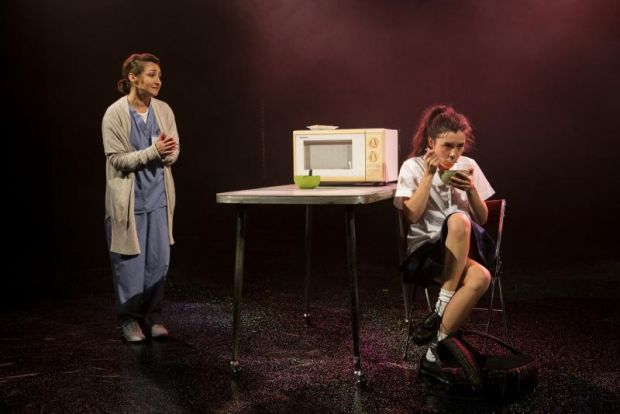 Were you a zombie after hours?
Completely. It was challenging to also have a full-time job as a writer. The energy or blood you need to flow to your brain to come up with writing are spent on big dance numbers. It was a complete privilege. I am so delighted to hand it over. I finally get to watch the show.
What is the future for Fangirls?
I have been lucky enough to have been offered a (screen deal). For a couple of years, I've been working on it with some really cool people. I'm interested in a kind of a new way to go about it. (As a stage production overseas) we've had a lot of nibbles. A producer came from New York to see it but that is on hold with COVID-19.
What else are you working on?
All of my commissions are for screen. I am co-writing a feature about the Rock Eisteddfod for Aquarius Film - they did Lion. I am writing a movie musical I can't talk about for a company in the States. I am also co-writing a podcast musical for Playful Productions (on feminist) Mary Wollstonecraft.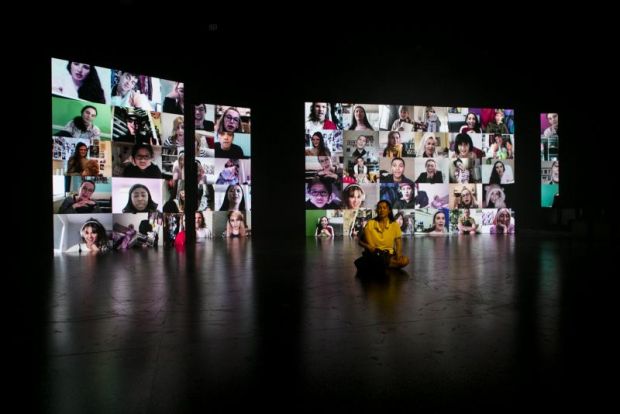 Where would you like to see yourself in five years?
Oh, wow. I love these questions. I hope in five years I'm making checks in my pyjamas. I hope I'm having a really good time working with legends. Big opportunities can come knocking but my manager always says to me like, if I get a big offer, what's it worth in grief? Like, are you working with people who you want to be on the phone with till two AM?
I (also) want Fangirls to be in high schools as I wrote it for teenagers. I won't rest until the day that I see the tallest girl in Year 11 play the mum and that's my dream.
Peter Eyers spoke to Yve Blake for his Stages podcast - stagespodcast.com.au
Images of the 2021 cast by Brett Boardman